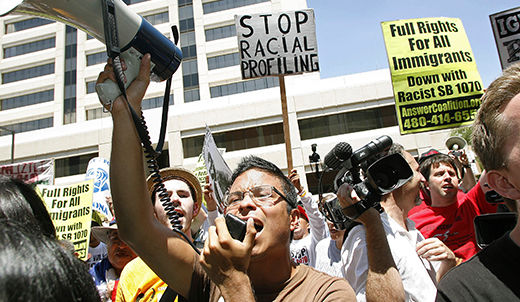 Justice Department attorneys investigating Maricopa County, Arizona, Sheriff Joe Arpaio for civil rights violations, are giving his lawyers until next Tuesday to turn over requested documents and to cooperate with a federal inquiry.
If Arpaio's attorneys don't comply when they meet next week the U.S. government is expected to sue the sheriff, who is under investigation for complaints against his controversial immigration policies that target and discriminates against Latinos.
Assistant Attorney General for Civil Rights Thomas Perez has promised the government will take action against Arpaio "to compel access to requested documents, facilities and personnel," if his office does not respond by the time they meet.
The Civil Rights Division is focusing on whether Arpaio's department engaged in "discriminatory police practices and unconstitutional searches and seizures."
A complaint to the Justice Department said that even bilingual jail guards are required to speak only English and that the rule could endanger prisoner's medical care. The jail was also accused of forcing Latino visitors to fill out a "citizenship check" form.
"We will not hesitate to commence litigation after August 17 if the Maricopa County Sheriff Office continues to take the position that it need not cooperate with the Division's investigation," the Justice Department warned Arpaio in an August 3 letter.
Federal officials opened the investigation in March 2009 following complaints that Arpaio discriminates against Latinos using police sweeps in the streets, at factories and outside restaurants.
Arpaio, 78, is a Republican that calls himself "America's toughest sheriff" and is known for his hard-nosed opposition to undocumented immigrants living and working in the U.S.
Immigrant and civil rights groups accuse Arpaio of racial profiling and abusing his authority to arrest and detain innocent people, mostly from Latino neighborhoods.
The federal investigation is one of two against the controversial sheriff. A federal grand jury in Phoenix is examining whether Arpaio has used his power to investigate and intimidate political opponents and whether his office misappropriated government money.
Maricopa County officials say they have been targeted for speaking out against the sheriff's draconian policies. Arpaio is known for leading disputes with the county board over budget and other issues. He and his deputies have retaliated by carrying out at least seven criminal investigations of county officials alleging corruption, fraud and other crimes.
The Washington Post notes in one case, Arpaio leveled 40 corruption-related charges against a county supervisor who had spoken out against his policies, all of which a judge dismissed.
In another, the sheriff's allies in the county attorney's office filed more than 100 criminal counts against another supervisor for improperly filling out required financial disclosure forms. Several days after a judge dismissed most of those, Arpaio's deputies arrested the supervisor in a parking garage and walked him before TV cameras to jail, announcing more than 100 new charges, which a judge dismissed.
Arpaio's attorneys, who worked as Justice Department civil rights lawyers under the George W. Bush administration, reject claims that he's been uncooperative. They argue top Democrats in Washington and Phoenix are out to get him.
However Democrats say the investigations are based solely on facts and the law.
The recent standoff comes weeks after the Justice Department sued Arizona and Republican Gov. Jan Brewer after she signed the state's new immigration law. The law, SB 1070, gives police officers authority to question the immigration status of people based on reasonable suspicion they are in the country unlawfully. A federal judge stopped SB 1070s most controversial provisions from going into effect last month.
If the expected meeting between Justice Department officials and Arpaio's attorneys goes sour next week, the civil rights division could file a broader civil lawsuit, which could result in the department terminating the several million dollars in grants to the sheriff's office each year or in a judge's order forcing him to change his policies.
Either way immigrant rights activists say the threat of a federal lawsuit against Arpaio sends a strong message that residents of Maricopa County will not stand for racial profiling or policies that discriminates against the Latino community.
Arpaio and his zealous pursuit to unfairly treat undocumented immigrants and their families like criminals, is unconstitutional and unjust, they add.
They note it's even more important that the Obama administration set an important precedent – that civil rights abuses anywhere in the U.S. will not be tolerated and fully challenged under the law.
Activists say it's time to mobilize a mass voter registration campaign in Maricopa County, so come Election Day voters for civil rights can make a difference at the polls and elect a new sheriff in town.
Photo: Carlos Alvarez of Phoenix shouts into a bullhorn during a protest of Arizona's SB 1070 immigration-enforcement law in front of Maricopa County sherrif's office Thursday, July 29, 2010 in Phoenix. (AP Photo/Ralph Freso)