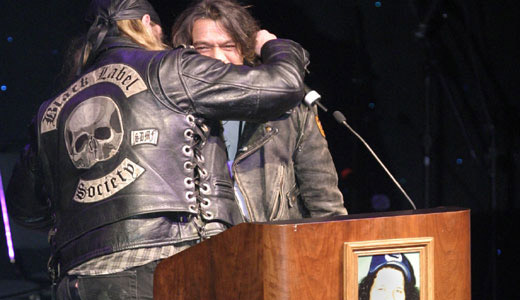 Part 1 of a 2-part article
"Twenty-four years to the day when John Lennon was shot and killed in front of his New York City apartment building, Nathan Gale, a former U.S. marine, emerged from behind a seven-foot-high stack of amplifiers" at a heavy metal show on December 8, 2004. "Gale didn't stop until he reached Darrell Abbott," who "coaxed one final noise out of his guitar" before he was murdered onstage. Zac Crain wrote this in Black Tooth Grin, his biography of "Dimebag" Darrell, who was the celebrated guitarist of metal bands Pantera and Damageplan.
Today, many mass shootings in America are blamed on violent music, films, and video games. Artists, however, are not the perpetrators of such acts. In fact, on January 29 this year, another young musician with her whole future ahead of her was shot and killed. Fifteen year-old Hadiya Pendleton, who performed with her school's marching band at President Obama's inauguration, was hit days later by gunfire in Chicago.
The shooting occurred in Vivian Gordon Harsh Park, and Pendleton, police said, was probably not the intended target. She was an innocent bystander in an upscale neighborhood; just one more victim in bullet-scarred America.
For Abbott's part, he was shot three times in the head by Gale's handgun; the final shot killed him instantly. Gale continued shooting, killing three others and wounding seven more. One audience member was killed while trying to perform CPR on Abbott. A police officer arrived on the scene, and shot and killed Gale before the gunman could take any further lives.
Abbott's death was one of the most tragic events in the history of metal music. He is survived by his brother, drummer Vinnie Paul Abbott, and metal artists worldwide continue to pay tribute to his music and his memory.
The supposed link between aggressive, countercultural music and violence was forged as far back as 1999, when the Columbine high school shooting triggered a moral panic, one in which concerned parents and activists pointed fingers at gothic culture and heavy metal. Controversial rocker Marilyn Manson was vilified in particular during this period. In response, Manson, a former journalist, wrote an emotionally charged, analytical article in Rolling Stone on mass shootings in America. He suggested that it was easy for conservative politicians to shift the blame to media and entertainment, rather than focus on the weapons themselves.
Manson remarked, "I think that the National Rifle Association is too powerful to take on, so most people choose" music or films as their scapegoat. "America loves to find an icon to hang its guilt on. The positive messages of my songs are the ones that sensationalists misinterpret as promoting the very things I am decrying." He cited, as an example, his song Get Your Gunn, which noted the hypocrisy of the 1993 murder of Dr. David Gunn at the hands of pro-life activists. Several critics misunderstood the song, deeming it a pro-violence piece.
The blame was placed on music yet again after the August 2012 Sikh temple shooting in Milwaukee, Wisconsin. News outlet CNN cited Hatebreed as having had an influence on shooter Wade Page, incorrectly labeling the musicians a "white power band." Page, as it happened, did not even listen to Hatebreed. The band's vocalist, Jamey Jasta, called the news outlet out on their slander, and his fans even contacted the Chicago Anti-Defamation League to rectify the error. CNN subsequently corrected their mistake, but the damage was done. "Our music brings people of all races together all over the world," said Jasta. "CNN [needs] to get their facts straight."
Today, more artists are defending music as something that puts things into the world, rather than something that urges people to engage in violence. And in the wake of tragedies their own communities have faced, they are standing up and speaking out.
This article will continue in Part 2.
Photo: Eddie Van Halen is comforted by guitarist Zakk Wylde after speaking at a public memorial service for Darrell "Dimebag" Abbott in Arlington, Texas. Matt Slocum/Fort-Worth Star-Telegram and AP