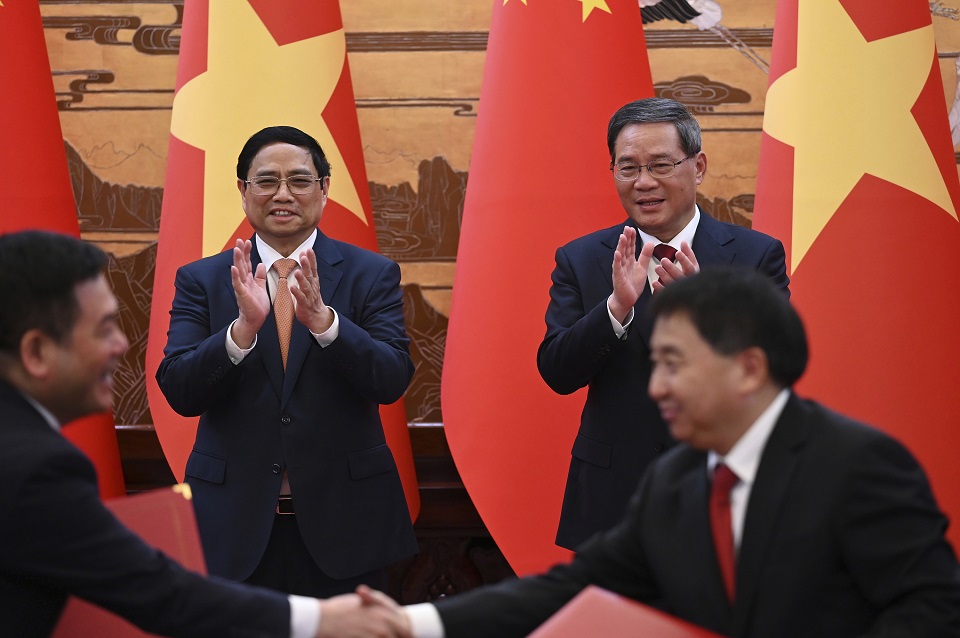 HANOI—Last Tuesday, in an offhanded remark, President Joe Biden mentioned that he intends to travel to Vietnam "shortly" as part of an effort "to change our relationship" with the country. While no official plan, agenda, or timeline was given, CNN was quick to report that the Biden administration continues to hope it will be able bring Vietnam into the campaign to "counter China's influence in the Indo-Pacific region."
As part of the U.S.' new Cold War aimed at China and other socialist and progressive states, leaders in Washington hope to drive a wedge between China and Vietnam. The two socialist states share a border, and it appears U.S. imperialism is determined to integrate Vietnam into its strategy of encircling China from all sides.
While the United States has pursued this wedge policy toward Vietnam for years, it hasn't met with much success so far. Any explicitly anti-China agreement with the U.S. would go against the established tenets and guidelines of Vietnam's foreign policy, which include peaceful coexistence with all states, avoiding entanglement in any military alliances, and never using the threat of violence against another country.
Washington remains undeterred in its effort to draw Vietnam in, however. As the Biden administration amps up the tensions in Asia, the Chinese and Vietnamese governments have chosen to pursue a path of cooperation and peace.
On Aug. 9 and 10, Vietnamese Deputy Foreign Minister Nguyen Minh Vu and Chinese Executive Vice Minister of Foreign Affairs Ma Zhaoxu met to discuss bilateral relations between the two countries. The meeting was hailed as a celebration of the ever-developing relationship between the two governments and the two governing Communist Parties, as the two officials discussed deepening political, economic, cultural, and security ties. They even spoke about opening more Vietnamese diplomatic missions in China.
The Chinese and Vietnamese relationship is classified as a "comprehensive strategic cooperative partnership," which is the strongest relationship category in contemporary Vietnamese diplomacy. In fact, as the two largest socialist countries, their relationship takes on a special significance, a relationship of "brothers plus comrades," as a joint statement put it in November last year.
Significantly, Communist Party of Vietnam General Secretary Nguyen Phu Trong was the first foreign leader invited to Beijing after Chinese President Xi Jinping's re-election at the end of 2022. The visit was seen by many experts as a sign that U.S. attempts to pressure Vietnam to join its anti-China alliance were doomed to fail.
The General Secretary's visit was followed in March by meetings between military leaders of the two socialist states, which has led to "'beefing up' defense ties." Then, in June, Vietnam's Prime Minister Pham Minh Chinh visited China. The visit was declared a great success by both Beijing and Hanoi.
While China and Vietnam still have unresolved territorial disputes—a fact the United States hopes to use to incite conflict in the region—both countries have declared a commitment to finding a productive and peaceful resolution to the problem. In fact, the two coast guards even conduct joint patrols near their maritime borders.
Statements and the established diplomatic practice of Vietnam and China demonstrate that both see the maintenance of peace as mutually beneficial. Both have experienced unprecedented economic growth and development during the last few decades of peace, and the people of both countries understand that such growth can only continue under conditions of stability and that war offers nothing but suffering and destruction.
Despite all this, the bipartisan consensus in Washington seems to agree on pushing a destructive agenda in Southeast Asia and driving a wedge between Beijing and Hanoi. The U.S.' new Cold War against China continues to ratchet up the war danger in the effort to preserve unipolar hegemony.
The best hope for humanity is that the leaderships in Vietnam and China continue sticking to the path of peace and mutual cooperation.
We hope you appreciated this article. At 

People's World

, we believe news and information should be free and accessible to all, but we need your help. Our journalism is free of corporate influence and paywalls because we are totally reader-supported. Only you, our readers and supporters, make this possible. If you enjoy reading 

People's World

 and the stories we bring you, please 

support our work by donating or becoming a monthly sustainer today

. Thank you!