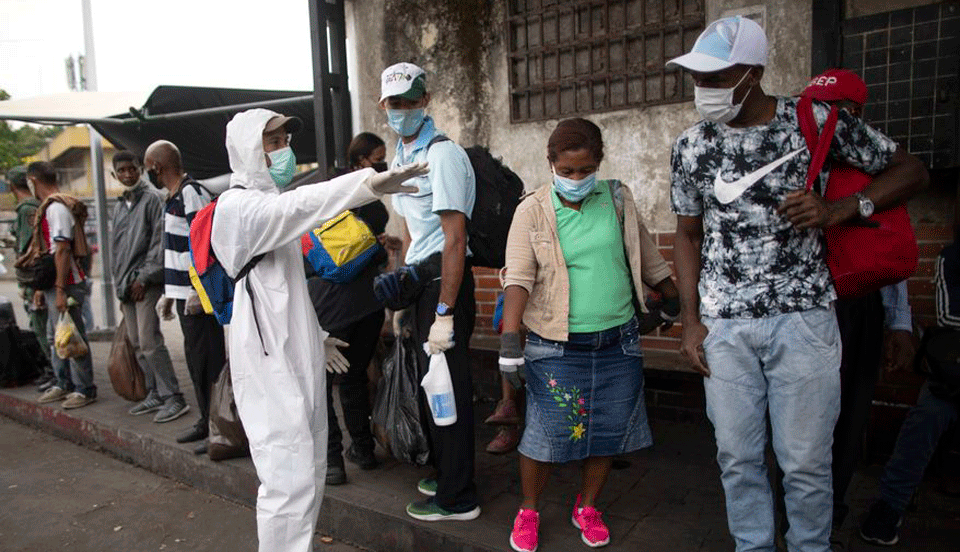 Venezuelans have been victim to intense U.S. interventionism since Hugo Chávez took power in 1999 and formally launched his "Bolivarian Revolution." They have shown no intention to relent in recent years and have arguably ramped up the pressure since Nicolás Maduro took over as president in 2013. In the midst of a global pandemic, the U.S. State Department has introduced further measures to increase pressure on the socialist-governed country, brazenly taking advantage of the economic and political chaos caused by COVID-19.
Venezuela has so far recorded 329 cases of COVID-19 and 10 deaths. The government's response is being widely commended, as it moved quickly to contain the spread of the virus, putting a nationwide quarantine into effect just four days after the first recorded death. Furthermore, the people of Venezuela are well equipped to deal with crises: A culture of grassroots and communal solidarity has contributed to a coordinated response which distributes food, health care, and testing as widely as possible.
With this domestic culture, alongside international aid from Russia, China, and Cuba among others, the Venezuelan government has been able to protect vulnerable citizens and alleviate economic pressure far better than its neighbors. The Venezuelan government announced that China sent 4,000 diagnostic kits, which would serve 300,000 Venezuelan citizens. Telesur reported that as of April 11, some 181,335 COVID-19 tests had been carried out. However, the crisis response is significantly complicated by U.S. sanctions, which raise the costs of buying testing kits and limit the available market for medical supplies.
Venezuela has experienced deteriorating economic conditions in recent years. This can be partly blamed on government policy mistakes and fluctuating oil prices, but it is widely accepted that the imposition of sanctions by the U.S. has greatly exacerbated the economic crisis. A 2019 report published by the Washington, D.C.-based Center for Economic and Policy Research (CEPR) predicted that U.S. sanctions have been responsible for 40,000 deaths in Venezuela since 2017. Despite the worsening economic situation in Venezuela, the U.S. has ignored calls from actors including the U.N. to end unilateral sanctions and is continuing to enforce embargoes and other trade restrictions.
During the COVID-19 crisis, these sanctions will be effective death sentences for many Venezuelans, as the restrictions have already contributed to shortages in food and health services. At this crucial moment, the health care system in Venezuela is experiencing shortages and lack of funding. Many health services during the crisis are being provided by community organizations. Most clinics in the country are lacking basic equipment and were struggling to function even before the crisis.
U.S. sanctions are preventing Venezuela from accessing enough medical support and basic goods to meet the needs of its whole population. The U.S. is willing to intensify the humanitarian crisis it has exacerbated, if not caused, at the expense of millions of people, in order to exert political control over Venezuela and push for undemocratic regime change.
In the latest bid to topple the Maduro government, U.S. Secretary of State Mike Pompeo has offered "sanction relief" if Venezuela accepts the U.S.-proposed "transitional government" to replace the existing governing body. Furthermore, U.S. influence has informed the IMF decision to reject Venezuela's emergency fund appeal for $5 billion, which Maduro has asserted the nation needs to minimize the human cost of the COVID-19 outbreak. The loan was rejected on the tenuous premise that the nation currently has no clear leadership—a nod to the presidential struggle between Maduro and opposition leader Juan Guaidó, who declared himself interim president in January 2019, citing the Bolivarian constitution to legitimate his proclamation. The U.S. has supported Guaidó's campaign and garnered international support for it among its allies as a vehicle for the regime change it has long sought.
More absurdly, the U.S. has now indicted Maduro and other high-ranking Venezuelan officials on thinly evidenced narco-terrorism charges, offering up to $55 million for incriminating information. A $15 million reward is being offered solely for information which leads to the arrest of Maduro. Trump's administration is unmistakably using the chaos caused by the COVID-19 crisis in order to expand its persistent attempt to displace Maduro's government.
According to The Guardian, U.S. Attorney General William Barr said of these charges, "It's good timing, actually." Followed by: "The people in Venezuela are suffering, and they need an effective government that responds to the people." In view of the fact that the majority of drugs trafficked into the U.S. comes from other regions, a main one being Venezuela's neighboring state Colombia, a firm U.S. ally, these accusations appear to be a politically-charged attack against Maduro's government rather than genuine narco-terrorism concerns. Many would also question Barr's claim that a global pandemic indicates "good timing" for these allegations to be explored. Conversely, his wording portrays the indictments as a timely and coordinated attack rather than a sincere claim.
It is increasingly transparent that irrespective of the human costs, the U.S. is willing to weaponize the COVID-19 crisis in order to establish political influence in Venezuela. The Bolivarian state has attempted to cut dependency from the U.S. and instill a culture of anti-imperialism and anti-neoliberalism in Venezuelan society. It has encouraged radical ideas such as participatory democracy, radical pluralism, and communal ownership. By doing this, they demonstrate that another type of politics is possible, which the U.S. has incessantly tried to undermine by promoting "free market" values and propagandizing against Bolivarian socialism.
The Trump administration is capitalizing on the COVID-19 crisis to ramp up the pressure even more, perhaps even preparing for eventual military intervention, which has already been threatened by the appearance of American Navy ships not far off Venezuelan shores.
Maduro's government remains deeply popular among broad sectors of the Venezuelan population, especially those in the barrios who have experienced greater inclusion in political processes and increased opportunities for work, education, and democratic rights. Maduro recently announced that the "Bolivarian National Militia" now has over four million (4,156,567 precisely) member citizens who are willing to protect Venezuelan sovereignty and uphold Bolivarian values.
It is clear that despite the consistent efforts by the U.S. to undermine the government and return the country to the neoliberal fold, the people of Venezuela will continue to resist imperialism. Alba Ciudad reported on Feb. 24 that 82% of Venezuelans reject U.S. sanctions. Despite the additional difficulties U.S. sanctions bring to the country, Venezuelans are proving that popular power can prevail against imperialist aggression. Venezuela experiences more challenging economic circumstances than some of its neighboring Latin American countries that enjoy U.S. favor. However, they are proving that grassroots organizing and mutual aid, alongside state support, can form a far superior crisis response than in capitalist countries where individualism is magnified, and where competitive economies look ready to collapse.
The threat of U.S. military invasion continues to loom, and the calculated effort to overthrow Maduro's government may in time back Venezuela into a corner. Still, the importance of popular power must not be discounted, and as long as it holds, the U.S. will continue to face an extreme challenge to assert itself in the region.
Like free stuff? So do we. Here at People's World, we believe strongly in the mission of keeping the labor and democratic movements informed so they are prepared for the struggle. But we need your help. While our content is free for readers (something we are proud of) it takes money — a lot of it — to produce and cover the stories you see in our pages. Only you, our readers and supporters, can keep us going. Only you can make sure we keep the news that matters free of paywalls and advertisements. If you enjoy reading People's World and the stories we bring you, support our work by becoming a $5 monthly sustainer today.