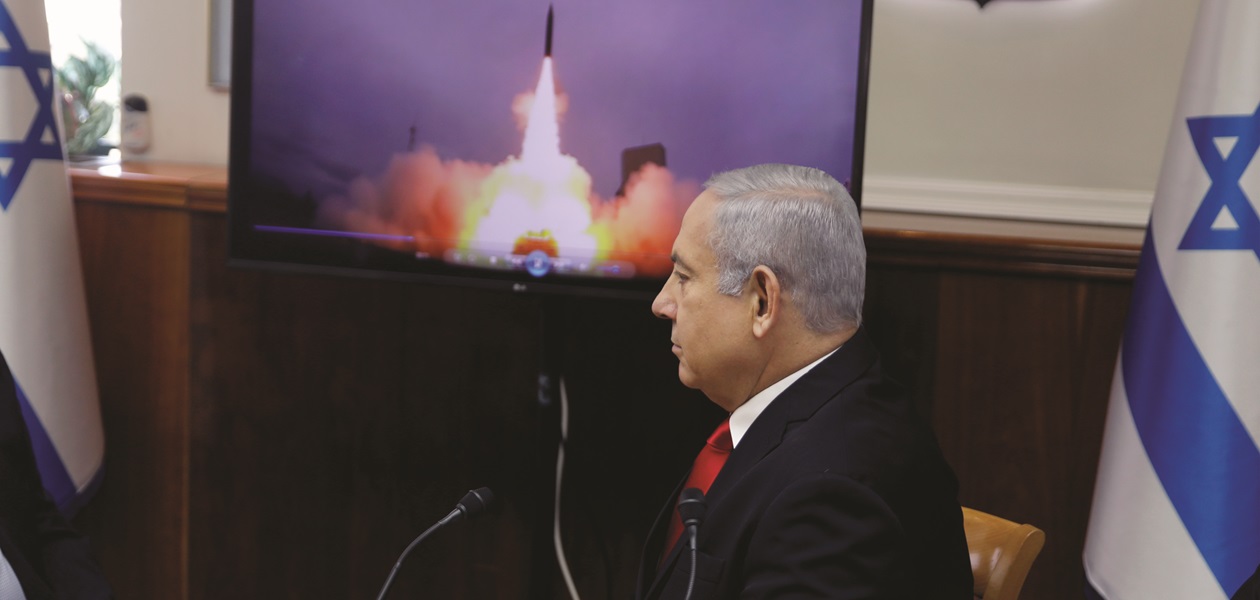 Corporations that specialize in manufacturing weapons are excited about Israel's war on Gaza, letting their top investors know that huge profits are on the way.
Already overflowing with cash thanks to seemingly endless U.S. weapons shipments to Ukraine, the accounts of companies like RTX (owner of Raytheon), General Dynamics, and Lockheed Martin are growing even fatter as the Biden administration steps up direct military support to the ultra-right government of Prime Minister Benjamin Netanyahu.
Since Hamas militants killed 1,400 Israelis and kidnapped 200 more on Oct. 7, the Israeli Defense Forces (IDF) have carried out an unceasing bombing campaign of Palestinians in Gaza as part of a massively disproportionate retaliation. Over 7,000 Palestinians have been killed so far, more than 12,000 wounded, and thousands more buried beneath the rubble of bombed-out apartments, houses, shelters, and hospitals.
All that destruction—which international experts have characterized as a "genocide" against the Palestinian people—is quickly using up a lot of missiles and bombs. The refilling of those stockpiles will mean huge new orders of the products peddled by Wall Street war companies.
Greg Hayes, the CEO of RTX, delivered an earnings report to investors on Tuesday. He eagerly notified them that increased U.S. funding for Israel will generate fresh contracts for missiles from the company's Raytheon division.
"Across the entire Raytheon portfolio, you're going to see a benefit of this restocking," he told shareholders.
Kristine Liwag, a Wall Street analyst for Morgan Stanley who was on the call, said the war against Palestine appeared to be an "opportunity" that "fits quite nicely" with the company's product offerings.
Hayes agreed. He characterized Israel's war as a bonus over and above already-expected U.S. military expenditures. The extra orders for Netanyahu's IDF, he said, come "on top of what we think is going to be an increase in DOD [U.S. Department of Defense funding]" funding.
Raytheon builds the missiles used by Israel's vaunted "Iron Dome" rocket defense system, along with several other weapons systems.
Leaning into propaganda pitching the IDF's inhuman assault on Gaza as a defensive campaign, Hayes told a CNBC interviewer the same day that it would "lead to additional orders" and that Raytheon's focus is on making sure the Israeli military has "what they need to be able to defend their country."
Over at General Dynamics, meanwhile, where tanks, armored personnel carriers, ammunition, warships, and submarines are the main items for sale, CFO and Vice President Jason Aiken also delivered the good news about the worsening war to his investors.
"I think if you look at the incremental demand potential coming out" of the Israeli campaign, "the biggest one to highlight and that really sticks out is probably on the artillery side."
He said there has been a four-fold demand increase for artillery and that the company is struggling to keep up, especially due to giant U.S. government orders for Ukraine that were already pending even before Israel launched its war.
Artillery has been "a big pressure point up to now with Ukraine, one that we've been doing everything we can to support our [U.S.] Army customer," Aiken revealed. "We've gone from 14,000 rounds per month to 20,000 very quickly. We're working ahead of schedule to accelerate that production capacity up to 85,000, even as high as 100,000 rounds per month."
A General Dynamics' weapons plant in Massachusetts was the target of an anti-war protest last week. Demonstrators unfurled a banner reading: "Genocide: Brought to you by General Dynamics."
Aiken was undeterred, however. Looking ahead, he predicted "the Israel situation is only going to put upward pressure on that demand."
Before the current assault in Gaza, the U.S. was already subsidizing the Israeli war machine to the tune of billions of dollars annually. In a speech on Oct. 19, President Joe Biden asked Congress for an additional "emergency" allocation of $14 billion for weapons for Israel, along with another $61 billion for Ukraine, and several billion for Taiwan.
If approved, the lion's share of those funds will go to companies such as RTX and General Dynamics, which are the second and third largest U.S. government defense contractors.
The biggest contractor, Lockheed Martin, is most looking forward to fighter jet purchases, which are intended for Israel and Taiwan. The planes shipped to Taipei will be arrayed against China as part of the U.S.' new Cold War in the Asia-Pacific region. The others will be used to target Palestine.
Lockheed Martin is the maker of F-35 strike fighter jets, which sell for over $120 million each. This past summer, in July, Israel signed an order for 25 of the planes, spending some $3 billion on them. This was a big contributor to the positive earnings outlook that CEO Jim Taiclet issued on Oct. 17.
Further developments in recent days have also likely boosted moods in the C-suites of the weapons producers.
The threat of a wider Middle East war increased Friday, for instance, as the U.S. military bombed targets in eastern Syria, stepping up a campaign that has already been underway for several days.
The Biden administration says U.S. forces hit facilities used by what it called "Iranian proxies" to carry out near daily low-level drone and rocket launches against U.S. forces over the past 10 days.
Though Defense Secretary Lloyd Austin was quick to characterize the U.S.' "narrowly-tailored strikes" as a self-defense action that does not "constitute a shift in our approach to the Israel-Hamas conflict," the bombing run signalled that U.S. troops are being drawn further into the crisis.
Biden previously ordered two massive U.S. aircraft carrier groups to the Mediterranean Sea and deployed new anti-missile units, along with hundreds of U.S. troops, to bases in the region. American forces have been stationed in oil-rich eastern region of Syria as part an anti-ISIS operation turned occupation with no end date. U.S. forces also continue to operate in Iraq.
Since Israel launched its war following the Oct. 7 Hamas attacks, 24 U.S. soldiers have been injured in attacks from Iran-backed militia operating in Syria and Iraq. One U.S. contractor has been killed. Reports from inside the Biden administration suggest there may be further U.S. retaliatory strikes in preparation.
At the United Nations on Thursday, Iranian Foreign Minister Hossein Amir-Abdollahian warned that if Netanyahu doesn't stop his offensive against Gaza, then his U.S. ally will "not be spared from the fire." There were no signs of any let-up by Israel, however.
The aerial bombardment of Gaza carries on unceasingly, and on early Friday, IDF forces staged a second raid into Gaza. The assault by tanks and troops was aimed at softening the ground ahead of an expected all-out invasion, which, if it happens, will dramatically drive up the death toll.
"We are responding with fire and creating conditions for the ongoing war," Israeli Defense Minister Yoav Gallant said Thursday. "There will be other stages…and we will carry them out."
Surveying the unfolding situation and the ratcheting up of tensions, Tobias Borck, a London-based researcher in Middle East security studies, told the press, "What we are seeing is the next level out from the Gazan war."
For those who make their profits by selling bombs, warplanes, and artillery shells, the future is looking brighter every day.
We hope you appreciated this article. At 

People's World

, we believe news and information should be free and accessible to all, but we need your help. Our journalism is free of corporate influence and paywalls because we are totally reader-supported. Only you, our readers and supporters, make this possible. If you enjoy reading 

People's World

 and the stories we bring you, please 

support our work by donating or becoming a monthly sustainer today

. Thank you!