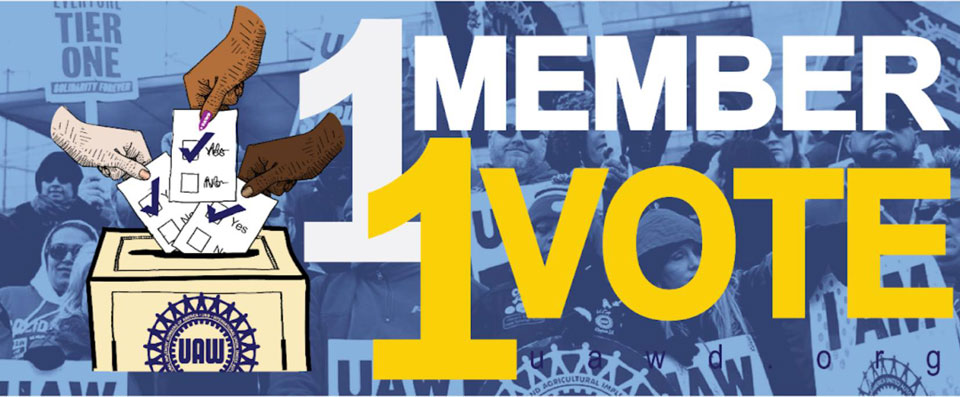 DETROIT—By a 64%-36% margin, United Auto Workers members voted to directly elect the union's officers and board, one-member, one-vote. Unofficial final results, posted by Unite All Workers For Democracy, the union's reform caucus, were 89,615-50,962.
"We won!" enthused UAW-D, before advising members of several steps needed before the reform, in a referendum mandated by a consent decree the union signed with the federal government to settle a corruption case, can be fully implemented.
"With the UAW Constitutional Convention and elections for the International Executive Board coming up in 2022, our work to transform the UAW is just beginning," UAW-D said.
The first step is to send proposals for "clean, competitive election rules" to the court-named monitor who ran the referendum. Then it's to put together pro-democracy slates at local unions and finally to go through an endorsement process for the top officers' jobs and board seats before the union's next convention, July 25-28.
On its website, the UAW leadership accepted the results without announcing the totals. The current board opposed direct election. That led one twitter writer, responding to the vote totals on the UAW-D website, to suggest banning current board members from running.
"With just under 14% of total active and retiree membership participating in the vote, the UAW will seek to unify behind the new method of elections. It is time to move forward on behalf of the over one million members and retirees of the UAW in solidarity," the union said.
The board "will begin the process of working in unity with members, local unions and the monitor in drafting the constitutional changes" needed to implement one-member one-vote.
The referendum ultimately will add the UAW to the handful of unions that now directly elect their leaders. The others include the Teamsters—where an insurgent candidate just won the presidency—the Laborers, the International Longshore and Warehouse Union, and the News Guild, now a Communications Workers sector. Most other unions, including CWA, elect delegates to their national conventions, who in turn elect leaders. So does the AFL-CIO.
But for decades, a caucus of insiders presented just one slate to UAW delegates, and there was little if any competition. That ultimately harmed the union's credibility with members.
In the corruption scandal, recent UAW Presidents Dennis Williams and Gary Jones, named under that process, accepted gifts and more from FiatChrysler executives. The U.S. Attorney for Eastern Michigan, based in Detroit, launched an intensive, successful investigation.
Both presidents, ten other executives and the widow of another, pled guilty. Williams and Jones are now serving jail terms for embezzlement. The union signed the consent decree, including an independent overseer of its finances and the election monitor.