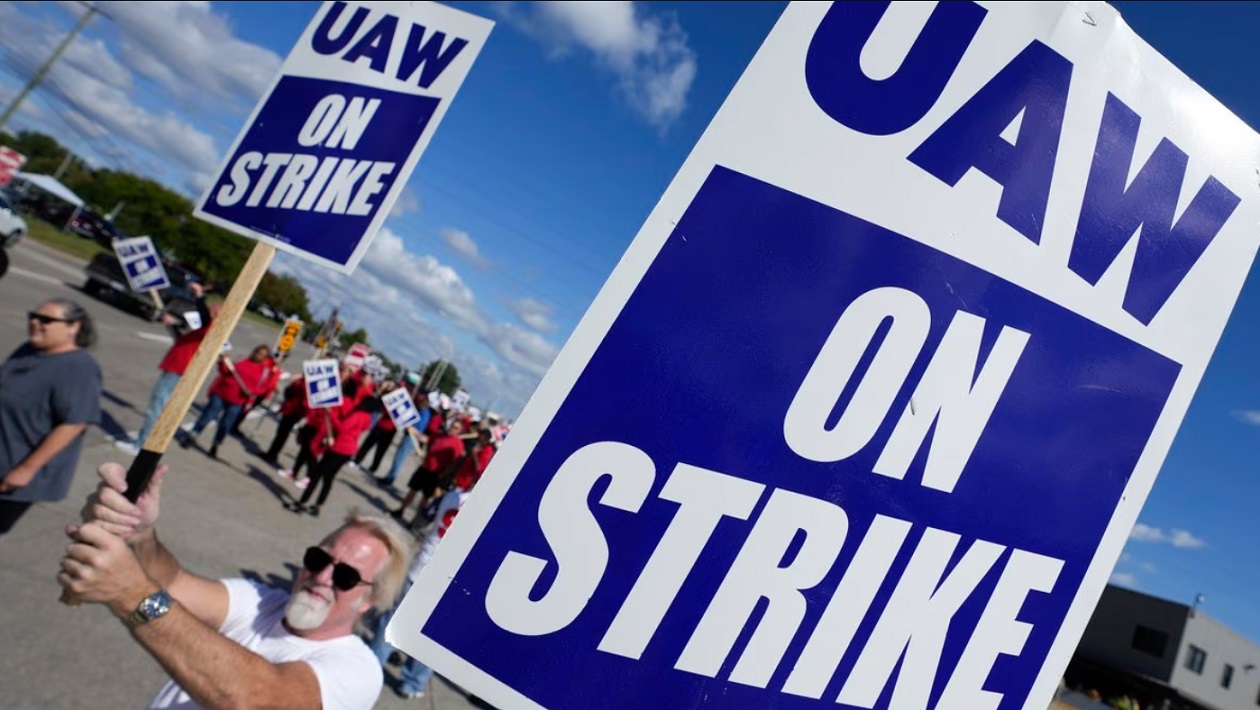 DETROIT—With "no serious progress" by Detroit's Big 3 automakers, GM, Ford and Stellantis, in talks on new contracts with the United Auto Workers, UAW's bargaining team will send more locals out on picket lines by Friday, union President Shawn Fain warned. That will expand the strike to include more than the three plants already involved – a GM facility in Wentzville, Missouri, a Stellantis complex in Toledo, Ohio and a Ford assembly plant in Wayne County, Michigan.
"We're not going to keep waiting around forever while they drag this out," Fain told his members in a late-night video while setting the new deadline. "We're not messing around."
By Friday Ford in particular may be in even more hot water with its workers.
That's because Unifor, the separate and independent Canadian Auto Workers, had planned to strike by September 18 unless it got a contract, too. It's extended the deadline by a day, but the threat remains. The union's 5,600 members primarily work for Ford plants in Windsor, Ontario, across the Detroit River from the main Ford plants in Detroit.
The Auto Workers had reported "a little company movement" at the bargaining table as the union entered the fifth full day of its strike at three auto plants, one per company. UAW's "Stand Up" strategy calls for striking selected plants by selected locals without advance notice, thus keeping the companies off-balance and guessing.
So far, locals representing 12,700 workers combined at the GM plant in the St. Louis suburb of Wentzville, a Ford production and paint plant in Wayne County, Mich., and a Jeep/Stellantis plant in Toledo, Ohio, are walking picket lines.
And Ford in particular faces another union of angry workers: The separate and independent Canadian Auto Workers, Unifor, planned to strike on September 18, but delayed deciding for a day, President Lana Payne announced. The 5,600 workers it represents toil in Ford plants in Windsor, Ontario, across the Detroit River from the U.S.
"Unifor is extending negotiations with Ford Motor Company for a 24-hour period. The union received a substantive offer from the employer minutes before the deadline and bargaining is continuing throughout the night. Unifor members should continue to maintain strike readiness," said Payne. Wages and pensions are the key issues in Canada.
A call for solidarity and support
Meanwhile, the CPUSA Labor Commission issued a call "to support the picket lines in person" with the UAW. Picket line information is at UAW.org.
"Many folks are introducing resolutions of support in their unions or other organizations. Here's a link to a good model from the North Dakota AFL-CIO," it added. It added Fain's "powerful video" explains UAW's strategy and links the current strike to the sit-down strikes of the 1930's. "Great to show to any gathering too," the Labor Commission added.
Meanwhile, UAW received key outside support from Senate Labor Committee Chairman Bernie Sanders, Ind-Vt., and AFL-CIO President Liz Shuler.
The developments came in a one-step-forward one-step-back sequence from the car companies. The one step forward was the three firms increased their wage offers, though still far from what the UAW members demand.
The one step back came after the three UAW locals the union initially sent out to strike started their picket lines on September 15. The auto firms' response was to lay off another 600 UAW members elsewhere—and blame the layoffs on the union due to lack of parts from the struck plants.
And Stellantis said it's considering reopening a profitable plant it had suddenly shuttered in Belvidere, Ill., throwing another 1,200 UAW members out of jobs, earlier this year. That plant was the first to be put under the hated two-tier salary system, terrifically hurting the workers and the town. UAW said Stellantis was dangling Belvidere's reopening as "a bargaining chip."
Top demands from the UAW include a cumulative 36% raise over four years, down several percentage points per year from initial demands members made. Ford, GM and Stellantis are offering 20% over four and a half years. Neither figure counts profit-sharing or bonuses.
The car companies also aren't offering automatic cost-of-living increases. Those died when the federal government assembled a rescue package for then-bankrupt GM and FiatChrysler after the financier-caused Great Recession. The workers want them restored.
The workers also demand an end to the two-tier wage system, restoration of full health benefits and pensions, including for new hires, promotion of thousands of temp workers to full-time jobs and—given the lack of work-life balance for assembly line workers—a cut in the workweek with no cuts in pay. And they want the right to strike over plant closures.
Workers have routinely toiled 60 hours or more in six-day weeks, including mandatory overtime, and mandatory work every third Sunday. The assembly line jobs feature fast line speeds, ergonomic injuries and confined spaces in the factories. There's often not enough break time to run to the bathroom.
"The fight you are waging here is not just about decent wages and working conditions and pensions in the automobile industry," Sanders declared at a September 15 mass rally in downtown Detroit. "It is a fight to take on corporate greed and to tell the people on top, this country belongs to all of us, not just a few.
A struggle for justice
"Every worker, white collar, blue collar, in between, has got to stand with the UAW in your struggle for justice," he proclaimed. Apparently, they do. Opinion polls show 75% support for the workers.
UAW President Shawn Fain "has made this point over and over again: In the last 50 years, there has been a massive redistribution of wealth. Problem is, it's gone in the wrong direction," Sanders continued.
"Instead of going from the top down to the bottom, it's gone from the bottom up to the top. And what this strike is about, and what workers are standing up all over this country for, is that we're going to reverse that trend. If the ruling class of this country wants a redistribution of wealth, we're going to give it to them.
"Gone are the days of corporations running roughshod over workers with impunity."
"When working people stand together, united by justice and dignity, we have the collective power to demand the respect and fairness on the job we deserve," Shuler declared at the same rally.  She said UAW members "are bravely striking to strengthen America for all of us.
"We've got your backs and will stand with you however long it takes to win a fair contract that recognizes your value."
Like Fain and like a constant theme the workers have been propounding on the picket lines, the Detroit car companies "earned exorbitant profits reaching a quarter of a trillion dollars over the past decade," the AFL-CIO chief continued.
"Instead of rewarding workers' commitment and sacrifice, the Big 3 pay CEOs tens of millions while refusing to acknowledge the working people who are the backbone of these companies. Workers are striking for what we all deserve: Fair pay, safety and security on the job; a clean energy future with good union jobs; and dignity in retirement."
Shuler and Sanders both understated the extent of Wall Street greed and capitalist concentration of wealth behind the car companies' adamant stands. Fain didn't. Neither did The Lever, a progressive newsletter. Both point out Ford, GM and Stellantis lined their top honchos' pockets with millions of dollars—and Wall Street investors with billions in stock buybacks. And that doesn't count dividends.
"Our union proposed an enhanced profit-sharing formula that would provide workers $2 for every $1 million spent by Ford on stock buybacks, special dividends, and increases to normal dividends," Fain told members on a Facebook live video in early September. "Ford has responded with a concessionary proposal that would change the profit-sharing formula so that workers would actually earn less."
The Lever elaborated on the buyback boodle: $484 million last year alone from Ford, nearly $3.4 billion in buybacks from GM in the past 12 months and $1.6 billion from Stellantis to its shareholders in February. One third of that was distributed two days before the strike deadline.
"What you're seeing" in the strike and "all over this economy is greed on the top and suffering on the part of the working class, and people are tired of it," Sanders later told CNN anchor Jake Tapper.
>> READ MORE PEOPLE'S WORLD COVERAGE OF THE UAW STRIKE.
We hope you appreciated this article. At 

People's World

, we believe news and information should be free and accessible to all, but we need your help. Our journalism is free of corporate influence and paywalls because we are totally reader-supported. Only you, our readers and supporters, make this possible. If you enjoy reading 

People's World

 and the stories we bring you, please 

support our work by donating or becoming a monthly sustainer today

. Thank you!