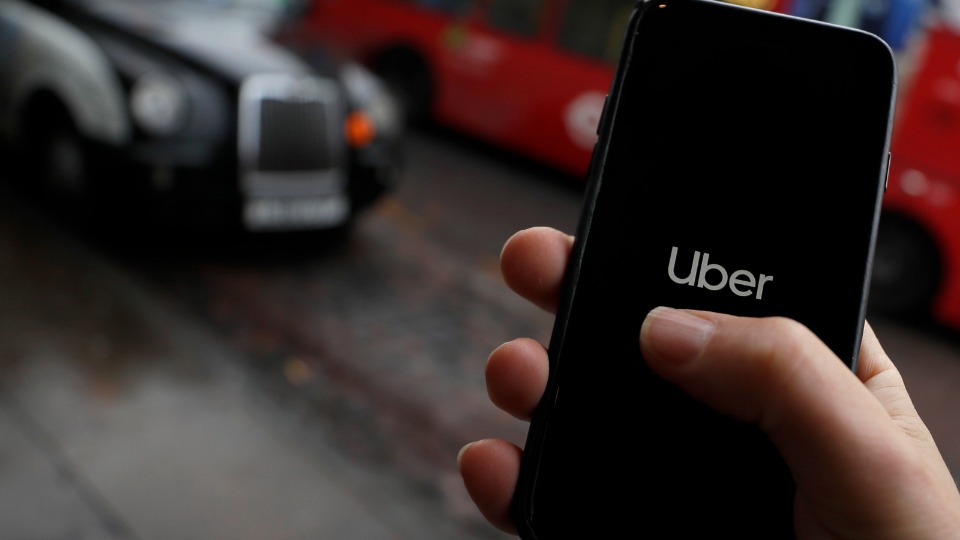 WASHINGTON (PAI)—The win by Uber and Lyft over their workers in a hotly contested—and expensive—California referendum last year, giving the firms absolute control over their drivers, shows the need for passing the PRO Act, says Greg Regan, president of the AFL-CIO Transportation Trades Department. Enacting it would bring those and other "independent contractor" workers under federal labor law protection, he states.
Without the PRO Act, those 10.5 million independent contractors must depend on "a hodge-podge" of state and local labor laws to protect their rights, pay, and the right to organize, he told Press Associates Union News Service in a telephone interview.
And without it, or state protections, independent contractors must pay out of pocket for workers comp and jobless aid, other labor law experts note.
Those conditions would change if senators pass HR842, the PRO (Protect the Right to Organize) Act, Regan said. By making it much tougher for bosses to misclassify workers as "independent contractors," the PRO Act says such workers would be "employees" who get minimum wages, be eligible for overtime pay, and could unionize, too, to protect themselves.
The PRO Act also means firms would have to contribute to workers comp and unemployment insurance, and the newly reclassified employees could seek workers comp if they get hurt on the job, or jobless aid if needed.
Regan made those comparisons after what happened to contractors in California. Its Supreme Court and, later, its legislature, decided several years ago Uber and Lyft drivers are "employees," covered by labor law, and eligible to unionize, not independent contractors. Uber, Lyft, and their corporate allies then spent a record—more than $200 million—to post and win their referendum proposition last November, killing the law, AB5.
Their victory left independent contractors, including not just the Uber and Lyft drivers but also "gig economy" workers, unprotected in the Golden State. Uber and Lyft plan to take their anti-worker win on the road, extending their triumph to other states.
Enacting the PRO Act would halt that misclassification and rampant exploitation in its tracks, Regan said. Uber and Lyft, predictably, also oppose the PRO Act.
"What we saw in California shows that we need federal leadership" to protect independent contractors, he explained.
"The 'gig worker' is the next generation of worker" whom employers can exploit without regulation, "taken to an extreme," Regan added. "Companies have adapted to new forms of work. Our labor laws have not."
Democratic President Joe Biden and his Labor Secretary, Marty Walsh, a member of Laborers Local 223, agree on both curbing worker misclassification and on overall labor law reform, and specifically strongly support the PRO Act.
On May 5, Walsh's DOL dumped a GOP Trump regime rule—promulgated two weeks before the Republican left office—expanding who could be an independent contractor. Biden had hit the "pause" button on Trump's rule just after taking over on Jan. 20.
That rule withdrawal pleased Regan, who testified to Congress and gave lawmakers a TTD report on Uber, Lyft, their exploitation of "independent contractors," and their unfair competition, in 2019. The report, The Costs Of Doing Business, is on TTD's website.
"Transportation labor applauds the Biden administration for withdrawing this anti-worker, Trump-era rule. Companies like Uber, Lyft, and DoorDash have spent hundreds of millions of dollars in their fight to carve out a regulatory environment that allows them to misclassify their employees and skirt their corporate responsibilities to safety, fair pay, and basic human rights," Regan e-mailed Press Associates Union News Service after learning of DOL's decision.
"The drivers who are absolutely essential to these companies' business model deserve to share in that success, and they have a right to be safe at work. Removal of the independent contractor rule is a first step to see that both of those things happen."
And Biden is relying on Walsh, a former Boston mayor, state legislator, and head of the city's Building and Construction Trades Council, to be a top PRO Act advocate. The president has already publicly gone to bat for the PRO Act, in his April 28 Congressional address.
Besides losing out on minimum wages, overtime pay, and the right to unionize, "independent contractors"—unlike "employees" under labor law—must shoulder both the bosses' share and their own of Medicare and Social Security payroll taxes. They also don't qualify for workers' comp or jobless benefits and pay all their own expenses. Total transfer of money from workers to bosses, the Economic Policy Institute told DOL: $3.3 billion a year.
Misclassified workers include not just the Uber and Lyft drivers, but drivers for other delivery services, adjunct professors at colleges, and the port truckers in Los Angeles-Long Beach, whom the Teamsters have been organizing for years. Even fast-food joints misclassify workers as "independent contractors," thus barring them even from minimum wage coverage.
"Telling those workers' stories" to lawmakers is the way Regan's TTD, its member unions, and the AFL-CIO as a whole plan to push reluctant senators to approve the PRO Act, he said. The Democratic-run House passed it in March on a virtual party-line vote.
"If we're going to rely on a hodge-podge of local laws, it won't solve the problem" of misclassifying the truckers, adjunct professors, gig workers, and others, Regan added.
Biden and Walsh go beyond just dumping Trump's pro-corporate independent contractor rule—a removal the Teamsters, the AFL-CIO, and AFSCME all urged in their comments before that decision.
Trump's two factors, expanding the definition of "independent contractors," gave those standards "preeminent status" over other reasons in deciding whether a worker is an employee or not, the Teamsters said.
Adopting Trump's plan "would make it more difficult for workers to prove they are employees," the Teamsters explained. Labor law, the unions kept saying, covers "employees."
"Focusing on control and opportunity for profit or loss…would be contrary" to what Congress intended when it passed the Fair Labor Standards Act (minimum wage and overtime pay) and following Supreme Court rulings on the issue of who it covers, the AFL-CIO added.
And Walsh told Reuters in the first days of May that companies misclassify too many workers—including in his field, construction—as independent contractors. EPI calculates construction firms misclassify one of every five workers as independent contractors. Workers would lose under Trump's "independent contractor" rule, Walsh said when he yanked it.
"By withdrawing the independent contractor rule, we will help preserve essential worker rights and stop the erosion of worker protections that would have occurred had the rule gone into effect," his statement added.
"Too often, workers lose important wage and related protections when employers misclassify them as independent contractors. We remain committed to ensuring employees are recognized clearly and correctly when they are, in fact, employees so they receive the protections the Fair Labor Standards Act provides."
The "independent contractors" and all workers would win if the Senate passes the PRO Act, Regan says. TTD, in its lobbying of senators, is making that case with facts and figures. "These companies" like Uber and Lyft "do not have the standards" for pay, benefits, unionization and its protections, and health and safety standards "that we apply to public transit."
Uber and Lyft are also trying to have their cake and eat it too: They call workers independent contractors and publicize themselves as ride-sharing services to save money and enlarge their profits, but also seek federal subsidies as transit operators. Regan and his team point out the contradiction to the U.S. Transportation Department. Bus and subway systems, many unionized, must vie for those funds against the encroaching private firms.
Uber, Lyft, and similar firms seek the subsidies while being "unfair, unregulated competition that believes it is entitled to play by a different set of rules," TTD's report said.
"I want to stress the transportation service" Uber and Lyft "are providing, just like the more highly regulated" buses and subways, Regan told Press Associates Union News Service. "That's in contrast to how they portray themselves."