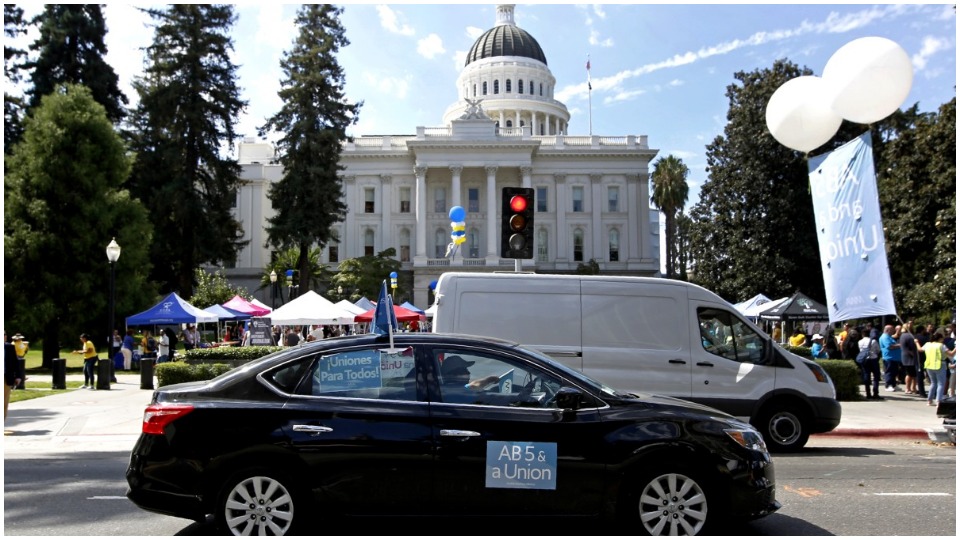 SACRAMENTO (PAI)—Two big "gig economy" firms, "ride share" giant Uber and the courier company Postmates, are battling California's new labor-backed law banning the company misclassification of workers, especially Uber and Lyft drivers and other "gig" workers, as "independent contractors."
And Democratic Gov. Gavin Newsom, the state AFL-CIO, pro-worker groups, state Attorney General Xavier Becerra (D) and sponsoring State Rep. Lorena Gonzalez, D-San Diego, are girding for the coming conflict in federal court—and in the battle for public opinion.
Uber and Lyft tried all they could to stop Gonzalez's bill, AB5, before lawmakers passed it and Newsom signed it on Sept. 18. It targets worker misclassification in general and gig economy worker misclassification in particular. They failed.
Now Uber and Postmates have sued in federal court to stop it.
"One clear thing we know about Uber is they'll do anything to try to exempt themselves from state regulations that make us all safer and their driver employees self-sufficient," Gonzalez tweeted Dec 31. Uber alone has been hit with 38 lawsuits from its exploited workers.
Misclassification smashes the rights and the incomes of a million workers in California alone, including the Uber and Lyft drivers, port truckers in Los Angeles-Long Beach whom the Teamsters have tried to organize for years, and warehouse workers in what Californians call The Inland Empire. It's also rife elsewhere. Other cities and states, led by Seattle, also outlaw management misclassification. GOP President Donald Trump's NLRB, though, is for it.
As "independent contractors," misclassified workers lack virtually all labor law protection. Not only are they barred from unionizing, but also must pay their own and the employers' shares of Medicare and Social Security payroll taxes, workers' comp and often even their own gas, insurance, and supplies.
"Gig economy" workers misclassified as "independent contractors" have had to sue "gig" firms. Rebecca Smith of the National Employment Law Project says eight big "gig economy" firms, including Uber, Postmates, Lyft and Amazon, face more than 70 suits combined.
And that doesn't count the long-running battle in Los Angeles-Long Beach, where the Teamsters have repeatedly called in the state Labor Department against the port trucking firms' misclassification of truckers as independent contractors. The state, the port truckers, and the Teamsters have won every time against at least four big trucking companies.
Smith says the misclassified gig economy workers' lawsuits "cover underpayment of wages, tip-stealing, unfair shifting of business costs onto workers, discrimination, and unfair labor practices meant to keep workers from joining together to improve conditions. Plainly, these workers are not happy with the status quo."
AB5 turns all that upside down. It calls those workers "employees," organizable under labor law, and covered by other worker protections. That led to the lawsuit in federal court to overturn the new state law. The gig firms want to save money on pay, payroll taxes, workers' comp, and to thus cut their rates and increase their profits, Gonzalez says.
"More than a million Californians have been misclassified by employers looking to cut costs at the expense of workers. Companies relying on this illegal business model decimate the state's worker safety-net programs, undermine fair competition, and subject law-abiding businesses to unfair competition," Gonzalez explains.
"Ultimately, when workers without protections are laid off or cannot find work, get sick or injured on the job, or they retire, taxpayers end up bearing the costs of supporting them…. By applying a strict test to determine who is an independent contractor and making 'employee' status a default under the law, working Californians who have been kept off payroll as employees will gain access to basic labor rights for the first time."
The benefits include "rights to minimum wage, overtime, unemployment insurance, workers' compensation, paid sick days, paid family leave, workplace protections against harassment and retaliation, and the right to form or join a union. Some of the many workers who will benefit include janitorial workers, construction workers, port truck drivers, home health aides, hotel and hospitality workers, delivery and ride-hail drivers," she said. The "ride-hail drivers" are the Uber and Lyft workers.
The California AFL-CIO campaigned strongly for AB5, along with allied unions and community groups. At its 2019 convention, the national AFL-CIO denounced the gig firms' exploitation. The state fed will defend California's law, too, Executive Secretary-Treasurer Art Pulaski said on New Year's Eve.
"AB5 is the most important state law in decades to address widespread inequality by raising wages for workers and holding corporations accountable," Pulaski said. He called the suit against AB5 "completely without merit and shows how little these massive tech companies care about their own workforce or workers in other industries who stand to benefit from AB5."
"Gig companies built entire business models on the pernicious practice of misclassification. Instead of recognizing their drivers as partners in the companies' success and providing a fair wage and basic protections like workers' compensation if injured on the job, paid sick days and family leave, these companies deny workers what they deserve under the law."
"The California labor movement will fight against these disingenuous efforts to overturn AB5 and roll back workers' rights…. We're not about to allow greedy corporations to flout the law or delay its implementation with meritless lawsuits."
Of course, Donald Trump's National Labor Relations Board's top enforcement official, the general counsel, sides with Uber, Postmates, Lyft, and other gig firms and against the workers. Larry Mishel of the Economic Policy Institute spotlighted the GC's internal memo, which told staffers to consider gig workers as "independent contractors," in September.
Mishel said the NLRB's general counsel "either ignores, dismisses, or misstates the realities Uber drivers face, in order to wrongly conclude they are independent contractors." Misclassifying them "robs Uber drivers and similar workers of the rights afforded to them by the National Labor Relations Act to engage in collective action—like collective bargaining—to improve their working conditions."