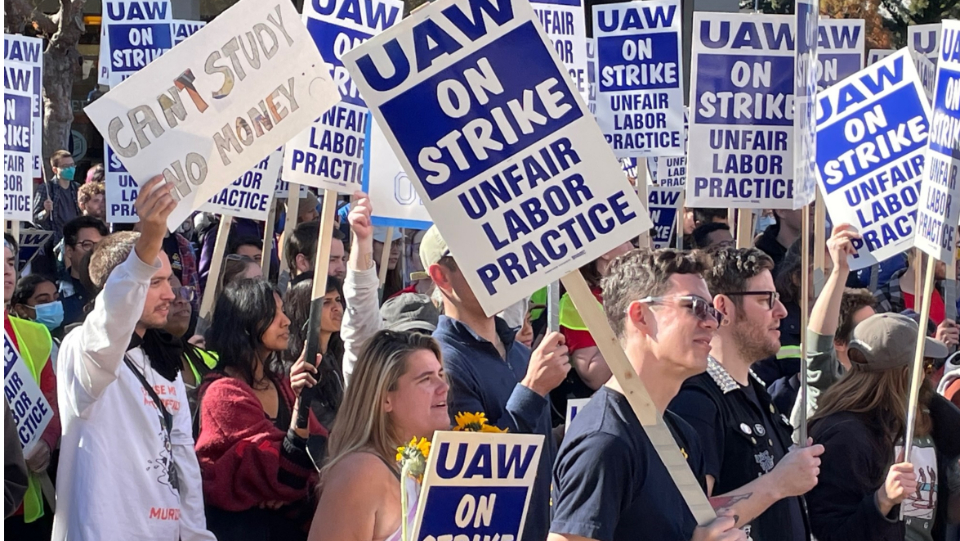 BERKELEY, Calif.—After many months of bargaining and five weeks on picket lines at University of California campuses throughout the state, Academic Student Employee and Student Researcher bargaining teams announced Dec. 16 that they have reached tentative agreement with the university. Ratification votes will take place through Dec. 23.
The country's largest-ever strike in higher education began Nov. 14, as some 48,000 graduate student academic workers launched picket lines at all 10 UC campuses around the state. Among their demands: wages in line with the cost of living, support for workers with children, sustainable transit incentives, equity for international scholars.
Earlier this month, some 12,000 of the academic workers—postdoctoral employees and academic researchers represented by UAW Locals 2865 and 5810—went back to work after overwhelmingly ratifying new contracts.
UAW Local 2865 and Student Researchers United/UAW, representing the remaining 36,000 strikers—academic student employees, teaching assistants, tutors ,and readers represented by UAW Local 2865 and Student Researchers United/UAW—announced Dec. 16 that tentative agreements had been reached, after Sacramento Mayor and former state Senate leader Darrell Steinberg stepped in as mediator last week.
Tarini Hardikar, a graduate student researcher in the Chemistry Department at UC Berkeley and a member of Student Researchers United-UAW's bargaining team, said in a statement that over the two-and-a-half years of the contracts, "workers will see raises of up to 66%, or over $13,000/year at some campuses." She added that the tentative pacts include expanded benefits for parent workers, greater rights for international workers, protections against bullying and harassment, as well as workplace protections and sustainable transit benefits.
"I am so proud of what we were able to accomplish with this contract," Hardikar said.
Noting that unions had engaged in an extensive democratic process during negotiations, including open bargaining sessions and widely attended bargaining caucuses, UAW Local 2865 President Rafael Jaime said the union's membership "is the highest decision-making body, and it is now up to all members to vote on this tentative agreement."
The unions said picketing is set to continue this week as the ratification votes take place.
The five-year agreements already ratified by the 12,000 postdocs and academic researchers include pay increases of up to 20% as well as increased family leave, childcare subsidies, and greater employment security.
The coordinated strikes were backed by organized labor throughout the state.
On Nov. 14, the first day of the strike, California Labor Federation Executive Secretary-Treasurer Lorena Gonzalez declared, "California labor is united. We stand alongside the dedicated academic workers who are so critical to the teaching and learning environment at the UC. She added, "It is outrageous that these workers make poverty wages at some of the wealthiest institutions in our state."
Over 400 UC faculty members pledged not to cross the picket lines, saying they expressed "our strongest possible solidarity with the largest university strike in United States history," committing to "honor the picket line in full and not to replace struck labor," and encouraging colleagues, students, staff and community members  to learn about the strike.
There were signs, however, that the road to ratification might not be entirely smooth.
The nonprofit news site CalMatters reported Dec. 19 that 15 of the 40 bargaining committee members had voted to reject the tentative agreement and were leading a campaign to persuade members of the two unions to reject ratification. The new agreement will take effect if approved by a simple majority of each union's membership.