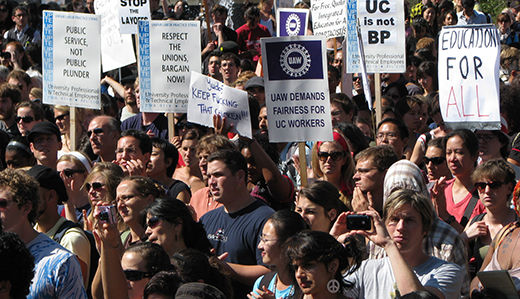 BERKELEY, Calif. – Keeping California's public higher education both public and affordable was the theme as a star-studded panel gathered with hundreds of faculty members, students and concerned community members on the University of California campus here Oct. 26 to project a way forward in the face of the state's growing budget crisis.
The panel discussion was part of a week of actions on UC campuses around the state, protesting the Board of Regents' proposal to hike fees by nearly one-third and the wave of cutbacks hitting faculty, students and campus workers alike.
California's unique requirement that both budgets and taxes must be passed by a two-thirds legislative majority, and Prop. 13, the 1978 ballot measure capping both commercial and residential property taxes, were special targets.
Stressing that "a lack of democracy" underlies much of the current crisis, UC Berkeley linguistics professor George Lakoff highlighted the one-sentence ballot measure he has prepared: "All legislative actions on revenue and budget must be determined by majority vote." The measure is championed by the CA Majority Rule coalition which hopes to get it on the ballot next year.
Lakoff, well-known for analyzing the use of language in politics, said that while "it only takes a majority to decide on majority rule," passing the measure will not be easy. He called for building a broad grassroots infrastructure of volunteer signature-gatherers, speakers and fund-raisers. "Conservatives have this kind of network," he said. "We need it, too. It's not just about the university – it's about every issue in the state."
The UC professor brought the audience to its feet as, choking back tears, he said, "Last week I became a grandfather – I want all this to be available for her!"
San Francisco Assessor/Recorder Phil Ting, a 1991 UC Berkeley graduate, targeted Prop. 13 as "the biggest tax loophole" in California history. "What Prop. 13 told Californians is, we want to stop paying for education, health care and public services," he said. "What's the rationale for subsidizing Disney World and Great America?"Ting's "Close the Loophole" campaign would keep protections for homeowners while requiring corporate landowners to pay their fair share of state taxes.
Student Senator Ariel Boone pointed out the hardships increasingly faced by UC students, who are now having their financial aid delayed, "sitting on the floor, being unable to get classes they need to graduate – part of the student experience today is having to fight for our university."
Boone called on the united movement of students, faculty and workers to "say 'Yes' by proposing our solutions and demanding positive changes." Citing earlier campus struggles including the 1960s Free Speech Movement, she declared, "Students have fought before and won, we can do it again. This movement is our chance to say yes to public education."
California Assembly Majority Leader Alberto Torrico, D-Fremont, who is among a number of elected officials backing CA Majority Rule's ballot measure, has authored another measure to ease the fiscal crisis. Oil companies are making huge profits, he said, but California is the only oil-producing state that doesn't levy an oil-extraction tax.
Torrico's AB 656 would impose a 9.9 percent tax on oil extraction, to raise up to $1 billion for California higher education. "Even Governor Palin's Alaska, and George Bush's Texas, charge an oil extraction fee – let's do it in California!" he said.
UC Riverside's students, 80 percent people of color and many working as well as studying, are specially threatened by the university's proposals, said Prof. Jayna Brown of UC Riverside's Ethnic Studies Department. "My fear is that as fees go up and programs like the Educational Opportunity Program shrink, my students won't be able to get an education. I know my own university experience wouldn't happen for others if this process continues," she said.
A similar theme was expressed by UC Berkeley city planning professor Ananya Roy, who called on the university to "retain its public character" and continue to be both "elite and equitable."
The week of activities on the Berkeley campus includes a lecture by "Shock Doctrine" author Naomi Klein, and will end Nov. 2 with campus-wide Day of the Dead observances.