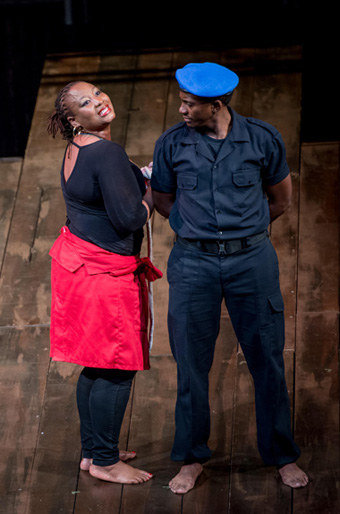 SANTA MONICA, Calif. – For the second year in a row, the world-renowned South African Isango Ensemble, which draws its artists mainly from the townships surrounding Cape Town, has come to Santa Monica's Broad Stage, an elegant new 499-seat venue, to share its work with American audiences. A year ago it was a stunning, revelatory re-imagination of Mozart's revolutionary opera "The Magic Flute."
This year it's "uCarmen," a stage version of the film U-Carmen eKhayelitsha, by Isango co-founder Mark Dornford-May, which sets the opera in a South African township and lifted that disadvantaged place into the international spotlight. The film won the Golden Bear (Best Picture) at the Berlin Film Festival in 2005. This highly malleable material was then adapted back to the stage for its premiere at Khayelitsha's O. R. Tambo Sports Centre for a sold-out three-week run.
The original opera "Carmen" by French composer Georges Bizet was advanced for its time, and in fact not an immediate success at its premiere on March 3, 1875. It placed center-stage some very common people, occupation soldiers, a restive population of women cigarette factory workers in Seville and a chorus of townspeople – not a king, queen or duke in sight. And don't forget the highly seductive flamenco dancing. Paris audiences reacted negatively to the shocking first-act scene of women smoking on stage, although "Carmen" continued to play at the Opéra-Comique. (It's not a comic opera, of course, but a musical work with spoken dialogue was at that time by definition considered "comique.")
Believing his latest and best work a critical failure, although it seemed to be slowly catching on with the public, Bizet died on the night of the 31st performance exactly three months to the day after the premiere, clueless that his opera would become one of the most performed in the repertoire. Directors have re-set it in almost every conceivable time and place (and in some pretty inconceivable ones as well). Why not a township in South Africa?
Relevant issues in today's South Africa
"uCarmen" has been in the Isango stable of productions since its founding in 2000. As the director has noted, "it explores issues of fame and wealth, the position of a strong and independently minded woman in a very masculine society, and perhaps most importantly, the incomprehensible attraction between abuser and victim."
Although citing many improvements in the legal status of women after the achievement of democracy in 1994, still, says Dornford-May, "Appallingly gender-based violence is at an all-time high – on an average day three women will die a the hands of their intimate partners, every seventeen seconds a woman is raped and forty percent of men freely admit to hitting their partner…. The story of a woman murdered for wanting her freedom to choose how she wants to live is very sadly therefore an extremely important topic for us to explore." Statistics appearing in a Los Angeles Times article just days before "uCarmen" opened showed South Africa to be "one of the most violent societies on Earth," the homicide rate rising. "Every day, on average, 49 people are killed by others."
"uCarmen" is presented by South African Tourism – as was "The Magic Flute" last year. I guess it's a sign of democracy that the sponsor has "allowed" the issue of violence to be mentioned so prominently in the program notes, when that could clearly undercut the very tourism the agency is trying to promote. I have traveled to South Africa, and all I can say is, like anywhere, be careful and be aware of your surroundings.
Bones or cards?
Opera lovers will certainly recall the famous scene in "Carmen" where the title character and her friends tell their fortunes with cards. Carmen's always come up with death. But in the synopsis published in the program the fortunes are read with bones, not cards, because this is after all a South African version.
On stage, however, the director reverted to Bizet's cards. Although a small point, it is a telling one. By contrast to Isango's "Magic Flute," which at every turn revealed new relevance and meaning for a non-European cast and audience (and also a non-18th-century audience), "uCarmen" held more closely to a classic performance style. Yes, the entire orchestra was comprised of a marimba ensemble, with only very fleeting introduction of drums, a trumpet, and even a vuvuzela, but the singing was in most cases of a traditional nature. The Carmen, Pauline Malefane, has indeed appeared in the role, and in other operas, in standard theaters.
Marimbas do not have all the notes, and certainly not all the colors and timbres that a full orchestra can produce. Often, during "uCarmen," a listener missed certain intervals, although I had to wonder why the musical palette was so pared down from the more ample adaptation we heard in "Flute." Not even the famous castanets for Carmen's sexy song and dance for Don José at the tavern of Lillas Pastia, here re-conceived as a township shebeen. Those special enchanting South African choral harmonies did poke out from time to time, most effectively accompanying Micaela's aria in Part 2, but there were too many passages where the operatic voices accompanied only by marimbas, simply did not have the harmonic support that might have been supplied by other instruments, or even by choral backup.
The voices were all better than serviceable. Malefane's in particular is one of world-class status and was rightly featured. She has the rich creaminess that reminded me of a Risë Stevens in the role. But in the effort to bring this opera back to the stage, the South-Africanness did not go far enough, not in the dancing, not in the harmonies, not in the social implications, other than the theme of violence against women (but of course that applies to a lot of places, not just South Africa). It's true that Carmen's dances were as much African as flamenco, and we got some "twerking" that is not normally seen in this opera. Even the libretto seemed very old-fashioned, not all that much adapted to the South African setting – although I admit that it was not always possible, as is often the case with sung text, to hear the words distinctly.
In short, in its overly faithful adherence to the original, does "uCarmen" provide new insights into these familiar characters and emotions? I think not, although I hate to end on that note, because it's certainly a wholly enjoyable evening, one that will please and delight in many respects. There are many passages where the marimba arrangements, so expertly and enthusiastically performed by an energetic and hardworking ensemble under the masterful direction of Mandisi Dyantyis, could be stand-alone concert pieces.
Remaining performances take place on Weds. Oct. 7, Fri. Oct. 9 and Sat. Oct. 10 at 7:30 pm, and on Sat. Oct 10 at 2 pm. The Broad State is located at 1310 11th Street at the corner of Santa Monica Blvd., Santa Monica 90403. For tickets contact: 310.434.3200 or www.thebroadstage.com.
"uCarmen" continues its American tour to Baltimore (Oct. 15-17), New York (Oct. 30-Nov.. 8), and Boston (Nov. 12-22).
Photo: Pauline Malefane as Carmen and Mhlekazi "Wha Wha" Mosiea as Don José.