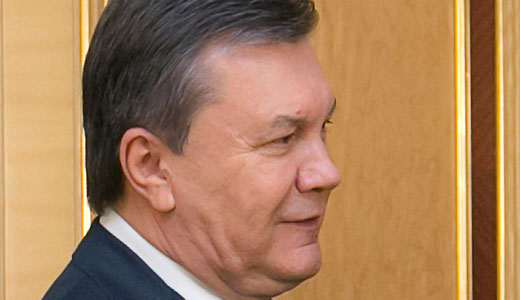 Ukraine's coup government issued an arrest warrant for deposed President Viktor Yanukovych yesterday, holding him responsible for the deadly clampdown on fascist violence in Kiev.
Mr Yanukovych has gone to ground after fleeing the capital on Saturday, with rumours yesterday suggesting he was holed up in the Crimea, a pro-Russian area of Ukraine.
Meanwhile Russia blasted the new government in Kiev.
Prime Minister Dmitry Medvedev said it had come to power as a result of an "armed mutiny" and there were therefore "big doubts" over its legitimacy.
Acting interior minister Arsen Avakhov wrote on his Facebook page that the warrant had been issued for the president and several other officials for the "mass killing of civilians."
At least 82 people – police and protesters – were killed by clashes in Kiev last week.
The EU has strongly backed the protests as it tries to draw Ukraine away from its historical links with Russia.
European Commission spokesman Olivier Bailly referred to parliament speaker Oleksandr Turchinov as the "interim president" yesterday, adding that meetings were planned between him and visiting EU foreign policy chief Catherine Ashton.
German government spokesman Steffan Seibert said yesterday that the EU association agreement, rejected at the 11th hour by Mr Yanukovych, was still on the table.
The EU has also maintained a telling silence on laws being mooted in Ukraine's rump parliament that would ban the Communist Party.
Ukrainian communists accused Ms Ashton and other European leaders of not wanting to upset their potential allies in the coup government or protest movement.
The right-wing protesters have pledged to stay on the streets until new elections are held.
Outside Kiev, activists have had to take to the streets to defend themselves from marauding nazi hordes.
Residents of Novoazovsk in the Donetsk region announced yesterday that they'd formed a citizens' militia to prevent attacks by radical nationalists.
And hundreds have rallied in Kharkov, staging a round-the-clock watch on a statue of Russian revolutionary hero Lenin so that it does not suffer the same fate as 25 others that have been battered by fascists.
They put up signs against vandalism, destruction, and looting.
This article was reposted from Morning Star.
Photo:Viktor Yanukovych. AP