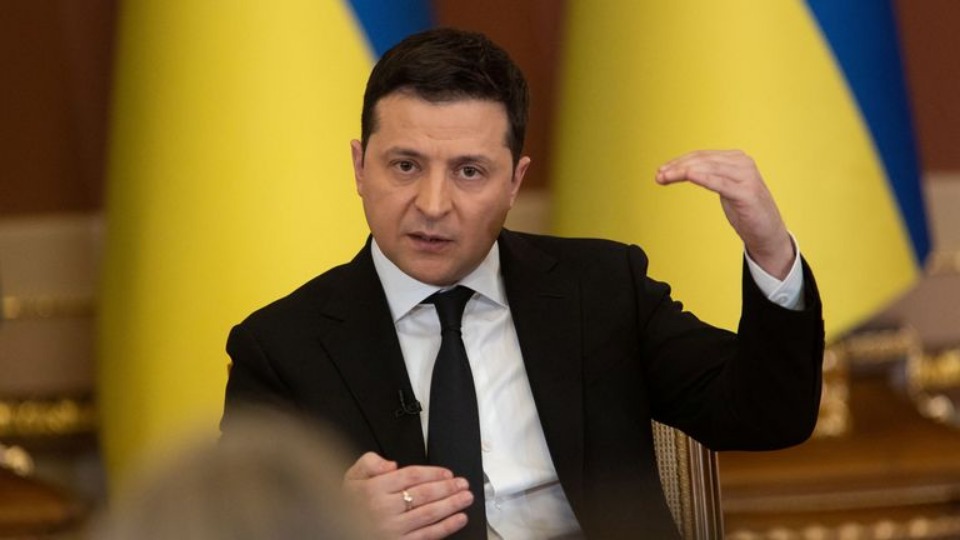 Ukrainian President Volodymyr Zelensky urged the West to stop creating panic as he downplayed the threat of a Russian invasion of the country Saturday.
"There are signals even from respected leaders of states, they just say that tomorrow there will be war," he told a press conference in Kiev. But he said such claims are scaremongering and have a negative impact on the Ukrainian economy.
"This is panic—how much does it cost for our state?" he asked, warning of the "destabilization of the situation inside the country."
Zelensky said the threat from Russia is no greater now than it was last spring as he accused the press of whipping up a frenzy. The Ukrainian leader was responding to claims of an imminent Russian invasion made by Britain and the U.S., amplified through compliant mainstream media.
President Joe Biden claimed on Thursday that there was "a distinct possibility" that Moscow would launch an incursion next month. He has promised a robust response to any such invasion with the U.S. flooding Ukraine with weapons and increasing its already substantial troop presence to encircle Russia.
Britain has fallen loyally in line with Washington and is considering the doubling of its forces deployed to eastern Europe to send "a clear message to the Kremlin." Earlier this month, Foreign Secretary Liz Truss was accused of "spreading nonsense" after she claimed Russia planned to install a puppet government in Ukraine, naming five individuals she insisted were central to the plot.
So-called "Russian aggression" has become an accepted fact in the mainstream press, although little concrete evidence has been presented to back the claims.
Russia insists that it has no plans for military action and has issued two treaties outlining security guarantees for discussion with NATO and the US. They include agreement to abide by the 2014 U.N.-brokered Minsk Accords which brought a fragile ceasefire to the Donbas region after Lugansk and Donetsk declared independence.
Russia also seeks assurances that the U.S. will not station nuclear weapons in Europe and that agreements over NATO's eastward expansion and Ukrainian membership of the alliance will be adhered to.
Morning Star
Read further People's World coverage on the war danger in Ukraine:

> Protesters at White House condemn U.S. push for war with Russia

> The West, not Russia, is responsible for the war danger in Ukraine

> Biden and NATO raise the stakes in deadly Ukraine war gamble