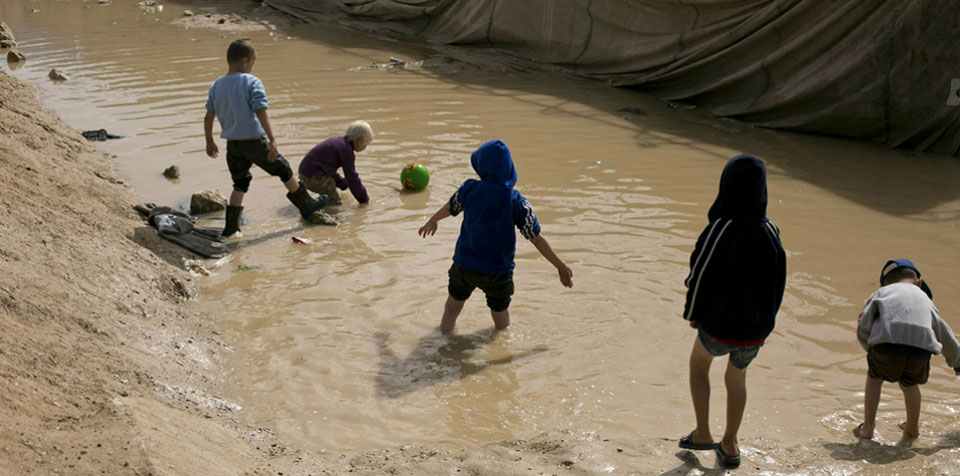 The number of displaced people across the globe passed 80 million this year, the United Nations reported December 9.
According to UN figures, nearly 30 million of the total are refugees.
The coronavirus pandemic, war, violence, and persecution continue to force people to flee from their homes, the UN refugee agency (UNHCR) report said.
It called for action from world leaders to address the crisis, which it said is worsening due to violence in Syria, the Democratic Republic of Congo, Mozambique, Somalia, and Yemen.
"We are now surpassing another bleak milestone that will continue to grow unless world leaders stop wars," UN High Commissioner for Refugees Filippo Grandi said.
"With forced displacement doubling in the last decade, the international community is failing to safeguard peace."
Regarding the coronavirus and the new vaccines, "Inclusion is key because the pandemic has taught us that unless everybody is covered by responses, and in the future by vaccines, it will continue to be a threat for all of us," Grandi told a UNHCR virtual forum.
During four sessions held online over seven weeks, refugees, governments, civil society, the private sector, academics, and international organizations have shared some of their lessons learned, from the benefits of refugee inclusion to the need to combat misinformation and xenophobia.
In a wide-ranging discussion, several participants emphasized the pandemic's disproportionate social and economic impact on vulnerable people, particularly refugee women and girls. They talked about the need to help young refugees return to school or to access the technologies necessary for distance learning.
Jutta Urpilainen, the European Commissioner for International Partnerships, pointed out that at least 31 percent of schoolchildren worldwide are not being reached by distance learning programs, and that refugee children were among those most at risk of missing out on education due to the pandemic.
"Taking this [principle of] leave no one behind seriously means that we must focus our efforts and resources on those most at risk of education disruption, especially refugees and displaced learners," she said.
Jayathma Wickramanayake, the UN Secretary-General's Envoy on Youth, highlighted that refugee-led organizations, particularly those led by young refugees, have become first responders during the pandemic, filling a vacuum that was created when humanitarian workers were no longer able to visit communities.
"We have to remember that when we come out of the pandemic," she said. "We have to respect their leadership and use the expertise of young refugees."
As a number of promising vaccines offer the beginnings of a path out of the COVID-19 pandemic, Grandi called for the response to the crisis to be depoliticized.
"The response to the pandemic, what it has taught us going forward, is not to politicize refugees, forced displacement and humanitarian issues at large," he said.
"If what we do to address the crisis is not grounded in a sense of humanity, we will fail."
The People's Vaccine Alliance is calling on all pharmaceutical corporations working on COVID-19 vaccines to openly share their technology and intellectual property through the World Health Organization COVID-19 Technology Access Pool so that billions more doses can be manufactured, and safe and effective vaccines can be available to all who need them.
The Alliance is also calling on governments to do everything in their power to ensure COVID-19 vaccines are made a global public good—free of charge to the public, fairly distributed, and based on need. A first step would be to support South Africa and India's proposal to the World Trade Organization Council this week to waive intellectual property rights for COVID-19 vaccines, tests, and treatments until everyone is protected.
The UN warned that the coronavirus crisis has "disrupted every aspect of human life and severely worsened existing challenges for the forcibly displaced and stateless."
Despite the number of refugees, global asylum applications dropped by a third during the first half of the year compared with the same period in 2019 — caused, the UN suggested, by restrictions on movement due to COVID-19.
This article was supplemented by UN agency reports.