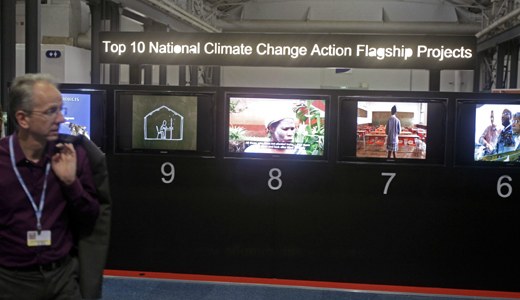 In its yearly briefing to the UN climate summit, the World Meteorological Organization said that 2011 is, so far, the world's tenth warmest year on record, despite the warming being masked by cooling La Nina conditions, reported BBC News.
The La Nina event – which was the strongest of the past 60 years – was linked with many of this year's troubling climate events, such as the drought in east Africa, the central Pacific, and the southern U.S., and flooding in southern Africa, eastern Australia, and southern Asia.
At the summit, which took place in Durban, South Africa, delegates discussed key issues. For one, global warming is getting a cold reception from Canada, which may formally renounce the Kyoto Protocol. This protocol to the UN Framework Convention on Climate Change is aimed at fighting global warming, and is part of an international environmental treaty with the goal of achieving greenhouse gas stability.
Canada is worried its economic development may be stunted if the country takes stronger measures against greenhouse gas emissions than the U.S.
Russia and Japan are also unwilling to make further emission cuts under the protocol, though it is not yet known if they will formally withdraw alongside Canada.
Developing countries are strongly pushing for rich nations to pledge further emission cuts under the protocol. As noted in a report by the International Energy Agency, the need to keep the rise of global average temperature below 2C requires that emissions peak and fall at around 2020, which U.S. deputy climate negotiator John Pershing doubts will happen. He feels so because he does not think governments will change their existing pledges on emissions before that year.
"The idea that countries would change their current pledges that they listed in the Cancun agreements [from the previous year's summit held in Mexico] seems unlikely to me," said Pershing. "I don't see the major economies shifting those actions."
Countries worldwide are split on the issue of curbing these emissions and pursuing economic competitiveness. Many countries insist that curbs are vital in defending against climate impacts, including rising sea levels.
The WMO mentioned that the 13 warmest years on record have all occurred since 1997, and that, this summer, Arctic sea ice melted to the smallest volume ever recorded.
"Our science is solid," said WMO secretary-general Michael Jarraud. "It proves unequivocally that the world is warming and that this warming is due to human activities.
"Concentrations of greenhouse gases are very rapidly approaching levels consistent with a 2.0-2.4C rise in average global temperatures, which scientists believe could trigger far-reaching and irreversible changes in our Earth, biosphere, and oceans."
Photo: A delegate observes TV screens at a climate conference in Durban, South Africa. Schalk van Zuydam/AP Images