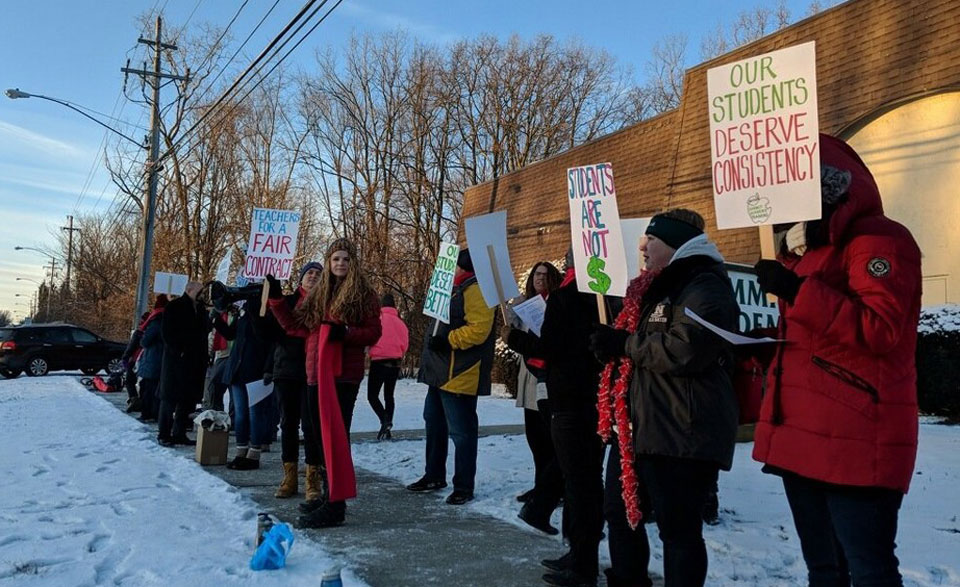 PARMA, Ohio – More than two dozen teachers, staff, parents and community supporters picketed  Summit Academy in suburban Parma Feb 19 as a strike began for recognition of their union which is affiliated with the Ohio Federation of Teachers.  It was the first strike at a charter school in state history.
In high spirits, nearly every one of the 24 teachers at the school marched, chanted and sang in front of the school which serves special needs children. Members of Musicians Union Local 4 beat drums to bolster the picket line.  Management canceled classes that day to train substitutes, many without licenses, not to mention the special skills needed, who were hired to break the strike when school reopens Feb 21.
"It was a joke," said Holly Osborne who took part in the training that morning.  "The subs don't know anything.  One asked 'What's the difference between ADHD and autism?'" ADHD is the medical term for Attention Deficit Hyperactivity Disorder that afflicts many of the school's 200 children, while autism refers to a broad range of problems affecting social skills, repetitive behavior, speech and nonverbal communication.
"You can't throw strangers on these kids," she said.  "They require routine."
Heather Sedlak, an intervention specialist, who has worked at the school for the past three years, said the teachers and staff decided to organize last March because staffing had been cut and class sizes had greatly increased.  "The parents were promised two professionals per room, but most classes only have one.  That's an impossible situation when there are as many as 25 children and many are hyperactive."  With only one custodian, there are also serious problems of safety and cleanliness, she said.  "There are holes in the walls  and bathrooms are not being cleaned."  But, she said, the parents have been "amazing."
James Miller, a truck driver and professional wrestler, was one of the parents on the picket line.  He said the parents support the teachers "a hundredfold."  He was one of 100 parents at a raucous school board meeting Feb. 12 where they denounced the management for neglecting their children's well being.  "They admitted they're just using our kids for profit." He said the teachers are excellent.  He said his eighth-grade daughter suffered from ADHD and he had to take her out of public school but '"now she loves school and made the honor roll."
Negotiations with the management, which runs 23 schools in Ohio, broke off after 12 hours of talks Feb. 15 with no date set to reopen.
"We'll be out here every day until we get a contract,"  Sedlak said.