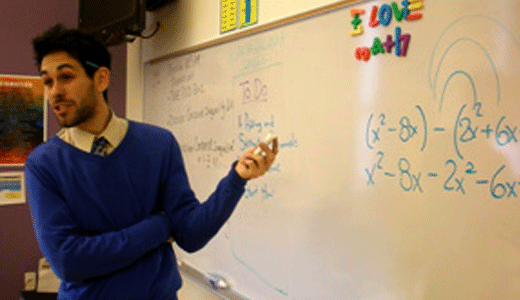 CHICAGO — On Dec. 6, Hugo Hernandez will receive an award at the People's World/Mundo Popular 22nd annual banquet here. Hernandez will be joined by three other award recipients: South Austin Coalition, Illinois Campaign for Better Health Care, Carmen Cohen of HEART/AFSCME and keynote speaker Amy Dean, former president of the South Bay Labor Council, as honored guests at the event themed, "Unity in action for a people's economic recovery."
Hernandez is a key person in a unique labor organizing initiative here. On June 18, teachers at three Chicago charter schools voted to form a union in order to improve their working conditions. Over 70 percent of the teachers chose ACTS, Alliance of Charter Teachers and Staff, to represent them.
They withstood challenges by the charter schools' management, Civitas, which claimed the teachers had no right to form a union.
According to its website, Civitas is an "educational management organization" created as a subsidiary of the Chicago Charter School Foundation, "a non-profit organization that holds a charter with the State of Illinois for the 13 campuses operating under the name of the Chicago International Charter School." The Bill & Melinda Gates Foundation is a funder for Chicago Charter School Foundation.
However, the National Labor Relations Board ruled that the teachers had the right to join a union and to hold a secret ballot election.
Negotiations began the following month and led to across the board gains in salary, benefits, class size as well as curriculum and professional development.
According to one of the teacher negotiators, Emily Mueller, "both sides acted in good faith, students and teachers came out the clear winners."
This union victory was put into perspective by Hugo Hernandez, the national representative for the American Federation of Teachers and the project director of Chicago ACTS.
Q: Why did AFT decide that it was time to organize charter schools?
A: In July of 2000, the AFT convention passed a resolution supporting charter school teachers. Former AFT President Al Shanker originally promoted innovative lab schools to develop new ideas to help public schools. It was hijacked by corporate America.
I first got involved in 2006 as AFT national representative in Florida. I was assigned to Pembroke Pines Charter Schools which had 350 teachers. We succeeded in organizing seven schools into a union in a "right-to-work state." This first historic victory was the spark for a national organizing drive.
Q: Could you describe the events that led to the Chicago ACTS victory of the organizing campaign at Civitas?
A: Teachers were calling from all over the country for help. Chicago was chosen because it was considered ground zero due to the fact that this city has one of the largest amount of charter schools in the country. The Civitas teachers had been trying to organize for almost a year, and they had been asking for help. Local 1 President Marilyn Stewart asked for help. ACTS became the charter school bargaining union because Illinois state law forbids the Chicago Teachers Union [AFT, Local 1] from organizing charter school employees.
The Alliance of Charter School Teachers and Staff is a joint venture sponsored by the AFT, CTU and the Illinois Federation of Teachers.
Q: What would you say is the future of organizing charter schools?
A: This is just the beginning. Our public school teachers and organized charter school teachers will play a vital role in future organizing drives. Solidarity is the key to success. We have just started a rank and file charter school advisory committee. This includes teachers from all over the country who have been organized or are having contract battles.
If you are able to help, please contact Chicago ACTS at 312-738-3010 or, on our website at www.chicagoacts.org.
Lance Cohn is a retired teacher and 41-year member of the Chicago Teachers Union, AFT Local 1, and one of the founding members of Chicago ACTS.
Photo: Matt Karlan teaches a math class at the Chicago International Charter School's Ellison campus. Credit: Adrian G. Uribarri