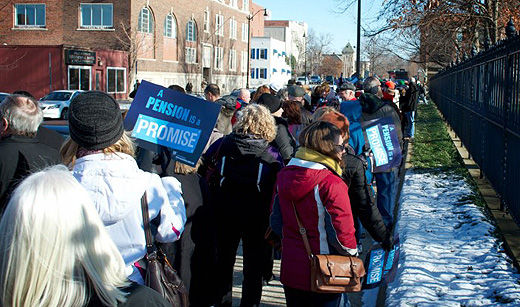 WASHINGTON (PAI) – Attacks on public workers' pensions are "politically motivated," undertaken by foes of workers and unions and have no basis in financial fact, Fire Fighters President Harold Schaitberger says.
Not only that, but they're part of a larger Wall Street scheme to get its hands on workers' pension money nationwide, he believes.
Schaitberger rebutted the attacks on pensions during a Feb. 12 discussion at the Center for American Progress, a think tank, about a plan unveiled by Sen. Tom Harkin, D-Iowa, to shore up pensions in the private sector.
Traditional pensions, which pay guaranteed sums every month to retirees, cover fewer than one-fifth of all workers and half the people in the country have less than $10,000 each in savings, Harkin told CAP. With only Social Security left – and its future cost of living increases are under attack – a retirement funding disaster looms, he said.
By contrast, public workers, including Schaitberger's Fire Fighters, have more pension protection. But the GOP, the radical right and their business backers are attacking those, too, under the guise of balancing state and local budgets, he added.
"These attacks are clearly political," Schaitberger stated. "The 'unfunded liabilities' and 'problems around public retirement systems' that opponents speak of are artificial, when more than 80 percent of public pension plans are more than 80 percent funded."
That hasn't stopped politicians, of both parties, from attacking public pensions. But a 2013 National Association of State Retirement Administrators report says that "with nearly $3 trillion set aside in pension trusts for current and future retirees, most states and cities have substantial assets to weather the economic crisis.
"Public pensions are paid out over decades; state and local government retirees do not draw down their pensions all at once," it adds. Nevertheless, 43 of the 50 states changed public worker pension benefit levels, rate structures or both, from 2009-11.
Schaitberger said that includes states where workers' pensions were very financially healthy. He singled out Indiana (87 percent funded), North Carolina (91 percent), New York (92 percent), Florida (87 percent) and, most notably, Wisconsin (100 percent) for criticism.
There, GOP Gov. Scott Walker's anti-union offensive killed collective bargaining rights for 200,000 state and local workers, and also forced them to accept much higher worker contributions to a pension plan that was already fully funded.
But it's not just Republicans who slash at public workers' pensions, he noted. Schaitberger said New York's Democratic Gov. Andrew Cuomo forced pension cuts on his state and local workers even though their pension plans are financially healthy.
In those states where workers' pensions are not fully funded according to present standards – led by New Jersey and Illinois – the fault has been on the states' side, as they refused for years to pay their required matching money to the pension funds.
The unpaid totals mounted into the millions, including $3 billion in New Jersey alone, the IAFF leader added. And the delinquency began not with present GOP Gov. Chris Christie, who pushed pension cuts through his Democratic-run legislature, over vociferous state and local worker protests. The underfunding began years ago with GOP Gov. Christie Todd Whitman and continued under governors of both parties.
Meanwhile, the workers in Illinois, New Jersey and elsewhere, under union contracts, kept contributing to their pension plans. Now those delinquent states are cutting workers' pension payouts, present and future, Schaitberger said.
The payouts are vital to the state and local workers, including his Fire Fighters, Schaitberger noted. That's because those workers are not included in the Social Security system – so their pensions are their leading, if not sole, retirement income.
All these facts aren't stopping the financiers who destroyed private pensions through the Great Recession – when investment values dropped by at least 40 percent and the stock market dropped by half – and who now set their sights on public pensions, the union leader adds.
If the financiers first can't convert the public workers' pensions to 401(k)s, putting the investment risk on workers, they want to take them over – or both.
"It started with the private sector – the Enrons. Then there were changes in accounting procedures to make retirement contributions virtually unaffordable" for firms by forcing them to put all future obligations as paper losses on their books, immediately. "They were forced out of the pension system. And now we have the same thing in the public sector.
"Then you match all this with the interests of Wall Street, which wants to get its hands on $4 trillion-$5 trillion" in workers' pension money "without meeting federal government standards. Just follow the money," of lobbying and campaign contributions, he concluded.
Photo: Save Our Pensions Facebook page.