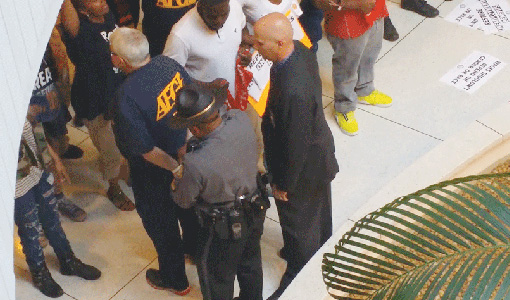 RALEIGH, N.C. – Some 20 leaders of labor unions and allied organizations were arrested here Monday while protesting right wing policies passed by the North Carolina state legislature that have targeted the state's poorest and most vulnerable citizens.
More than 800 activists converged at the N.C. State Capitol Monday afternoon as part of the ongoing series of demonstrations known as Moral Monday.
AFGE National President J. David Cox Sr. was among those arrested after refusing to leave the Capitol building shortly after the State Senate went into session.
A native of North Carolina, Cox participated in the Monday protest to show solidarity for the plight of working men and women in the state who have been harmed by laws recently enacted by the legislature.
"Many of these lawmakers have lost touch with the average citizen. Their laws are denying benefits to unemployed workers, denying health care coverage to low-income workers, and pushing out experienced teachers by suppressing their wages," Cox said. "These policies are wrong for North Carolina and they are wrong for America."
Inside the Capitol rotunda, Cox locked arms with fellow protesters and chanted the familiar call and response, "Tell me what democracy looks like. This is what democracy looks like." The protesters were arrested after supposedly getting complaints about the noise.
"North Carolina is my home state, and I will not stand idly by while it is brought to ruin. I was not ashamed to be arrested – civil disobedience in the defense of justice is no disobedience at all," Cox said.
Photo: National President of AFGE arrested. AFGE website.