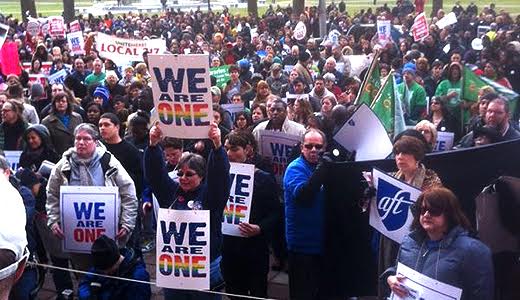 WASHINGTON (PAI) – Union leaders hailed the U.S. Supreme Court's decision legalizing gay marriage. But they all immediately added there is still opposition to equal rights for gays and that other legal discrimination against gays, lesbians and bisexual and transgendered people still exists, including in workplace laws.
The justices ruled, 5-4, that state laws and lower court rulings banning gay marriage violate the U.S. Constitution's equal protection clause. Justice Anthony Kennedy, writing for the majority, said gays must be entitled to that same fundamental right as all others.
Pride@Work Executive Director Jerame Davis said his AFL-CIO constituency group for LGBTQ people is "ecstatic this will finally deliver equality and justice to families" nationwide.
The "momentous victory affirmed what we already knew: The 14th Amendment to the U.S. Constitution guarantees equal protection under the law and that includes the right to marry for same-sex couples," he added. The court's decision "underscores the importance of marriage in our society and upholds the dignity and value of the lives of LGBTQ Americans."
Randi Weingarten of the American Federation of Teachers and Mary Kay Henry of the Service Employees, both of whom are gay, were also jubilant. Speaking for the AFL-CIO, Secretary-Treasurer Liz Shuler agreed.
"While there is still work to do to secure economic and social justice for LGBT Americans, the court's ruling is a major victory for everyone who believes in equality," Shuler said. "Same-sex couples will now have equal access to marriage licenses like any other couple. This is a win for children, families, workers and our entire country."
"Love has won," Weingarten declared. "As people start seeing one another's real aspirations and dreams for all our families and our communities, as well as for ourselves, we see the arc of history does bend toward justice.
"There is more work to do in our fight for full equality. As a gay woman and union leader, I know that I wouldn't be where I am today if it weren't for my union – an ally in the struggle for rights and a shield from unfair discrimination in the workplace," Weingarten said.
"From talking with LGBT members, I know the importance of ensuring there are comprehensive federal nondiscrimination protections in place. Without these protections, same-sex couples who have the right to marry in their home state will still be at risk of being fired from their jobs or evicted from their apartments based simply on who they are. We will continue the fight forward."
"The Supreme Court advanced justice by settling the debate over marriage equality, once and for all," Henry said – a point that backers of only male-female marriage dispute.
"Marriage equality means LGBT working people will now have access to the same workplace laws, from healthcare to retirement benefits that always protected married workers and their spouses. It is right for this to be the case. In the fullness of time, love always wins, and today's reflection of that reality from the Supreme Court is cause for celebration.
"But attacks on justice by conservative extremists will continue. We will keep fighting to overcome these attacks and restore the Supreme Court's vital role in our democracy, above politics and partisanship."
Pride@Work's Davis made the same point, noting that "in 29 states, same-sex couples who take advantage of their right to wed may face serious complications with their job, housing, and public accommodations.
"The very real possibility that a worker could marry the person they love on Saturday and then get fired from their job Monday morning when they show pictures around the water cooler is a looming threat to many workers who do not enjoy the protections of a union collective bargaining agreement."
Davis' native state, Indiana, is one of the 29. When its GOP-dominated legislature passed a law earlier this year that was widely interpreted as legalizing discrimination against gays, a firestorm erupted. The Indiana AFL-CIO denounced the statute, as did Indianapolis' GOP mayor and a huge bipartisan majority on its city council. Major businesses canceled millions of dollars in investments and AFSCME yanked a conference. The legislature then supposedly modified the law to ban discrimination against gays.
Photo: Pride at Work Facebook