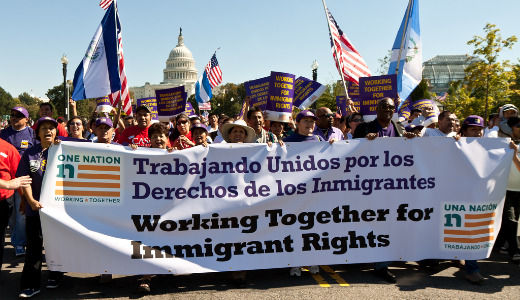 WASHINGTON – Union leaders have strongly supported comprehensive immigration reform, including a path to eventual legalization and citizenship for 11 million undocumented people, in the days since lawmakers unveiled their "compromise" plan on the issue.
And the reform bill, formally launched April 18, will need all the help it can get, especially in the face of obstructionist and nativist opposition that will grab at any excuse – including the bombing of the Boston Marathon – to stop it.
That need for action led AFL-CIO President Richard Trumka to reiterate that labor will undertake a presidential campaign style mobilization to pass comprehensive immigration reform.
That's even though the measure needs what he called "corrections" to fix what he said were "negative" consequences for the labor market. "We will work to fix those," as senators work on the measure's details, Trumka said.
Meanwhile, the Obama administration should immediately stop the thousands of deportations of the undocumented that occur daily, the AFL-CIO president declared.
The "Gang of Eight" senators who worked on the issue for months disclosed that their measure includes a 10-year path to "green cards" and a 13-year path to citizenship for the undocumented, with shorter-path exceptions for those brought to the U.S. as children or who serve in the military.
It also includes hurdles the union leaders are not uniformly happy about, among them beefed-up security along the U.S.-Mexico border, a system employers must use to verify the status of work applicants, and fines and taxes the undocumented must pay – all of which must occur before the undocumented get permanent status here.
Excerpts of statements made by the union leaders include:
AFL-CIO President Richard Trumka, who remarked, "The bill is another step toward addressing a real crisis. The United States urgently needs a roadmap to citizenship for more than 11 million aspiring Americans… Our cause is unstoppable. There will be a roadmap to citizenship in 2013.
"We also want to emphasize that while we are making progress in Washington, there is an accelerating crisis of deportations in America. It isn't a crisis when violent criminals or drug dealers are deported after due process, that's common sense. But it is a crisis when workers who stand up for themselves in the workplace are deported after employers decide immigrant workers no longer know their place. It is a crisis when DREAMers are separated needlessly from their parents by deportation.
"We know there will be a roadmap to citizenship soon, but not soon enough for hundreds of
thousands of hard working people and immigrant communities. We call on the administration to cease deportations of people who will soon be eligible for a long overdue roadmap to citizenship so the legis-lative process can proceed without prolonging the crisis. That is the sensible and humane thing to do.
"Our role is to make sure that roadmap leads to citizenship achievable not only in theory but in fact. Workers care for the elderly, mow our lawns or drive our taxis, work hard and deserve a reliable roadmap to citizenship. And so the labor movement's entire grassroots structure will be mobilized throughout this process and across this country to make sure the roadmap is inclusive.
"The labor movement's role in the coming months is clear: Continue to mobilize on behalf of not only an immigration reform bill, but a bill as compassionate and constructive as our country deserves. And so we will dedicate presidential campaign style resources to ensuring all workers have a place on the roadmap to citizenship, to reuniting families, and establishing long overdue worker protections."
Service Employees President Mary Kay Henry said the proposal "creates real hope for the vast majority of Americans who think it is time for commonsense immigration reform and for the millions of hardworking families who live every day in fear of being torn apart at any moment. It would provide a roadmap to citizenship, protect workers and transform the lives of 11 million aspiring Americans by bringing them out of the shadows so they can fully contribute to our shared future.
"While this bill represents an initial compromise, we are encouraged by this progress and look forward to working with the Senate, the House and the President to making improvements to it on its way to becoming law. Americans are ready for immigration reform. The time is now to get it done."
SEIU Secretary-Treasurer Eliseo Medina, the son of immigrants, added: "We thank the group of bipartisan senators who introduced this bill today for their leadership that made commonsense immigration reform a national priority. Their hard work paid off with a bill that sets the stage for a debate over how we can produce a bipartisan solution that honors our values and strengthens our economy. This legislation is long overdue and there is no question our immigration system is broken."
Ai-Jen Poo, National Domestic Workers Alliance: "Domestic workers are celebrating intro-duction of immigration reform legislation that creates a roadmap to citizenship for millions. As mothers separated from their families, as caregivers trapped in an exploitative shadow economy, and as aspiring Americans seeking to build a life with dignity and opportunity, the Border Security, Economic Opportunity, and Immigration Modernization Act of 2013 provides a long-overdue opportunity for a new day.
"As the process unfolds, we need to ensure this results in the changes we need. We must continue to safeguard protections for the most vulnerable among us, including workers and women, seniors and people with disabilities. The road to citizenship must be truly inclusive. The reality for low-wage workers, women and families must be the basis and beginning point for inclusive, realistic reform. Unrealistic fees and verification requirements could hinder the progress this measure aspires to achieve, and exclude millions.
"What's critical now is to make sure we don't throw up roadblock after roadblock to turn this opportunity into an obstacle course. And we must move quickly toward passage. We have already waited too many years. We can't wait any longer."
The Communications Workers concluded, "The bill by the 'Gang of Eight' is a first step toward much- needed reform of our broken immigration system. Reform must be fair and should reflect our shared values of opportunity, voice and justice for all, and must ensure workers in every industry are protected from employer exploitation. CWA has many questions about this proposal, and we'll continue to analyze the bill. We have some initial concerns and will work with our allies to bring about improvements."
Photo: Activists including SEIU workers demonstrate for immigration reform in Washington, D.C. http://www.flickr.com/photos/ep_jhu/5046106632/ cc 2.0