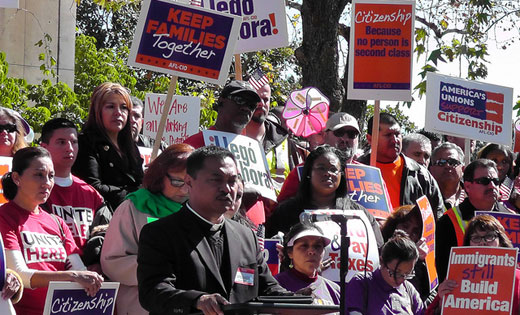 ORLANDO – The executive council of the AFL-CIO unanimously passed a resolution here Feb. 27 demanding that the Congress of the United States immediately pass immigration reform.
"In November, American voters soundly rejected the pro-corporate and anti-immigrant agenda advanced by those who have stood in the way of comprehensive immigration reform," the resolution said. "President Obama enters his second term with a mandate to fight for and pass immigration reform. Members of our unions, like the rest of the American public, strongly support reform that includes a road map to citizenship for aspiring Americans who love this country and call it home."
Randi Weingarten, president of the American Federation of Teachers, has been one of the most consistent voices in the trade union movement calling for immigration reform.
She discussed her opinions on the issue during a break in the executive council session yesterday.
"No matter how you look at this, it just makes sense," she said.
"First, the current immigration system adversely affects both native and foreign born workers in the United States.
"Whether its the realization that a nation made great by immigrants has a moral imperative to live up to our American values of democracy and opportunity, or because it's sound economic policy, or because it's just the right thing to do for hardworking families, reforming our immigration system makes sense."
Weingarten argued strongly for laws that protect immigrant workers in the United States. "When immigrant workers are paid below the markets rates, it drives down wages for all workers with similar skills," she said. "The best way to protect the jobs and wages of all workers is to apply strong labor standards equally. A worker's immigration status should be irrelevant."
She described how her union, three years ago, brought to light and helped end threats, extortion and other abuses of 350 Filipino teachers recruited to work in post-Katrina Louisiana.
"The AFT helped these teachers win a $4.5 million settlement against the unscrupulous recruitment agency. I shudder to think what would have happened to them without their union."
"Comprehensive immigration reform is a top priority for America's unions," said AFL-CIO president Richard Trumka in a sit-down with reporters at the executive council meeting yesterday.
"We've built a mobilization structure and we're out in force like we were in the presidential election and the health care fight," he added, "with one message – immigration reform now."
Maria Elena Durazo, the Los Angeles County Federation of Labor executive secretary-treasurer, said the AFL-CIO is going to hold major "launch events" over the next few weeks to "get the word out in every part of the country whether that be Miami, Chicago, or Seattle."
"Let no one doubt this, " she said. "I remind everyone about what unions did to pass health care reform and about what we did to first elect and then re-elect President Obama. Well that's what we will do to get this done." She said that the campaign for immigration reform will be " a major reflection of how we have transformed from an election to election mode to a year-round continuing campaign operation."
Trumka assured reporters who wanted to know whether there was any dissent among unions on immigration reform that "American's unions are all in on this." Only National ICE Council 118, an AFL-CIO affiliate which represents federal immigration agents, has called for expanded authority for its members to arrest and deport undocumented immigrants.
Non-traditional labor organizations which are representing undocumented workers and are affiliated with theAFL-CIO are also mobilizing for immigration law reform.
These include the National Domestic Worker Alliance, the National Day Labor Organizing Network and the National Guestworker Alliance. These groups organized demonstrations in Washington on the day of the State of the Union message.
Photo: AFL-CIO/Flickr