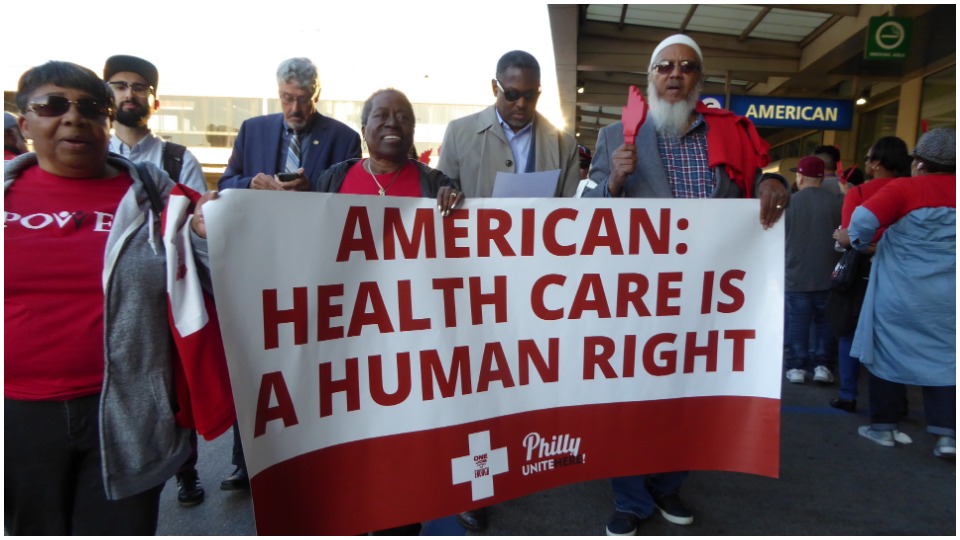 PHILADELPHIA—The chants resonated across busy lanes of rush hour traffic as a dense, boisterous crowd of American Airlines workers and supporters rallied to call for quality affordable healthcare: "Healthcare is a human right!" and "Ready to fight? Damn right!"
The large crowd of demonstrators, members of UNITE HERE and their supporters from other unions and community groups, marched outside the American ticket check-in area. They had come from the Philadelphia area and some from as far away as Connecticut to call the airline to account for offering its workers only barebones and high deductible healthcare that most can't afford.
Local elected officials, clergymen, and other activists brought support and encouragement with powerful words. City Councilwoman-at-large Helen Gym, who was elected with strong support from labor and education activists and has become the top vote getter in local elections, told the demonstrators, "No UNITE HERE member will ever stand alone in Philadelphia." She recalled the successful struggle for the Fair Workweek, which requires employers to give more stable and predictable hours to service workers saying, "We're not done winning here at the Philadelphia Airport…. They tell us they can't afford healthcare for their workers and their families when they take millions of dollars in tax cuts."
State Sen. Tim Kearney, whose district includes the airport, welcomed the marchers to his district and told them, "I believe healthcare is a human right and that one job should be enough. If three quarters of the people who work for a company can't afford healthcare, something is wrong! We're going to fight for healthcare for working people here and across the Commonwealth of Pennsylvania!"
Local priest Father Sy Peterka led a prayer, "Lord God, we know that you are a God of liberation; we ask you to stand with us and march with us tonight as you stood with David before Goliath….We know that justice can be done!"
Pastor Nicolas ("Nick") O'Rourke, one of two candidates for Philadelphia City Council-at-large on the Working Families ticket (along with activist Kendra Brooks who also attended the rally) fired up the crowd with songs and chants such as "Once I was a human being; now we're treated like a machine."
The rally occurred as press reports indicate that the city's recent impressive job growth has come in low-wage jobs paying less than $35,000 a year which are not "family sustaining." The city has not, thus far, joined other cities (or states) and adopted a $15 an hour minimum wage.