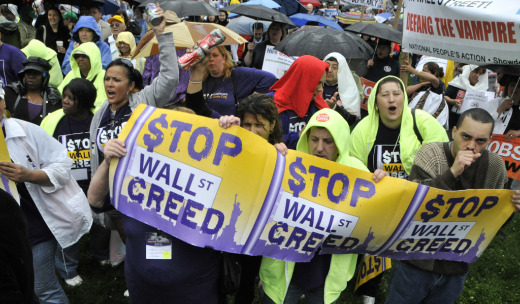 WASHINGTON (PAI) – Calling workers "frustrated, anxious and angry" about "an economy that doesn't work for them," AFL-CIO President Richard L. Trumka says unions' mission this election year is to "channel" the anger in a positive direction.
And, he warned, it may not always be in the direction of supporting Democratic Party congressional candidates this fall. We'll partner with the Democratic Party when they work for working people – and won't when they won't," he warned.
Speaking to a packed house of 200 people at federation headquarters, Trumka joined other panelists – Rep. Donna Edwards, D-Md., Working America director Karen Nussbaum, and journalists Chris Hayes of The Nation and Peter Wilson of The Wall Street Journal – in discussing popular anger, its causes and its electoral consequences.
Those consequences appeared in both parties, the panelists noted: Sen. Arlen Specter, D-Pa., lost his primary and Sen. Robert Bennett, D-Utah, lost his nominating convention to a "Tea Party" candidate. In the most notable case, Sen. Blanche Lincoln, D-Ark. – who antagonized unions by her opposition to the Employee Free Choice Act and to health care revision – may lose her runoff to labor-backed Lieut. Gov. Bill Halter. AFSCME alone has spent more than $1 million on ads for Halter in the runoff.
But all those losses are manifestations of a deeper problem, the panelists said: An economy that does not work for workers, who are frustrated and confused about how to respond – and who are also thus vulnerable to the extremism of the Tea Party and Radical Right radio talkers, notably Glenn Beck. Labor has to fill a vacuum of information, not yield it to Beck, Nussbaum said.
"We've been preaching about this economy since at least 1995, when we first started saying corporations are not acting in our best interest," Trumka stated. The message apparently didn't get through – though now it is doing so with a vengeance, panelists said. They differed on how to respond to and use voter anger.
Edwards said the Democrats "have to stop saying it was 'The other guy's fault,'" blaming the economic disaster on Republican policies in general and those of former GOP President George W. Bush in particular. "We have to have an idea ourselves about what we want to do," she admitted.
But the party's message is handicapped because "we have a raucous caucus," unlike the monolithic anti-everything GOP, Edwards said. "Unless we get back to talking about jobs, jobs, jobs, we'll lose this fall – and we'll deserve to lose."
Hayes gloomily said workers soured not just on the Obama administration or specific policies but on all institutions – labor, business and government – and the policies they promote. He called it "a reaction to a terrible, terrible disaster" that hit workers as a result of "a massive cascade of institutional failure, covering everyone from the Catholic Church to major league baseball to the government to GM," he said.
Hayes' solution: Restore accountability, getting everything out in the open. Right now, "people see Washington and Wall Street in cahoots – and they're not wrong." Accountability, Hayes said, must now stretch to the top, instead of being confined to "a ruthlessly obsessed and punishing society" only for those below the top. "There has to be a progressive story," Hayes continued – centered on combating the financial crash. "There were more morons than crooks" on Wall Street "but the crooks were higher up."
Trumka extended the accountability theme to politicians – including Democratic politicians whom labor supported in the past. Nussbaum said accountability would be achieved through Working America's efforts to educate union and non-union workers about issues, and comparing and contrasting politicians' stands with workers' values.
That's particularly relevant on the bank bailout, which draws mass ire nationwide. The labor federation has led large protests against the banks. It demands the financiers repay the billions the taxpayers lent them, and that the government – and specifically Congress – turn around and order redistribution of those funds to smaller institutions that would lend money to struggling homeowners and to businesses that actually create jobs.
If politicians, including Democrats, don't support that stand and oppose longer jobless benefits and aid to workers, labor will not back them, Trumka said. "You could call us, in the future, unpredictable partners," he commented.
But the whole repeated sequence of booms, busts and declining income for all but the rich – at least since 1973 – led one audience member, recent Amalgamated Transit Union Local 689 retiree and former union officer Mike Golash, to declare the problem isn't individual or institutional accountability, "but the system itself."
"For 200 years, it's been designed to protect profit. We need to design new institutions to protect the working class," Golash said. Only Trumka took up that specific challenge, citing labor's "2000 in 2000" program to elect unionists to state, local and federal office. He did not discuss changing the pro-profit orientation Golash cited.
"One thing we're trying to do is run our own people. We've got 5,000 now in office nationwide, and 540 in New Jersey alone," Trumka said.
Photo: AFL-CIO/Bill Burke/Page One cc 2.0