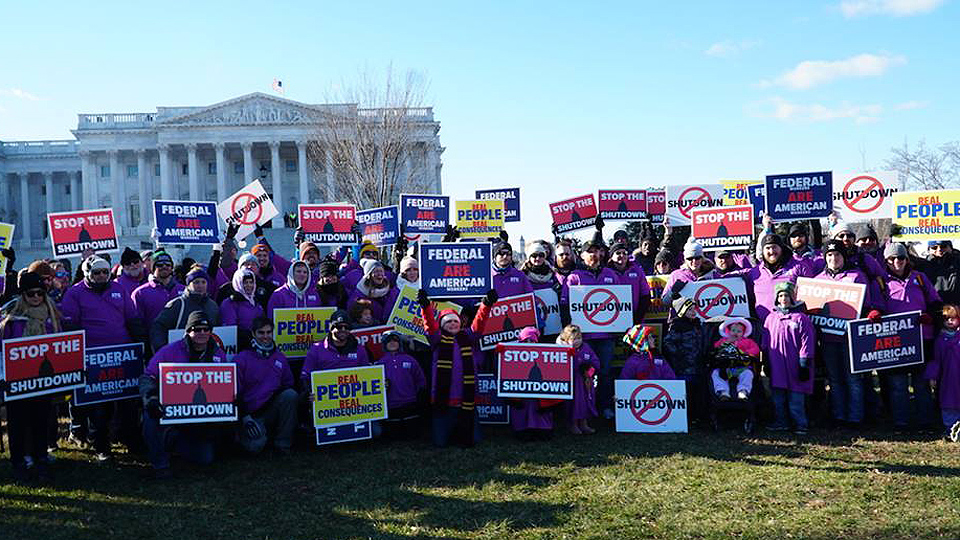 WASHINGTON—The Air Traffic Controllers union (NATCA) along with five named individual workers who aren't getting paid due to GOP President Donald Trump's partial federal government shutdown, will tell a federal judge on Jan. 15 that Trump's violating the U.S. Constitution by not paying them for work they've done.
And at a noon hearing in U.S. District Court for the District of Columbia, they'll also ask federal judge Christopher Cooper to issue an immediate restraining order telling Trump and his underlings to open the government's doors, put the employees back to work after the 24-days-and-counting lockout/shutdown, and pay them, too.
They lost on the immediate order, Cooper ruled. But the judge scheduled a hearing on the underlying constitutional issue, assuming the courts are open then.
"Although we are disappointed with the judge's ruling denying NATCA's motion for a temporary restraining order, we are encouraged that he acknowledged the ongoing hardships our members are facing because of the shutdown," said NATCA Executive Vice President Trish Gilbert.
"In recognition that time is of the essence, the judge ordered expedited briefing on NATCA's motion for a preliminary injunction. We will continue to oppose the injustice of our members working while being deprived of their earned wages and look forward to making our argument on Jan. 31."
Cooper will hear the suit if his court opens. In a telephone press conference on Jan. 11, unveiling the case, NATCA said the court has enough money left over from the prior fiscal year to keep functioning through Jan. 18. But a massive snowstorm Jan. 12-13 shut the whole government on Jan. 14.
Trump has shut one-fourth to one-third of the government – including the Departments of State, Treasury, Interior, Justice, Commerce, Transportation, and Housing, plus the EPA and other agencies – permanently since midnight on Dec. 21.
He won't reopen the government, Trump declares proudly, until Congress kowtows to his demand for $5.7 billion to build his Mexican Wall on the U.S.'s southern border. Congress, especially the Democratic-run House, calls the wall ineffective and, says Speaker Nancy Pelosi, D-Calif., "immoral." Trump foes also call it racist. Lawmakers refuse to allot money for the wall.
That leaves Trump to gleefully trash the workers. He sent about half of the 800,000 workers involved home. He declared the others, including the controllers and airport screeners, "essential." They're toiling without pay and don't know when or whether they'll get paid.
In a first-ever claim. the NATCA lawsuit says that's unconstitutional. Other unions have sued Trump for violating federal law by refusing to pay the workers.
"These are workers who were working on Christmas Eve, Christmas Day, New Year's Eve and New Year's Day, and working overtime, too," NATCA Executive Vice President Chris Gilbert said of her union's 14,000 air traffic controllers. Another 3,000 support staffers were sent home. "But all" the controllers "worked without pay."
"This action seeks declaratory and injunctive relief to remedy the defendants' violation of plaintiffs' rights under the 5th Amendment of the United States Constitution, by depriving them of their hard-earned compensation without the requisite due process of law," NATCA's papers say.
The amendment says the government may not "deprive anyone of life, liberty or property without due process of law." The workers' salaries are their property since they earned them, NATCA says. "The most-basic standard is that when you work, you get paid," Molly Elkin, the pro-worker labor lawyer NATCA retained to research and file the suit, told the press conference.
"Not only is the U.S. government trampling on their" – the essential workers' – "constitutional rights, but there's a practical impact, too," Elkin said. Workers are missing car payments, house payments, rent, having trouble buying grocers and so on.
For example, the court papers show one named controller, Amanda Fuchs, the single mother of a 17-year-old and a developmentally disabled 18-year-old, also needs therapy for a degenerating pelvic condition, in advance of surgery. Minus her "property right" to her paycheck, she can't meet those expenses.
"To compound the hardship, Fuchs…just learned her grandmother passed away on the morning of Jan. 8, 2019. Without pay, she and her family will be unable to afford travel to attend her grandmother's funeral," the lawsuit says.
The impact on the controllers is so bad since they have to keep toiling in their high-pressure jobs – making sure airplanes don't crash into each other – without pay, that their neighbors to the north, in Canada, are coming to their aid.
The Canadian Broadcasting Corporation reported unionized Montreal controllers banded together voluntarily to send food baskets to colleagues in Vermont and New York. Winnipeg, Manitoba, controllers paid for pizzas sent to the controllers in the Twin Cities and controllers in Gander, Newfoundland, and Moncton, New Brunswick, ordered 32 pizzas for their U.S. colleagues in an air traffic control center on Long Island.
Meanwhile, Trump's lockout and shutdown continue to bite not just at federal workers, but at millions of other people. The most-directly affected are the workers' families, but businesses suffer losses because workers can't buy goods and mass transit systems lose riders who ordinarily would be traveling to their jobs.
Trump furloughed food inspectors, so packers, grocers and consumers are raising questions about if food is safe to eat. And even strongly pro-Trump farmers can't get crop loans. USDA is shut down.
Trump isn't the only top administration official to diss the locked-out and shutdown workers. Kevin Hassett, chair of Trump's Council of Economic Advisers, told the PBS Newshour that some of the federal workers – he claims – will actually come out economically ahead.
"When the shutdown ends, they go back to work and they get their back pay. A huge share of government workers were going to take vacation days, say, between Christmas and New Year's. And then we have a shutdown, and so they can't go to work, and so then they have the vacation, but they don't have to use their vacation days. And then they come back, and then they get their back pay. Then they're — in some sense, they're better off," said Hassett.