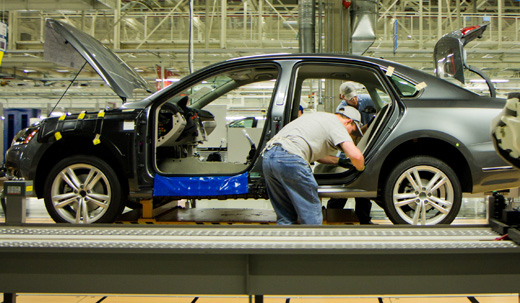 CHATTANOOGA, Tenn. – It was announced here today by the United Auto Workers union and Volkswagen employees that the UAW will begin representing workers at the plant here.
"We are announcing establishment of a local union (Local 42) for the Chattanooga VW plant," said UAW Secretary-Treasurer Gary Casteel. "We fully expect that Volkswagen will deal with this local union if it represents a substantial portion of its employees. It's dependent on the employees and what they want to do."
UAW officials say participation in the union is voluntary and that Volkswagen will recognize the union formally when a majority of its employees are represented.
The union has been negotiating with Volkswagen since it narrowly lost a representation vote last February by 712-626. Since the vote was influenced by millions of dollars of outside money from rightwing groups and by threats form GOP politicians including Tennessee Sen. Bob Corker and GOP Gov. Bill Halsam, the union filed a challenge to the election with the National Labor Relations Board.
The union dropped the challenge, however, after receiving word from Volkswagen that the company was willing to work out a way to achieve union representation for workers. Volkswagen workers in the home country, Germany, have long been unionized and history was made earlier this year when, in Chattanooga, Volkswagen became one of the very few companies operating in the U.S. that adopted a neutrality stand during a union organizing campaign.
One of the things the union has been discussing with VW, both before and since the February representation vote, is a plan to create an employee works council at the Chattanooga plant. Such councils exist at VW plants in Germany and in almost all of its other plants around the world.
Works councils meet with managers to solve work issues other than just pay and benefits. Union members involved in the talks with VW say that both the union and the company believe effective works councils cannot be set up unless there is a union in place.
Not content, however, with any arrangement that allows for the presence of unions, Sen. Corker, during a visit to Chattanooga this week, said he was reviewing legislation introduced in the mid-1990's to see if it could serve as a "backbone" to a new bill he wants that would allow employees inside workplaces to establish internal labor boards through which workers would be able to negotiate non wage and benefit issues such as break or vacation times. Under current labor law, in order to protect against companies setting up boards that would simply reflect company desires, such labor boards are illegal without union involvement.
Corker has persistently pulled a variety of maneuvers, sometimes involving outright lies, in his battle against the union. Back in January he told workers that the Volkswagen bosses in Germany would only give the plant an extra production line if they voted down the union. Volkswagen denied his claims.
The union naturally opposes a works council without a union because such a board would not actually be independent and workers would have no protection from retribution by employers and have to live in fear of retaliation for making demands the employer opposes.
"This is not what democracy is all about," said Casteel. The announcement today amounts to the first official presence of a union at a foreign-owned automaker in the South. The South is increasingly becoming a place for business sought out by more and more automobile companies. The union sees establishing itself at Southern plants as a major and important breakthrough not just for the union but for manufacturing workers all over the South and the rest of the nation.
The union is confident that it will gain the support of the majority of the workforce at the Chattanooga plant and it says that it is beginning to represent workers immediately so that the large number who did vote union don't feel abandoned. "The election was so close we don't feel it's right to turn our backs on these workers," Casteel said.
Union officials say they expect Volkswagen to refrain from official comment on today's developments until an incentives package is nailed down and Chattanooga is officially announced as the production location for a new utility vehicle. There are reports in Germany that say such a decision could come in days.
Volkswagen is currently in talks with Tennessee officials over a proposed incentive package of about $300 million that the automaker is seeking in return for expanding its Chattanooga plant by adding a production line for the utility vehicle.
Currently the company makes only the Passat, a sedan, at the plant.
Photo: Workers assemble a Passat sedan at Volkswagen AG's plant in Chattanooga, Tenn. Erik Schelzig/AP