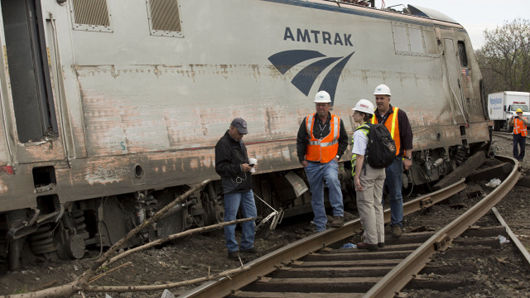 WASHINGTON – In a big win for rail workers, their unions, their members and – the agency emphasizes – rail safety, the Federal Railroad Administration is proposing to mandate two-person crews in all but a few instances on the nation's freight railroads.
If FRA's proposed rule makes it all the way through the convoluted federal rulemaking process, it would be a big win for rank-and-file rail workers and their unions, who have agitated and lobbied for two-person crews. They've also convinced several state legislatures about that.
Railroad Workers United, an organization of rank-and-file rail unionists – including members of Smart's Transportation Division and the Teamsters Rail Conference – applauded FRA's basic plan and then said RWU would try, in written testimony, to strengthen it.
"Our efforts-together with those of the unions of the rail operating crafts in the last few years-have brought this issue before the general public and the government", said RWU General Secretary Ron Kaminkow, a locomotive engineer. RWU has waged a four-year campaign to mandate two-person train crews.
"The proposed rule is a major step forward in the fight against the dangerous and reckless proposal by the nation's rail carriers to run trains with a lone employee. While the FRA proposed rule is far from perfect, providing loopholes and allowing for exemptions in too many instances, it is certainly a major stride in the right direction."
FRA justified its rule by both studies and the contrast between two recent dangerous railroad accidents. The train that had a one-person crew resulted in the fatal crash, explosion, destruction and 47 deaths in Lac-Megantic, Quebec in July 2013.
There was only the engineer on that train, and its brakes were insufficient to keep it from getting loose, careening downhill and crashing into downtown Lac-Megantic, where it exploded. FRA noted that with a two-person crew, even that accident could have been avoided – by having the crew members split the train onto two sidings and checking its brakes.
On Dec. 30, in Casselton, N.D., an eastbound 104-car oil train collided with a car from a westbound grain train "that had derailed less than two minutes earlier from an adjacent main track." While a fire broke out among 475,000 gallons of spilled oil from 18 derailed cars, and 1,500 people were evacuated, nobody was killed and there was little area damage.
Because there were three crew members on the 112-car grain train – an engineer, a conductor and a student engineer trainee – the impact was limited, the FRA said.
"Many members of the general public who viewed the news accounts of burning wreckage may not be aware that heroic actions of the grain train's crewmembers potentially prevented the environmental and property damages from being much worse, in addition to potentially shortening the evacuation period.
Casselton's assistant fire chief, FRA said, asked the freight train crew to aid emergency responders by "pulling a cut of tank cars away from burning derailed cars." In two separate operations, after getting OKs from rail supervisors, the engineer and the student engineer pulled 70 tank cars a quarter of a mile away "out of harm's way," the agency reported.
"These urgent moves would have been much more time-consuming and logistically difficult if the grain train was operated with only a one-person crew. There is a question of whether either emergency response would have been attempted with a one-person crew."
Meanwhile, the two crew members of the oil train "benefited from each other's presence" as they shared safety tasks – after more-veteran engineer warned the conductor "who did not know what he was supposed to do"-to get down and brace for a collision. Once they found they were uninjured, the conductor was the first to see the fire.
"This is a clear example of the benefit a second crewmember can provide. Without a second person, the engineer may not have realized that he was in immediate danger. Third, upon hearing this news, the engineer told the conductor to 'grab your cell phone and run.' This is another example of effective teamwork during an emergency situation.
"These two crewmembers worked as a team in an emergency situation to divide up tasks, warn the dispatcher and local emergency responders, and protect each other's safety," and they also got the local deputy sheriff to get area residents away, preventing deaths among them, FRA said.
The agency says quantitative studies also back two-person train crews, adding the studies show that "positive train control" – an automatic train-slowing and braking system many freight railroads have yet to install – "does not substitute for all the tasks performed by properly trained conductors." That's also been an union argument for two-person crews.
"Task overload can lead to a loss of situational awareness, and potentially to accidents," FRA laconically said. "Railroads achieved a continually improving safety record during a period in which the industry largely employed two-person train crews."
Arguing that extra crew members would cost them a lot of money, the nation's big railroads are lobbying FRA for the one-person crews. They got them in areas such as local railyards. But FRA discounted those cost claims. It said keeping a second crew member, or adding one where needed, would cost railroads $5 million-$27.7 million over a decade. Pre-venting five deaths "would exceed the break-even point at the high range" of costs, FRA said.
FRA said there can be cases where railroads can operate with just the engineer in the cab, but they're limited to "generally low risk operations that are not hauling large quantities of hazardous materials, traveling at high speeds, or putting passengers on passenger trains at risk" – such as for scenic, historic and excursion trains, helper service, track maintenance, or to move locomotives where they are needed, FRA said. Railroads could also seek other exceptions, case by case, to the two-person crew rule. But the roads would have to prove their need and that they implemented all FRA-required safety measures.
Photo: Train crew on the scene of Amtrak train derailment in Philadelphia. | AP