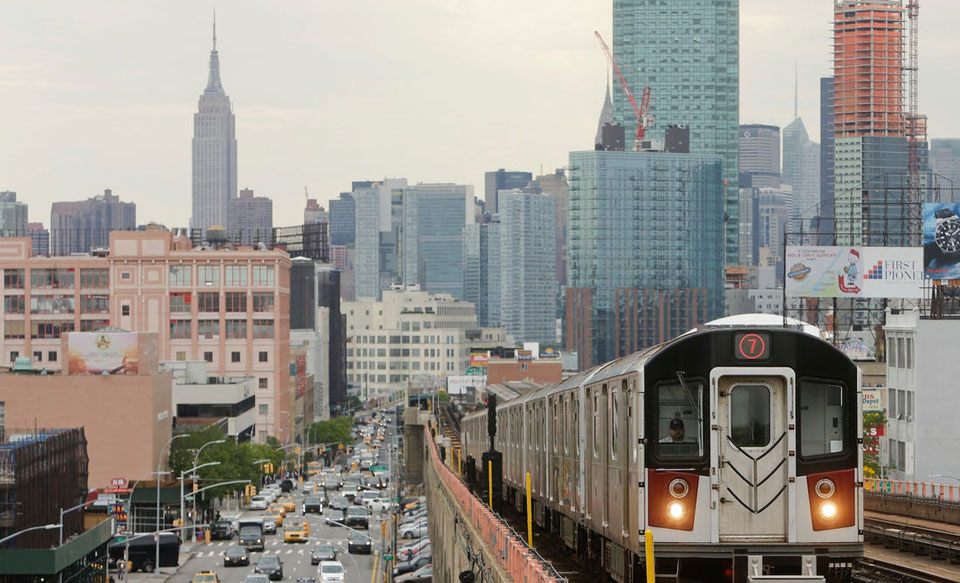 WASHINGTON—Increasing people's usage of mass transit will not only help combat global warming but could produce tens of thousands of good union jobs, in everything from retrofitting school buses to make them electronic to building more commuter rail lines in smaller metro and rural areas, a panel of unionists say.
And since those jobs involve not just unionized rail workers, but also building trades workers—particularly Utility Workers and Electrical Workers—those unions should also support such mass transit increases, the panel of union members add.
Mass transit now accounts for a small share of overall U.S. commuting and pleasure travel, though it's larger in the nation's major metro areas. One panelist pointed out busses carry half of Brooklyn's workers, and "in Baltimore, 30% of people don't have access to a car," said former Auto Workers Secretary-Treasurer Elizabeth Bunn.
Mass transit, including commuter rail, buses, and subways, also accounts for a large share of trips in other major metro areas, such as Chicago, D.C., San Francisco, and Philadelphia. It even was growing in car-crazy Southern California, said Micah Mitrosky of IBEW Local 569 there.
Her union's members "are working on electrification and expanding and lengthening light rail lines," notably in San Diego, Mitrosky, the union's environmental organizer, added.
Until the coronavirus pandemic hit.
Though speakers only alluded to it, millions of employees who didn't get tossed onto jobless rolls by pandemic-forced closures now work from home. That exposes a class and often racial divide between those who can and those, such as truckers, who can't.
Even more millions are now unemployed, with workers of color again disproportionately hit. And restrictions needed for social distancing reduced transit ridership by 90% or so. Social distancing also forced many remaining commuters to switch to their cars.
All this increases greenhouse gas emissions causing global warming, while increased mass transit usage would cut them, panelists said. None of this will get done in the U.S., however, without a big political change, warned panelist J.P. Patafio, a vice president of Transport Workers Local 100 In New York City.
"We're at a crossroads economically, socially and politically," he told the Zoom discussion the D.C.-based Labor Network for Sustainability convened on Sept. 22. "We need to pull together and the opportunities are there. We have to grab that political power."
Some unions and their allies, including the network and the BlueGreen Alliance, have pushed green job development. They contend taking the U.S. to a zero-carbon-emissions green economy would create millions of well-paying middle-class union jobs, plus apprenticeship opportunities for low-income youth to ascend into the middle class.
But other unions, notably in the building trades, are skeptical. They say eliminating fossil fuels would leave present coal, oil, and natural gas workers jobless. And construction unions note that while their industry is more than 15% unionized—and that it could lose repair and replacement jobs in a green economy—fewer than 5% of green jobs are union jobs.
Those objections didn't come up during the afternoon Zoom discussion.
Improving mass transit and its usage also a matter of equity and equality for Black and brown communities, as mass transit users and because mass transit jobs are frequent routes into the middle class, said Elizabeth Bunn, who is also a former AFL-CIO Organizing Director.
"There's a growing recognition these crises" of racial injustice, economic inequality, and global warming, all intensified by the coronavirus pandemic "are interrelated. Increasing mass transit" construction and use "is a key to addressing them."
"These jobs have to be union jobs in electrifying and manufacturing," and not, as in a case she cited, in competition with a non-union firm in the field that also makes solar panels.
"And we have to electrify school buses!" she declared. "The fumes our children are breathing are unconscionable. And as we in UAW make those electric buses and school buses, bring those jobs back here.
"And to IBEW, we'll really need to modernize the electric grid to serve all those vehicles," Bunn added.
"When we look at climate change, renewable" energy sources "transportation and production are all interwoven," said Michael Yeh, Director of Continuing Education for IBEW Local 3 in Flushing, N.Y. He spends his time retraining local members in retrofitting and electrical work needed for building charging stations and energizing them for future vehicles.
In another indication of how politics plays a key role, Yeh pointed out that without a recent boost from Gov. Andrew Cuomo, D-N.Y., through multimillion-dollar state-funded construction plan, charging stations statewide for electric vehicles wouldn't get built by union workers, or anyone else. "The big problem" after Cuomo's commitment "is finding places for [building] those charging stations."
"Public transit jobs are high-quality jobs and union jobs are common" in that sector, Bunn said. Federal figures show union members are one of every six workers in private transportation. But most transit agencies are public, where 39.4% of workers are unionists.
Which brought up another problem: The increasing tendency of city transit authorities, especially outside the biggest cities, to turn over transit to private for-profit firms. That's true in the U.S. and even more so overseas, she said.
Most transit jobs in developing nations are "informal" work—jitneys, pedicabs, and the like—to begin with, said the panel's international participant, Alana Dave of the International Transport Workers Federation, a coalition of transportation unions from around the globe.
"Over the last decade, the terms and conditions of work in public transportation has deteriorated," she said. "We have to build strength to counteract that."
"But the climate crisis also lets us demand an alternative social model of public transportation based on workers and communities. Only then can all its benefits be guaranteed. This has implications for organizing. We" in unions "have to position ourselves politically to build a different" transportation model.