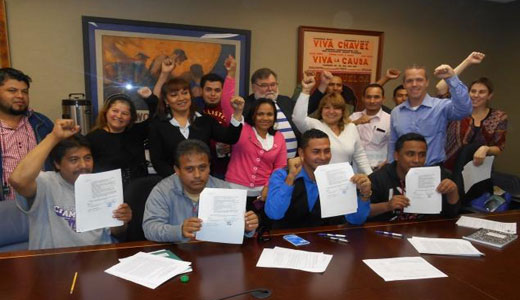 NEW YORK (PAI) – Four groups of New York City "carwasheros" – the often-exploited often-immigrant workers who toil in big-city car washes – won and ratified first contracts in mid-October, the Retail, Wholesale and Department Store Union reported.
The three-year pacts cover workers at the Webster Car Wash and WCA/Rico Pobre Car Wash in the Bronx and the Jomar Car Wash and Sutphin Car Wash in Queens. The four car washes employ approximately 150 workers combined.
Workers get an immediate raise and three more over the contract's life, to a $9.18 hourly minimum, overtime pay, protection of immigrant workers, grievance procedures, firings only for just cause, a ban on job discrimination and requiring shop stewards to supervise collection and distribution of tips, to ensure nobody gets shorted.
They also will get five paid holidays and two paid personal leave days yearly, and the right to time off for their weddings, births, funerals and to solve immigration issues.
The contracts are also expected to set a pattern for other car washes in New York, as the owners of the four car washes are two of the city's biggest car wash proprietors. New York has some 200 car washes, employing 5,000 people.
"These carwasheros stood up and demanded dignity and respect on the job. And now they have achieved a first contract that will improve wages and benefits," said RWDSU President Stuart Appelbaum. "This contract sends a powerful message to all low-wage workers throughout New York City: You can fight back against poor wages and working conditions, and you can win."
RWDSU, Make the Road New York, and the New York Communities for Change jointly organized the carwasheros. All three groups concentrate on organizing, mobilizing and winning representation for low-wage workers, especially minority-group members, and immigrant workers.
That emphasis by RWDSU, a sector of the United Food and Commercial Workers, is in line with but predates the emphasis organized labor now puts on winning recognition for groups of workers – such as carwasheros, home health care workers and taxi drivers – who have traditionally or legally been difficult to organize.
The contracts are only the latest of their New York City wins. As a result of the joint campaign, RWDSU has won seven National Labor Relations Board-run union recognition votes at New York car washes and won a strike and secured a contract at the Sunny Day Car Wash in the Bronx.
The campaign also saved the jobs of workers at the Soho Car Wash, added another union contract at the Hi-Tek Car Wash and convinced the New York City Council to pass an ordinance mandating better car wash working conditions citywide.
"I feel very happy because we have finally reached the contract that we fought so hard for," said Luis Rosales, a five-year Jomar worker, told RWDSU. "This is going to be a great change for our car wash. More importantly, we were able to show other workers that it makes sense to fight and win what seemed impossible."
Added David Cruz, a 7-year worker at Sutphin Car Wash: "The contract shows hard-working people like us can fight for their rights and for respect. I want to especially thank the organizers for supporting us all the way and making us feel that united we could get the changes we deserved."
Most New York City car wash workers are immigrants who are paid low wages and too often denied overtime, to which they are entitled by law, the carwasheros' campaign organizers said. "This campaign has turned a major corner," said Deb Axt, co-executive director of Make the Road New York. "These car washes are owned by two of the biggest players in the industry, and contracts at these carwashes begin to set a new industry standard."
Photo: In the space of 24 hours, four big carwashes have signed contracts with the Retail, Wholesale, and Department Store Union. Photo courtesy of Wash New York.