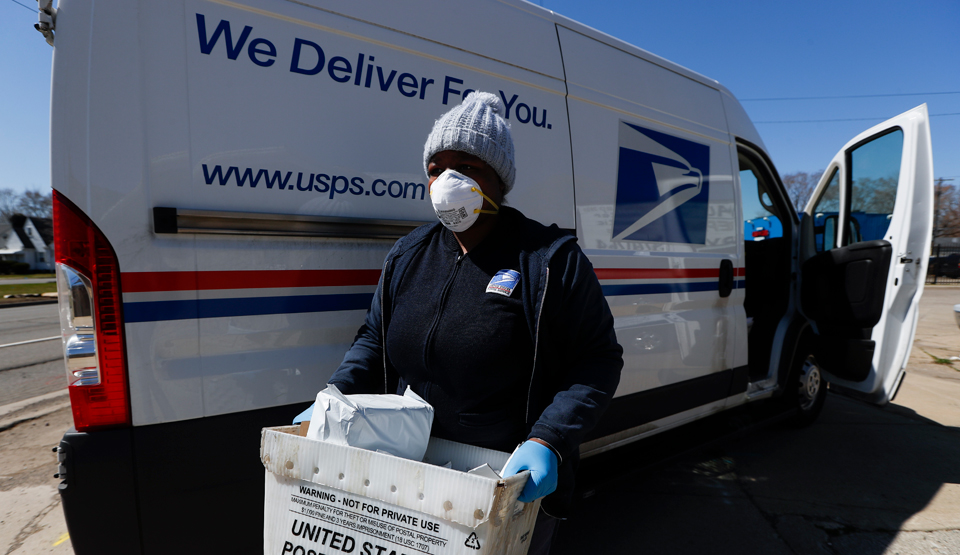 WASHINGTON—Faced with a crash in mail volume and revenue due to closures to battle the coronavirus pandemic—right when the country needs the Postal Service the most to help get vital food, medicine, and other life-saving goods to everyone—Postmaster General Megan Brennan asked Congress for a combination of $75 billion in cash and credit to keep going through the financial disaster.
Her April 9 video briefing request, to the House Oversight and Government Reform Committee, which handles postal legislation, drew immediate support from the nation's two big postal unions, the Letter Carriers (NALC) and the Postal Workers (APWU).
And even GOP President Donald Trump's Postal Board of Governors backed it.
"It is vitally important to the American people that the next stimulus package provides funding to the Postal Service sufficient to maintain a revenue stream that allows them to continue operations through this pandemic crisis," NALC President Fredric Rolando e-mailed on April 10.
APWU posted a petition on its website for consumers and USPS customers to sign. It predicted that without an infusion of cash, the USPS could run out of money by June. Brennan told lawmakers it would run through its cash and line of credit before the end of the fiscal year on Sept. 30.
The USPS "is the emergency distribution system when our country is in crisis," APWU's petition says. "But at this unprecedented time, that work is under threat. The coronavirus shutdown is plummeting postal revenues while increasing costs…. Loss of the USPS would shatter our response to the coronavirus pandemic, hit already weakened businesses, and ravage communities."
Preservation of the USPS is vital to everyone in the country because it's the only door-to-door delivery service to every address nationwide. Private delivery services often shun unprofitable areas, most of them rural, or rely on USPS to deliver "the last mile" of routes for their packages.
Brennan and the board want the $75 billion to be in the next stimulus bill Congress considers when it returns from a three-week break. It would be split into thirds, with $25 billion each in emergency money "to offset coronavirus-related losses," for a grant for "shovel-ready" modernization projects, and for a new line of credit.
In their version of the $2.2 trillion stimulus law last month, the House's ruling Democrats included $25 billion in cash and forgave the USPS's prior yearly $5.5 billion payment for pre-funding future retiree health care costs—permanent red ink a GOP-run Congress imposed in 2006.
Senate Majority Leader Mitch McConnell, R-Ky., didn't even bother with the House measure. His version, which became law, extended USPS an extra $10 billion line of credit. GOP President Donald Trump said the solution is for USPS to raise its prices—a process that both takes time and that would lessen USPS's financial advantage over private delivery services.
His right-wing backers want to privatize the agency and rip up USPS's collective bargaining agreements with the unions, which represent 630,000 workers.
Trump's and McConnell's solutions aren't enough, Brennan, the postal unions, and congressional USPS backers say.
"We cannot allow the Postal Service to collapse," said Rep. Gerry Connolly, D-Va. "To do so would deepen our nation's economic crisis and eliminate an important lifeline to individuals who receive lifesaving prescription deliveries and eviscerate the very infrastructure we need to administer the upcoming elections."
"We are at a critical juncture in the life of the Postal Service," Brennan told the committee by video. "At a time when America needs the Postal Service more than ever, the reason we are so needed is having a devastating effect on our business."