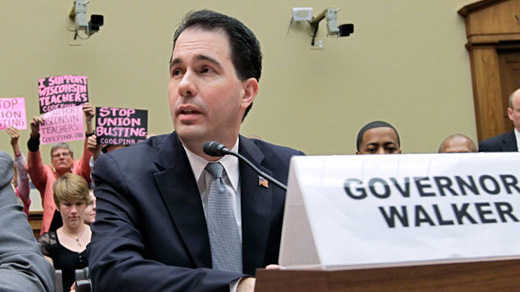 When the United States Court of Appeals for the Ninth Circuit joined the Seventh Circuit on August 22 in declaring certain arbitration agreements were overly broad for denying worker rights, the decision struck fear in the hearts of corporations everywhere.
And it certainly struck the nervous system of their lawyers. Fisher Phillips, a gigantic firm (33 offices, 350 attorneys) whose central practice is representing employers, headlined the case as "Employers Lose Latest Battle In National War" and bluntly tells employers this decision is their "most bruising loss in the ongoing war involving class action waivers."
Employment agreements requiring employees to submit workplace claims to an arbitrator rather than utilizing the courts have become increasingly commonplace. It is a favored tactic in avoiding or lowering the cost of litigation and an attractive way to prevent workers from realizing what they're giving up. This tactic also abates these companies' biggest fear, a class or collective action that gives workers a bigger say in how they are treated.
The August 22 decision is not only a big blow against employers, it has also exposed to the air the hidden seven-eighths of their iceberg attack on worker rights.
Most everyone is familiar with the top eighth of the iceberg. This is the ferocious direct and public assault on union coffers and members through right to work (for less) laws in 25 states and legislation like Wisconsin Act 10 that takes bargaining rights away from state workers except for fire and police unions that have supported Gov. Scott Walker. The tone of the battle has become familiar.
But while the public and most unions were focused on the surface, worker rights have been chipped away through methods like arbitration agreements, supposed human resource companies, designations as individual contractors and other sophisticated litigious tools that unions tend not to fight because the victims are not usually union workers.
Not anymore. Today you will find that union leaders and representatives are very active in training these workers, who may never even become union members, on worker rights and how to retain/recover them.
One such case is directly affected by this Ninth Circuit Court of Appealss decision. It undermines a primary defense by WeWorks in Tara Zoumer's case before the NLRB. The company, which creates shared office space for a network of corporations, argued its arbitration agreement discharged them from any responsibility though Zoumer refused to sign because it included a class action waiver.
Zoumer had been newly hired by WeWorks as an associate community manager in Berkeley, Calif. and thought that she had found her dream job- until she found that her duties required more overtime than her salary allowed. When she turned to other employees for help and advice, WeWorks waved the arbitration agreement at her including class action waivers, which she refused to sign.
California is among the sweeping territory covered by the Ninth Ciruit – also Washington, Arizona, Nevada, Oregon, Hawaii, Idaho, Montana, and Alaska – and the Seventh District has Wisconsin, Illinois and Indiana. Both now support the NLRB position limiting the scope of arbitration agreements. Since other appeals courts have ruled the other way in cases within their jurisdiction, this can only be resolved by the U.S. Supreme Court – and clearly won't even be brought up until the court is at full strength.
The WeWorks case demonstrates how a union expert was needed to combat the signing away of overtime and of the right to collective action or class action lawsuits. The irony is how WeWorks and many other startups pride themselves publicly on how good they are to workers. These new revelations of their labor practices seem to have thrown a monkey wrench into the public offering of a shared workspace company once valued at $15 billion.
Seth Goldstein, a New York City-based representative for OPEIU, which primarily covers office workers, says he, his team and his superiors are fully aware such action may not result in more union members. But it opens avenues for thousands of workers who didn't know their rights had vanished – until it was too late. Right-wing think tanks have had some 30 years to develop such strategies that attack the basis of union organizing – workers talking to each other about conditions and salaries.
The Times investigation determined that many firms thwart meaningful legal action through runaway use of arbitration agreements. The investigation named Uber, Lyft, Amazon and Google as arbitration devotees.
Today's court calendars and NLRB filings demonstrate how these barricades to worker rights are being attacked with the quiet and sometimes secret help of union experts – many around the country who don't speak of their actions until they're good and ready.
"They're out there, but it's something folks don't usually talk about," said Phil Neuenfeldt, president of the Wisconsin AFL-CIO.
The stealth is understandable. Corporations are expert at their own methods and have lawyers on retainer, so many unions don't want their efforts known too early – and then they want the court of public opinion to help.
Since he has openly filed, Goldstein is willing to discuss several such cases.
People's World has already done several stories about the rollbacks he helped impose on the giant home improvement chain Menards, which has been ordered by the NLRB to change its handbook and post its violation of labor law in all its stores and on its website. The surprise for many was how quickly Menards submitted.
Now Goldstein has expanded to truck drivers. Some 1,200 Menard drivers have been told they are independent contractors, but their contracts with these separate companies may be thrown out if the NLRB agrees with Goldstein that Menards misclassified drivers to avoid employer overtime and health regulations.
Another of Goldstein's efforts is truly novel, though he doubts he'll win the first round. It involves the widespread use of Professional Employment Organizations, or PEO's, which seem to work on smoothing human resources concerns but may actually have hired the employee who still believes the boss is the employer.
Aside from benefits, payroll, workers' compensation, recruiting and risk/safety, many PEOS engage in "employee leasing"  in which the PEO is actually an official employer of the worker at a company. Typically, responsibilities are shared between the leasing company (PEO) and the business owner.  Goldstein, who merged his efforts with Tara Zoumer's lawyer in her case, has now focused on Tri-Net, a massive PEO that has a special employee leasing contract with WeWorks.
His attack opens a serious legal question that the NLRB is now contemplating and again expands the traditional management target:  Aren't the PEOs acting as co-employer equally responsible as the company when worker rights are breached? Given how many companies hire PEOs to help their business or even lease employees to them, the nervousness of their  lawyers could now escalate into paroxysms.
Update: The board for Region 2 of the NLRB found August 26  that  WeWorks and Tri-Net violated the National Labor Relations Act. The board agreed that WeWorks and Tri-Net served as co-employers for the complaining employee. Penalty details are forthcoming. 
Photo: The direct attack on worker rights engineered by Gov. Scott Walker of Wisconsin (seen here with workers protesting behind him) is only one front of the war on workers. Companies are increasingly using arbitration as a method of weakening worker rights.  |  AP