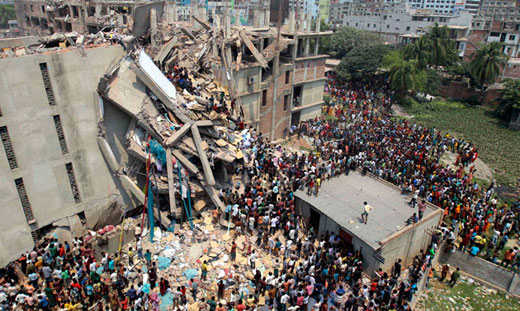 WASHINGTON – A voluntary Bangladesh building safety pact signed by the biggest Western retail customer for the South Asian nation's clothing, Walmart, is "weak and worthless," the leaders of Change To Win and the AFL-CIO say.
And the pact was negotiated behind closed doors with a D.C. think tank partially funded by Walmart and without any input from workers or unions, here or in Bangladesh, CTW Chair Joe Hansen and AFL-CIO President Richard Trumka added.
On July 10, Walmart, The Gap and 15 other U.S. retailers that buy clothes from Bangladeshi factories signed what they call the "Bangladesh Worker Safety Initiative." That pact calls for inspections of all Bangladeshi factories within a year, development of common safety standards and for the firms to share inspection results.
Worldwide pressure led the two big firms and other signers, including Macy's, Nordstrom, Penney's, Target and Sears, to act after the Rana Plaza building collapse killed 1,127 Bangladeshi garment workers who toiled for firms there. The Bangladeshi factories, suppliers to the retailers, ordered the workers back in despite safety warnings.
The same pressure, led by the two labor federations, pushed 75 other retailers earlier to sign a much stronger Accord on Fire and Building Safety in Bangladesh.
Unlike the new pact, that accord is enforceable, Hansen and Trumka said. The International Labour Organization and other international unions – including Bangladeshi unions — and human rights groups back that stronger pact.
"The so-called Global Alliance for Bangladesh Worker Safety, announced by Walmart, Gap, and the Bipartisan Policy Center, was developed without consultation with workers or their representatives and is yet another 'voluntary' scheme with no meaningful enforcement mechanisms. Companies that sign onto the alliance but fail to meet a commitment face no adverse consequences beyond expulsion from the scheme. Instead, workers will continue to pay," Trumka and Hansen said.
"The AFL-CIO and Change To Win reject the Walmart/Gap plan," they added. It's "a way to avoid accountability, limit costs and silence workers and their represen-tatives. Rather than sign the binding accord, Walmart and Gap push a weak and worthless plan that avoids enforceable commitments. The center, which has clear financial and political connections to Walmart," drafted the pact in "a closed process."
The pact that Walmart, the Gap and the other 15 retailers signed "only maintains a long and bloody record of failure" in Bangladeshi garment factory enforcement, added Hansen and Trumka. A Change To Win spokesman summed it up as "a sham."
Photo: The factory collapse in Bangladesh. A.M Ahad