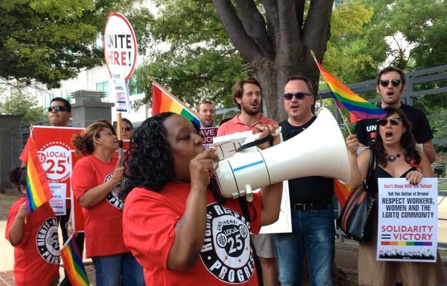 WASHINGTON – In celebration of LGBTQ Heritage Month, the AFL-CIO and Pride At Work hosted a panel discussion Monday that surveyed efforts by various unions in advancing LGBTQ rights and discussed ongoing challenges that unions face in advancing the rights of LGBTQ workers. In particular, panel participants talked about the need of unions to become more inclusive, to increase efforts to protect transgender workers and to fight for state laws that prevent employers from firing workers for their sexual orientation or gender expression.
The panel was introduced by Carmen Berkley, AFL-CIO's director of civil, human and women's rights; moderated by Peggy Shorey, AFL-CIO's director of state government relations and deputy director of government affairs; and included Shane Larson, legislative director for the Communications Workers of America (CWA); Darlene Nipper, deputy executive director of the National Gay and Lesbian Task Force; Tim Schlittner, assistant communications director for politics for the United Food and Commercial Workers (UFCW); and Caniesha Washington, a program specialist in the women's and fair practices department for AFGE.
Nipper said that while "the rate of progress now is extraordinary," many activists have been working on these issues for 40 years, so while it's good to see some of the recent changes, "we still have a lot more progress to make." She noted that getting married is such a fundamental part of our culture that everyone should be able to marry. Top of Form
She also noted that very few protections are in place for transgender Americans, even things as fundamental as obtaining simple documents such as birth certificates. Nipper, who is an ordained interfaith minister, said one of the biggest barriers we still face is the use of religious beliefs to discriminate even though there is nothing in religious teachings that call for the kinds of discrimination conservatives are attempting to impose.
Larson made the key point that it is still legal in many states to be fired for who you love, even in states where marriage equality exists. He noted that in most states, the strongest protection an LGBT worker can have against such discrimination is a union contract.
It is the responsibility of union leaders and activists to educate union members about LGBTQ issues, Washington said.
Schlittner said that it's heartwarming to see how far we've come, noting the entire city block of labor unions marching in the World Pride Parade in Toronto last week, but that we must combine labor issues and LGBT issues as part of the broader movement and that while we stand on the shoulders of giants who did much work before us, we have a responsibility to finish that work. Change will start, he said, organically at the local level, but as the groundswell grows, leadership will hear the voices of the people and progress will follow.
Video: AFGE Celebrates LGBT Pride Month
This article is reposted from the AFL-CIO NOW blog.
Photo: Pride at Work ‏@PrideatWork Jun 27 Proud to stand with @unitehere Local 25, @WorkingAmerica @CWAUnion at #stopthesultan pic.twitter.com/v3FSrPVIiF