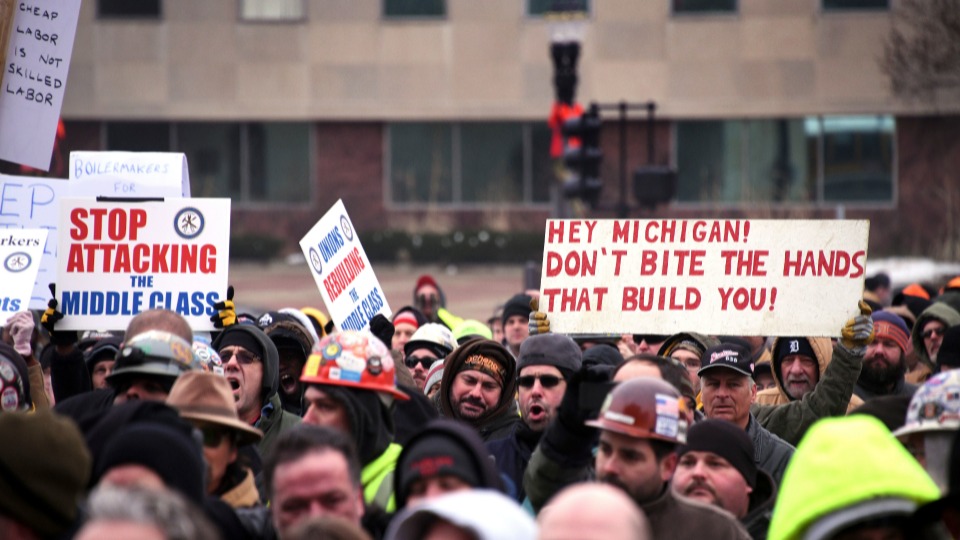 LANSING, Mich. (PAI)—And just like that, Michigan's prevailing wage law made a comeback.
Democratic Gov. Gretchen Whitmer announced Michigan will again require contractors to pay prevailing wage on state-sponsored taxpayer-funded construction projects. Prevailing wage has been the single most important law that governs construction worker wages, but efforts by conservative lawmakers over the years reduced the number of states with it to 24.
The prior Republican regime in Lansing repealed Michigan's prevailing wage in June 2018. Whitmer's restoration ensures any construction worker working on a state-sponsored construction project receives a wage that "prevails" in their locality. Her order does not cover locally funded projects.
But prevailing wage laws deter out-of-area contractors from importing lower-paid, out-of-area workers, thus undermining local wage scales in an effort to underbid local contractors.
"By reinstating prevailing wage, we are ensuring working people get treated with dignity and respect, which starts with a fair wage," Whitmer said. "As governor, I am proud to stand shoulder to shoulder with working people and unions.
"By reinstating prevailing wage, we are ensuring working people can earn a decent standard of living, saving taxpayers money and time on crucial infrastructure projects, and offering Michigan a highly trained workforce to rely on as we build up our roads and bridges, replace lead pipes, install high-speed internet, and more."
Whitmer made the announcement in the friendly confines of the Lansing-based Plumbers and Pipe Fitters Local 333 Training Center, in front of union members and other supporters of the law.
"The actions that have been taken today help to restore confidence by workers and employers alike," said Steve Claywell, president of the Michigan Building and Construction Trades Council. "The restoring of prevailing wage provides a fair and equal bidding process allowing for highly trained men and women to be paid a good wage. We appreciate the courage of this governor and stand ready to build Michigan with her."
Michigan's Prevailing Wage Act of 1966 was repealed in 2018 after a successful citizen's petition drive sponsored in large part by the anti-union Associated Builders and Contractors of Michigan. Repeal garnered enough signatures, and then enough Republican lawmakers in the state House and Senate, to adopt the petition language. No Democratic lawmakers voted for repeal, which passed 56-53 in the House and 23-14 in the Senate.
"There's no reason a contractor on a public project should find a competitive edge on the backs of workers, it's just simply not right," said host Plumbers and Pipe Fitters Local 333 Business Manager Price Dobernick. "Good contractors that choose to take care of their employees should not have to compete against such unscrupulous contractors," said Dobernick, who is also president of the Michigan Pipe Trade Association.
He emphasized prevailing wage helps both union and nonunion workers. And pointing to the constant drumbeat of the shortage of construction workers, he said prevailing wage is a recruitment tool that "helps training centers like this one across the state of Michigan thrive."
Whitmer's announcement "is excellent news for every single resident of Michigan," said state AFL-CIO President Ron Bieber. "Requiring a prevailing wage to be paid in state contracting means safe, quality construction projects completed by highly skilled workers. It means working women and men getting paid a decent wage that can support a family.
"It means no more race to the bottom to find the cheapest labor while companies pad their bottom line. It also means a fair competitive bidding process for contractors. Michigan families will be better off because of Gov. Whitmer's action today."
The citizen's petition drive and subsequent 2018 vote in the legislature to repeal prevailing wage took advantage of a quirk in the state constitution that allows the passage of laws by bypassing the governor's veto. Whitmer's order reinstating prevailing wage also seeks to take advantage of a possible quirk in the language of the repeal legislation. That measure repealed the law but didn't have language preventing it from being employed again.
Whitmer issued an executive directive to the Michigan Department of Technology, Management, and Budget (DTMB), which oversees state procurement, to incorporate prevailing wages when negotiating state construction projects. She did not say, and a check of DTMB's website did not show, how many workers toiled on state-funded construction in the most recent fiscal year.
State Republican leaders and the state affiliate of the National Federation of Independent Business—a notorious right-wing lobby—protested. NFIB's assistant state director, Amanda Fisher, called Whitmer's action "so blatant in her abuse of power." Whitmer "actually believes it is in her constitutional purview to reinstate a law repealed by the legislature through an initiative petition."
The Michigan ABC and its conservative backers didn't spend three years, and an estimated $4 million on two prevailing wage repeal efforts—the first one failed because of signature irregularities, the second one nearly did—to let Whitmer's decision stand without a court battle. ABC-Michigan President Jimmy Greene called her order illegal but admitted to the Detroit Free Press he could not point to any studies or data showing the state has saved money on construction projects since the prevailing wage law was repealed.
The latest such report, from the Labor Department in GOP-dominated Indiana, found eliminating the minimum wage standards for construction workers on public works projects had "no significant impact" on overall project costs.