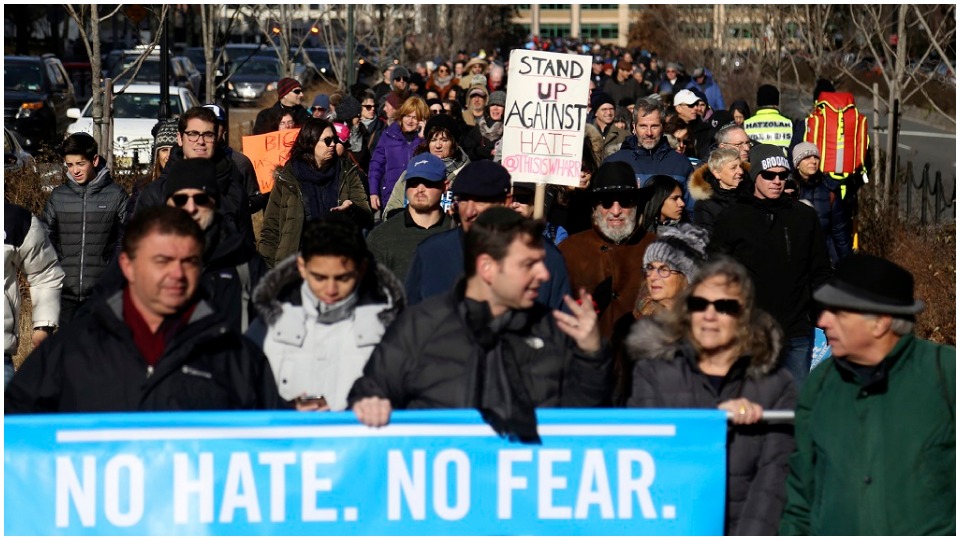 NEW YORK (PAI)—The Teachers, AFSCME members, and the Jewish Labor Committee teamed up with civil rights groups and a raft of Jewish organizations to lead a mass march on Jan. 5 in New York against anti-Semitism.
At least 25,000 people turned out to march from Foley Square in downtown Manhattan over the Brooklyn Bridge, to show solidarity with a New York Jewish community that has seen a sharp rise in hate crimes in both the city and the state.
The most-recent attack—from an avowed hater who posted anti-Semitic rants on social media—wounded five people in a rabbi's house in Monsey, N.Y. His assault followed earlier attacks in Brooklyn, Jersey City, N.J., and around the U.S.
The violence in the Empire State led Gov. Andrew Cuomo, D-N.Y., to propose making anti-Semitism a hate crime there, with appropriate penalties.
"These are terrorists and it should be punished as such," Cuomo told the crowd. He also plans to seek more funds for security measures to protect vulnerable communities and groups. "While we're here today in the spirit of solidarity and love, government must do more than just offer thoughts and prayers. Government must act," he declared.
Another marcher, U.S. Senate Minority Leader Chuck Schumer, D-N.Y., said he would propose quadrupling, to $360 million, federal funding to protect houses of worship against hate crimes. Other politicians marching, all of them New York Democrats, included Reps. Alexandria Ocasio-Cortez and Carolyn Maloney, Sen. Kirsten Gillibrand and city Mayor Bill de Blasio.
The marchers and speakers did not blame one specific group or individual as an inciter of hatred and rising anti-Semitism in both New York and the U.S. But both the Southern Poverty Law Center—the nation's most-respected tracker of hate groups and hate crimes—and federal figures show huge increases in such crimes in the three years since GOP President Donald Trump took office, bringing white nationalist aides and xenophobic statements with him.
And the New York Police Department reported anti-Semitic incidents in the city rose 24% in the last year, and an academic center in California reported such incidents hit an 18-year high in the nation's three largest cities, New York, Los Angeles, and Chicago. Not coincidentally, those three metro areas also have the largest Jewish populations in the U.S.
"We know from our own history as an organization and our experience in more recent years that there is an urgent need for Jewish communities to have enough protection so that they are able to walk on the street, attend religious services, and go to and from school free from fear," said the Jewish Labor Committee, which helped organize the New York march.
"The same is true, of course, for other minorities who have experienced acts of hatred because of their faith, immigrant status, race, or ethnicity."
That impact across minorities also showed up in the march. Besides the two unions, sponsors and delegations included two interfaith groups, VotoLatino, Asian-American groups, Catholic Charities, the NAACP, the Urban league, two disability rights groups, a Buddhist group, a Sikh group, the YWCA, and Americans United for Separation of Church and State. Busloads of marchers came from as far as eastern Connecticut and Washington, D.C.
"Attacks against Jews, and others, based on their religious, ethnic, racial, or cultural appearance are becoming more and more frequent. This is a difficult time not only for those in Hasidic"—ultra-orthodox—"communities but for all Jews, and for the larger community as well," the JLC said.
"This is not a simple matter of ideological- or religious-based hatred. We must be on guard against demagogues exploiting a terrible and tragic situation for their own ends. We must work with others in our communities on vigorous and innovative efforts at deep and meaningful community relations, especially among communities that live in close proximity, and often experience inter-communal misunderstandings and tension."
"In light of the recent anti-Semitic attacks in the New York area, it's time for all of us to come together and stand against hate," said AFSCME District Council 37, which represents 150,000 city workers. "People from all backgrounds met to say 'No Hate, No Fear!' Together we will send a strong message that anti-Semitism and hate of any kind is not welcome in New York!"
"The freedom to practice our religion—any religion—is one of our most sacred," Teachers President Randi Weingarten, a New York City high school civics teacher, said before the march. "It is what separates us from the darkest corners of the world and makes this country a place of hope and sanctuary.
"We must refuse to live in a world where any human being can be attacked in their own home or their own community, and we must do what we can as a larger community to end these senseless acts of hatred, racism, anti-Semitism, xenophobia, homophobia, Islamophobia, and sexism."
"Whether it's an attack on Jews in Monsey, N.Y., or on Christians in White Settlement, Texas, we must not allow this kind of hate to be normalized, and our union will do its part to be an upstander to this evil."