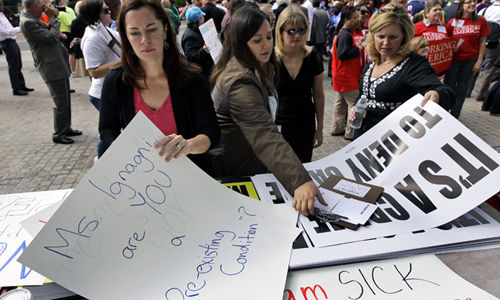 Insurance company CEOs meeting in Washington Oct. 22 hid from 600 angry trade unionists who tried to get them to listen to people victimized by their companies.
As the CEOs talked inside the Capitol Hilton about how they plan to kill health care reform, union members outside marched and chanted in protest.
Members of seven families from across the country, all victimized by the insurance companies, were outside with the union members. They had planned to tell Karen Ignani, CEO of the insurance lobby, how her member companies denied care, forced people into bankruptcy – an, in one case, killed a family member by denying payments for treatment.
A recent Harvard Medical School report, using federal data, found that lack of health insurance caused 44,780 deaths in 2008, up from 18,000 six years before.
Ignani, who earns $1.6 million a year as CEO of America's Health Insurance Plans, the industry lobby, ducked meeting the families.
The labor action came as Senate Majority Leader Harry Reid, D-Nev., tried to cobble together a unified bill from competing versions approved by two Senate committees. House Speaker Nancy Pelosi, D-Calif., meanwhile, continued negotiating details with three House committees that have approved draft bills.
Speakers told the angry crowd outside the Hilton that the health insurers have hired 1,796 lobbyists to squash health care reform.
The unionists pushed hard for a strong "public option" in any final health care bill. The public option would be a government-run competitor to the health insurance companies, open to the self-insured and to workers in small businesses, and a competitor to the private insurers.
Only one or two private firms control up to 94 percent of the insurance market in most states, giving them unlimited freedom to raise rates and deductibles, hand select members and cut customers off the roles when they become ill.
"This health care reform legislation is about making the American people healthy, not about making insurance companies money," declared Richard Trumka, president of the AFL-CIO, at a kick-off rally prior to the action at the hotel.. "Trade unionists and the American people," he said, "Are not going to let them get away with this anymore."
He said that, in addition to the public option, "there must be no taxation of workers' present insurance and all employers, even Wal-Mart, must pay their fair share for health coverage."
He also announced, without giving a specific date, that the AFL-CIO will sponsor a national day of action on health care in the coming period.
"We're here to say to the insurance companies that it is not OK to block health care reform, that it is not OK to control 94 percent of the market, and that it is not OK to deny care by declaring virtually everything a pre-existing condition," Trumka said. "Call your senators and let them know it is not OK to have the insurance companies happy unless the American people are healthy."
The union members outside the hotel called upon Ignani to come out and meet with them as they chanted and waved signs.
Women who participated in the labor action had a lot to say about the discrimination women suffer when dealing with health insurance companies.
Some carried signs that read, "I am not a pre-existing condition."
They were referring to a study released Oct. 20 by the National Women's Law Center about insurance company practices that rule out treatment for women strictly because they are female.
"I don't deserve health care that meets my needs. I shouldn't demand fairness in my health care coverage. I can't do anything about it anyway. That's what the health insurance profiteers want you to think," said NWLC Vice President Judy Waxman, in a statement accompanying the study.
"They aren't thinking about the mother who is struggling to find insurance because she had a Caesarean section. Not the woman who survived domestic violence and now must face rejection by an insurance company for having a so-called pre-existing condition. Not the woman who pays more than the man for the same health coverage, even when maternity care isn't covered. Being a woman is not a pre-existing condition," Waxman declared.
Photo: AP