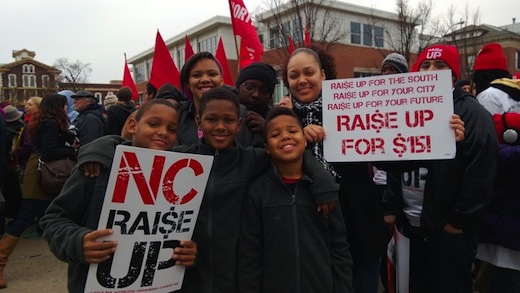 HOUSTON – "Workers don't give up," said Larry Cohen, chair of the AFL-CIO's Organizing Committee, when he came out of a session of the federation's executive council meeting here today. "It's sad, in a way, but you can always count on the brave workers it takes to ensure that all workers will, in the end, participate in how decisions are made at their workplaces.
"It's sad, I say, because it all shouldn't really be necessary. The preamble to labor law signed in 1935 says it is the policy of the government of the U.S. to support collective bargaining. Yet today you have U.S. senators who ignore that law."
Cohen, who is also president of the Communications Workers of America, was referring to Tennessee's Republican Sen. Bob Corker who threatened workers at the Chattanooga Volkswagen plant that a vote for the union would result in loss of their jobs. After the intimidation campaign by Corker and a variety of well funded outside groups, the United Auto Workers narrowly lost its bid to represent workers at that plant.
To counter talk in the media about labor being on the ropes, especially down here in the South, Cohen ticked off a list of union organizing activity underway all over the region:
Walmart workers across the South have been participating in the national protests and strikes against the huge retail chain headquartered in Arkansas.
Tobacco workers in North Carolina have been fighting to unionize and are participating in massive Moral Monday marches in Raleigh, the state capital. Last week 100,000 marched on the Capitol there.
A poultry plant in Alabama with more than 1,000 workers unionized recently.
In recent months more than 7,000 nurses have unionized in Florida and Texas. A new campaign to organize nurses in Orlando aims to add 4,000 more to that total.
The TSA workers at airports in the South have been voting to join the American Federation of Government Employees.
CWA has organized thousands at AT&T Mobile in the Houston area.
Thousands have also joined the Texas State Employees Union.
"The commitment of this labor movement is to organize in the South and across this country and to present the spread of collective bargaining rights as the fix for our broken economy," Cohen said.
Tefere Gebre, an Ethiopian immigrant and long-time labor organizer in California's Orange County was elected five months ago as executive vice president of the AFL-CIO.
"In those five months I have travelled to 15 states in the South," Gebre said, "meeting with unions, workers centers and community organizations. As a labor movement we have to focus where people are suffering the most, where children are living in poverty. If we don't do this, if we don't focus on the South, what are we in business for?"
"As we speak, right now, somewhere in the South right wing lawmakers are conspiring with corporate backers about how they are going to take away workers' rights. We have to fight down here because what happens in the South doesn't stay in the South," Gebre said. "And that goes for winning too. Victories here spread all over the country.
"There is no reason to believe that if we join with allies and work in coalition and organize in Mississippi and Texas the way we did in California that we will not get the same good results – higher salaries, better workplaces, better communities and a better life for our people."
Nurses present at the executive council meeting here said their organizing battles in the South are tougher and even more strategically important than people might think. "We are directly confronting corporate power," said RoseAnn DeMoro, executive director of National Nurses United. She explained that nurses do direct battle with big corporations when they organize because it is those corporate entities that are taking over more and more of the major health institutions.
"When I went to work in the hospital before we had a union I never knew when I'd be able to go home, said Jan Rodolfo, Midwest Organizer for National Nurses United. "And when we won union rights they couldn't force us to work dangerously long hours, and patients and communities saw we were on their side. Every gain we made was matched by gains for the community. It's why we are succeeding in organizing here in the South."
In Texas, where collective bargaining rights over wages and benefits are banned for public workers, Rodolfo said nurses organize unions around issues like staffing levels. But even then the nurses admit, despite successes, they face problems like the ones they had at a Brownsville, Texas hospital that fired the NNU organizers. But as Cohen said, despite the difficulties and obstacles, "Workers don't give up."
Photos: Some 80,000-100,000 demonstrators of all ages marched for livable wages and democratic rights in North Carolina, Feb. 8, as part of a growing Moral Mondays movement. (PW/David Bender)