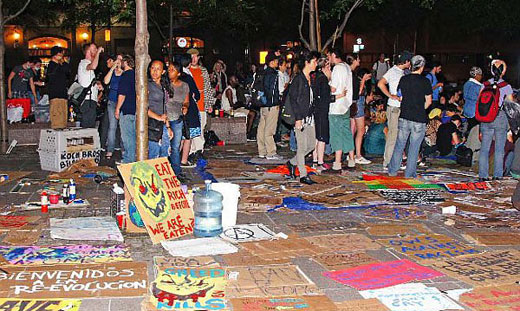 NEW YORK – Major labor unions are joining the Occupy Wall Street protests here, now in their 14th day.
Despite inclement weather, the number of overnight "occupiers" has grown by a third, from 200 on the first night, Sept. 17, to over 300 the last few nights.
Yesterday, the Transport Workers Union, Local 100, which represents 38,000 MTA workers, voted to support the protesters with both money and marchers. Union members are joining the closing bell march today.
The national union, which represents 200,000 transit workers in 22 states., has given "Occupy Wall Street" its official endorsement.
John Samuelsen, Local 100's president, said higher taxes on the wealthiest New Yorkers would help reduce some of the unemployment New Yorkers have suffered in the last few years. "The Wall Street protests are bringing attention to the great injustice that the wealthiest New Yorkers have received a tax break while working families in New York are suffering," he said.
The union plans to send a large contingent of demonstrators on Wednesday to march from City Hall to Zucotti Park, where hundreds are camping out around the clock.
Among the other unions that plan to participate are the United Federation of teachers, the Communication Workers of America and the Service Employees International Union.
Observers note that the pepper spraying incident where police attacked demonstrators last Saturday may actually have helped increase support for the demonstrations, which continue to grow in size and breadth.
At first, the New York City Police Department said the police had acted appropriately. Now, after considerable criticism, the department's internal affairs division has launched an investigation. Despite Mayor Bloomberg's comment that "the protesters may have overstayed their welcome," police have not moved to bar them from sleeping in Zucotti Park, with Police Commisioner Ray Kelly reportedly saying an agreement with the city requires the park to be open 24 hours a day.
Video showing the pepper spray attacks went viral last weekend. Another video that has gone viral is one showing the wealthy patrons at Harry Cipriani, sipping champagne on a balcony while they mock the demonstrators below.
TWU spokesman Jim Gannon, said his union's executive board voted unanimously to back the protests and confirmed plans for the union to march on Wednesday.
"It's pretty courageous, what they are doing," said Gannon, "and its brought a new focus to what we've been saying all along. While Wall Street and the banks and the corporations are the ones who caused the mess that's flowed down into the states and cities, it seems there's no shared sacrifice.
"It's the workers having to sacrifice while the wealthy get away scot-free. It's kind of a natural alliance with the young people and students – they're voicing our message, why not join them? On many levels our workers feel an affinity with the kids. They just seem to be hanging out there getting the crap beaten out of them, and maybe union support will help them a little bit."
Samuelson said, "We plan to be down there from now on. Previously, it was rank and filers, but now we'll have a coordinated presence from the Transport Union. One of the things that drew this to my attention is that no one can get away from the fact that the richest have received a tax break while they keep trying to squeeze concessions from public workers. These folks down at Wall street are singing the same tune we are."
Photo: The number sleeping over during the Occupy Wall Street protest grew to more than 300 on the 13th night. Bud Korotzer / NLN