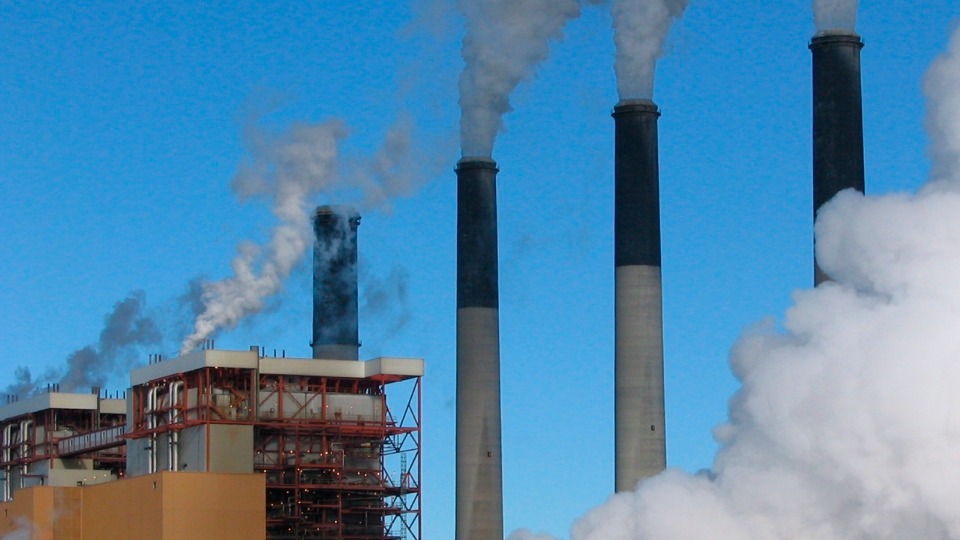 WASHINGTON—Top union officials, Democratic senators, energy industry reps, and Biden administration Energy Secretary Jennifer Granholm have united in a labor-energy alliance to push carbon recapture projects as one key centerpiece of Democratic President Joe Biden's $2 trillion infrastructure American Jobs Plan.
Carbon recapture from burning coal and oil has been around for decades. It was not the only job-creating "new energy" idea touted by speakers at back-to-back press conferences, including AFL-CIO President Richard Trumka, Granholm, Electrical Workers President Lonnie Stephenson, and Plumbers and Pipefitters President Mark McManus.
Other ideas included solar panel and wind turbine production. They also included not just mining critical minerals needed for infrastructure components—"which are right under our feet," one said—but processing them into finished goods here, too.
"We need to put millions of people to work pouring concrete and putting steel in the ground" for the new infrastructure, Granholm added.
But despite all the happy talk, Biden's detailed measure still faces hurdles, particularly in the evenly split Senate. One key lobby, for the nation's coal companies, was conspicuously absent from the chorus of voices in the April 19 press conferences.
Trumka raised another red flag: Targeting the communities hit the hardest. Coal miners "built this country" and its middle class, Trumka, a former Mine Workers president, said. But with use of coal sharply declining as power plants close or shift to natural gas, "the inequality of income, opportunity, and power have left those" coal-dependent "communities behind."
So the new infrastructure, carbon capture included, must employ those left hung out to dry. "As we transition to clean energy, we're not going to give an inch or sacrifice a dollar," he warned. Otherwise, he told the others, "working families will tune you out.
"We need job creation up front, not TBA."
One big solution, said Mine Workers President Cecil Roberts and key Sen. Joe Manchin, D-W.Va., in their prior press conference, is to put the carbon recapture plants in those old coal communities, thus both keeping mines open while retraining ex-miners to work—at union wages and with strong labor standards—at them. Biden's plan has both those requirements. It also conditions energy tax credits, and not just for coal, on meeting them.
The other speakers, at both sessions and in the wider coalition Trumka and the others unveiled, agreed.
So did a new report from the Mine Workers.
But Sen. Cory Booker, D-N.J., threw a potential monkey wrench into the mix by earnestly advocating nuclear power as part of the clean energy future. That's a non-starter with many "green" groups due to radiation and nuclear waste hazards.
The speaker for the Nuclear Energy Institute agreed with Booker. She pointed out nuclear now accounts for 20% of U.S. electricity output. And she declared new reactors that would come on line would be more efficient and produce less waste than ones being retired.
Also absent: Any mention of the Green New Deal. All but three participants lauded its goal of zero carbon emissions by 2050, without saying the words. That phrase sets building trades union leaders, plus Roberts, on edge. Neither Stephenson nor McManus mentioned it.
And only Manchin talked about taxes. Biden proposes raising the official top U.S. corporate income tax rate to 28%, before deductions and credits, which drive corporate taxes way down. Biden's predecessor, Republican Donald Trump, and congressional Republicans cut it from 35% to 21%. Manchin would go to 25%, but no more. The GOP violently opposes the hike.
Manchin also threw cold water on Biden's goal of zero net carbon emissions by 2050. "There's 667 new coal-fired electric plants being erected" worldwide "and zero are in the U.S., he said. The senator, whose state has long been coal-dominated, wants more coal-fired plants.
The messages marked the opening of what Trumka called "Earth Week," an expansion of Earth Day, April 22. It also comes as Biden is sending signals he's open to compromise by splitting the infrastructure package in two.
One piece would approve traditional projects—rebuilding subways, roads, mass transit, water and sewer mains, airports, and the electric grid while adding broadband. The other would include everything else in Biden's plan, such as retrofitting schools, homes, and public buildings, and building new child care facilities.
Biden's plan has $346 billion to revitalize U.S. manufacturing, the two said, with the $46 billion section earmarked for carbon recapture plants. The recapture eliminates emissions which cause global warming, by diverting carbon into underground "sinks." It's unclear if Biden splits the infrastructure bill, which piece would include the manufacturing money.
Not only that, Roberts said, but those plants must be built with U.S.-crafted steel, which in return requires specialized hard coal to burn, mostly available from old-line coal states: Pennsylvania, Kentucky, Ohio, West Virginia, and southern Indiana and Illinois. And those plants, both said, must go in the communities left behind by the bankruptcies of coal companies, closure of mines, and decommissioning of old coal-fired utility plants.