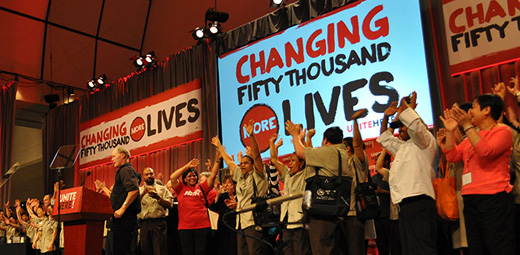 BOSTON — Unite Here set an extraordinary goal with its convention theme, "Changing 50,000 more lives." Having organized over 10,000 new members in the past year, the 800 delegates enthusiastically agreed to keep up that pace and organize at least 10,000 new members every year until their next convention in 2019.
Newly organized members who work at hotel, gaming, food service, and manufacturing jobs inspired the convention from the start when they filled the stage and told their stories.
The entire convention was structured to highlight how for low-wage workers, winning a union is the key to a decent quality of life with respect and dignity at work.
It was exciting to participate with a busload of members of Locals 34 and 35 at Yale University who took a day off work to travel from New Haven to Boston for a convention rally in solidarity with workers seeking a fair unionization process at the Double Tree Suites owned by Harvard.
The giant picket line in front of the hotel spilled over the Charles River bridge as 800 delegates and 300 guests traveled by school bus from Unite Here's convention site to picket the hotel.
Double Tree workers signed cards with Unite Here Local 26 in 2013, but management has not agreed on a fair process to recognize the union. The workers say that they want a union to get health coverage, a fair process and respect on the job.
In his convention address, Unite Here president D. Taylor singled out highlights from around the country, including the unions at Yale as one example of growing the union and building union and community alliances. To cheers and applause he recognized the contracts won by Locals 34 and 35 for opening the doors for 1,000 New Haven residents to get hired at Yale over four years through the newly created New Haven Works program
That program, designed to address high unemployment in New Haven's largely African American and Latino neighborhoods, was developed as a project of the New Haven Board of Alders, to which eight Unite Here members have been elected, along with members and supporters of several other unions.
Rev. Scott Marks, founder of New Haven Rising which is organizing in the community with the support of Unite Here, testified to the injustice of youth and people of color being cut off from living wage jobs. Surrounded by his family, he challenged the union to continue to reach out in order to grow.
Tyisha Walker, a New Haven Alderwoman (city council) and officer of Local 35, the service and maintenance union at Yale, came to the podium with her colleagues and told how they decided to run for public office and organize in the community with the skills they learned in the union. She reported on the progress made to meet the needs of youth and create jobs for neighborhood residents.
The 270,000 member Unite Here was credited in the AFL-CIO's 2013 membership report with adding more new members than any other union in the federation.
In his remarks to the convention, AFL-CIO president Richard Trumka recalled the victorious seven-year strike at Frontier in Las Vegas that ended in 1998 and "inspired a generation." The strike was led by D. Taylor and former Unite Here president John Wilhelm. Union membership in Las Vegas grew from 17,000 members in the 1980's to over 50,000 members today.
"Working people need you again," Trumka told the convention to applause. "We need your political action. We need you for legislative accountability. We need your voter registration. And we need your organizing, we need it to show working people everywhere we can stand together, in solidarity, for a better life. It works."
Quoting the poet Maya Angelou, Trumka said, "power and hope are rising…. It has risen up from the hotels and casinos and the taxi stands and from the early bus, when the domestic workers travel across town together for a day's work. It comes from the Facebook pages where Walmart workers meet and learn how much they have in common, and how strong they are. It comes from the college graduates trying to find jobs under crushing debt, and from those earning our terribly low, low minimum wage.
"And it is up to you and me, to each of us, to help make the voices of America, our America, heard in the workplace and in our national life."
One of those who shared her story is Tatiana Lam, who works at Einstein Bros. Bagels at Cal State East Bay in Hayward, California. "We've changed where I work so that people no longer think fast food jobs are a path to nowhere. Since we won our first contract this year, I now make over $16 an hour and can afford healthcare for my young daughter and my husband."
Also addressing the convention were union members who are learning to become organizers through the Organizing Beyond Barriers (OBB) program. A janitor at Castlewood Country Club in Oakland, California, and member of Local 2850 which won a lockout after two and a half years on the picket line, told how her experience moved her to be part of OBB. Her daughter, who stayed away from the picket line at first, was transformed in that struggle, and told the convention to loud applause that she is now also training with OBB hoping to organize a union at the low wage job where she works.
The convention was also addressed by Boston Mayor Marty Walsh, New York Mayor Bill de Blasio and Senator Elizabeth Warren.
Attending a day of the convention and picketing on behalf of Doubletree workers gave new confidence to the Unite Here workers at Yale who returned to New Haven determined to fight even harder for members on the job, for the union-community alliance and access to jobs, and to stop the national right-wing agenda from coming to Connecticut.
Photo: Unite Here president D. Taylor joins new members on stage at Unite Here convention in Boston June 26, 2014. PW.