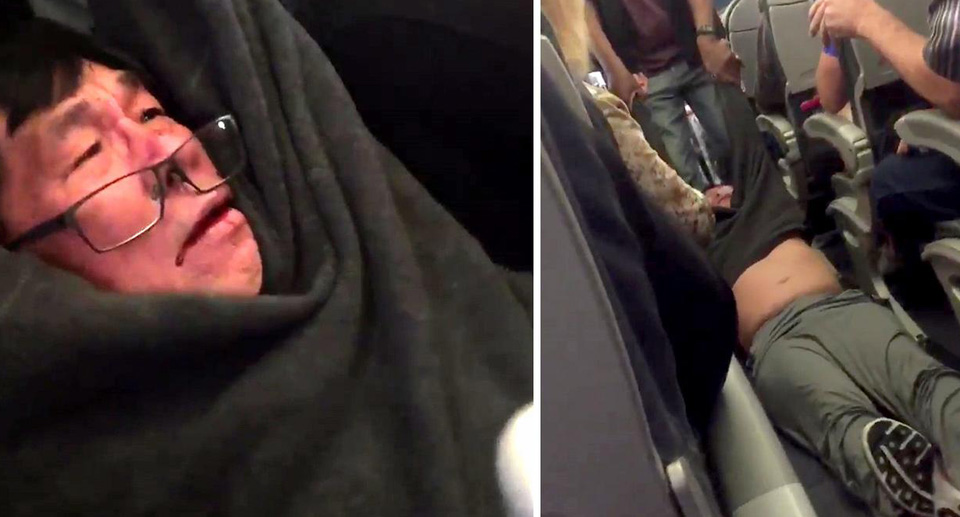 On Monday, shortly before scheduled takeoff, on a Louisville-bound United Airlines flight from Chicago's O'Hare International Airport, the decades long struggle of private airline corporations to wring every cent of profit out of their operations at the expense of customers reached a logical conclusion.
From cutting food offerings, to drastically reducing legroom, to consolidating the industry through buyouts, private airline companies have tried their best to maximize profit by squeezing customers (sometimes literally), and now, United has taken to defending their bottom line with violence.
"Overbooking," or selling more seats than the airplane has is a way to pad profits by increasing the likelihood of full flights, even with inevitable cancellations. If there aren't enough cancellations, airlines bank on people voluntarily accepting a sum of money, statutorily capped at $1350 but often far less, to be re-booked on a later flight.
The argument proponents of the practice make is that overbooking allows flights to be cheaper, making it a win-win scenario for corporations and customers. They do this despite recent record profits and reduced quality on the consumer end.
However, those same previously-mentioned statutes provide that airlines may "involuntarily deny boarding" as long as the person who is denied is compensated.
Enter 69-year-old Dr. David Dao, a Vietnamese-American physician. Normally, when trying to rectify an overbooked flight, airlines offer passengers sums of money before they board the plane. Whether or not this was attempted before Dr. Dao's flight is unclear.
After offering $400, and then $800, four passengers were chosen "at random" to deplane. David Dao, anxious to get to his patients in Kentucky, could be seen in a cell phone video before the incident frantically roaming about the cabin repeating "I have to go home," in a thick Vietnamese accent. Finally, after Dao returned to his seat, four security guards ripped him from his seat and dragged him, unconscious, by his arms, off the plane.
Business Insider has obtained a statement from the U.S. Department of Transportation which confirmed that the agency is reviewing the incident "to determine whether the airline complied with the oversales rule," but also stated that
"it is the airlines responsibility to determine its own fair boarding priorities."
In a widely ridiculed, tone deaf statement United CEO Oscar Munoz said that his employees "had no choice" but to call security officers and apologized for having to "re-accommodate" passengers. Munoz and the whole United Airlines Corporation have been backpedaling ever since. United Airlines stock has dropped 1.1%, eliminating about $225 million in value.
The profit motive has shown, once again, that it can motivate humans to carry out inhuman acts. Regardless of whether or not this was a rare incident, we should all empathize with Dr. Dao and take time to question the status quo of air travel today.
The deregulatory spiral started when President Ronald Reagan fired the air traffic controllers when they went on strike in the 1980's continues. A passenger who paid for his seat is dragged off a flight bloodied and unconscious. How much worse will it get?