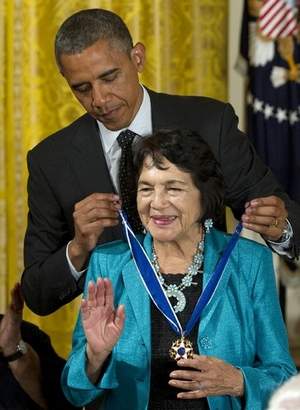 WASHINGTON – Dolores Huerta, co-founder with the late Cesar Chavez of the United Farm Workers and a pioneering organizer and activist for women, workers and Latinas, received the Presidential Medal of Freedom in a White House ceremony on May 29. Huerta was one of thirteen recipients of the nation's highest civilian honor.
The list spanned a spectrum of work, talent and backgrounds. Some like musical legend Bob Dylan, former Secretary of State Madeline Albright, Israeli President Shimon Peres, author Toni Morrison, former astronaut and Ohio senator John Glenn, Supreme Court Justice John Paul Stephens or University of Tennessee basketball coach Pat Summitt have more recognizable names and reputations.
Others, made their contributions in a less intense media spotlight like civil rights lawyer John Doar, epidemiologist Bill Foege, anti-discrimination fighter Gordon Kiyoshi Hirabayashi, Girl Scouts founder Juliette Gordon Low and anti-Nazi hero Jan Karski.
"It's our job to let them know how extraordinary their impact has been on our lives," President Barack Obama said after draping medals around the honorees.
Huerta's reputation in the labor, civil, women's and immigrant rights movements is legendary. (Story continues after video.)
Huerta and Chavez co-founded the UFW in the grape fields of California 50 years ago, and the ceremony was a week after its convention, in Bakersfield. Under Huerta and Chavez, UFW gained national renown for its nonviolent grape boycotts and activism for farm laborers, many Spanish-speaking and all unprotected by labor law.
UFW learned of the Medal of Freedom for its co-founder a month before.
"Cesar Chavez once described Dolores Huerta as completely fearless, both mentally and physically," current union President Arturo Rodriguez said then.
In introducing Huerta during the medal ceremony, President Obama said, "[W]hen Cesar Chavez sat Dolores Huerta down at his kitchen table and told her they should start a union, she thought he was joking. She was a single mother of seven children, so she obviously didn't have a lot of free time. But Dolores had been an elementary school teacher and remembered seeing children come to school hungry and without shoes. So in the end, she agreed — and workers everywhere are glad that she did. Without any negotiating experience, Dolores helped lead a worldwide grape boycott that forced growers to agree to some of the country's first farm worker contracts. And ever since, she has fought to give more people a seat at the table. 'Don't wait to be invited,' she says, 'Step in there.'"
The president then added humorously, "And on a personal note, Dolores was very gracious when I told her I had stolen her slogan, 'Si, se puede.' Yes, we can. Knowing her, I'm pleased that she let me off easy – because Dolores does not play."
Obama sketched the recipients' impressive contributions to society in often poetic and sometimes personal terms.
He recalled reading Morrison's "Song of Solomon" in his youth and "not just trying to figure out how to write, but also how to be and how to think."
In college days, Obama said, he listened to Dylan and recalled "my world opening up, because he captured something about this country that was so vital."
However impressive the recipients are, few have carried more cultural and artistic weight than Dylan, who has been described as "essential to the entire narrative of American musical tradition."
"Bob Dylan is one of the most important songwriters in music history. And that is the entire spectrum of recorded music history," said Rock and Roll Hall of Fame director Howard Kramer.
Documentaries, books and college courses all examine his role and writings. His "Blowin' in the Wind" is now synonymous with peace and justice, translated into dozens of languages. He stood alongside civil rights leaders at the height of strife in the Deep South, his songs a soundtrack of those tumultuous times.
"Bob's voice, with its weight, its unique, gravelly power was redefining not just what music sounded like, but the message it carried and how it made people feel. Today, everybody from Bruce Springsteen to U2 owes Bob a debt of gratitude. There is not a bigger giant in the history of American music. All these years later, he's still chasing that sound, still searching for a little bit of truth. And I have to say that I am a really big fan," Obama said.
Photo: President Barack Obama awards labor and rights activist Dolores Huerta the Presidential Medal of Freedom, May 29, at the White House ceremony. (AP)