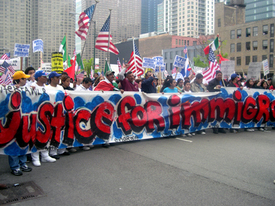 It was a May 1 like no other. On the day celebrated around the world as International Workers Day, 2 million-plus people marched in the U.S. for justice and a path to citizenship for immigrant workers.
More than a million filled the streets of Los Angeles in two marches, one midday and one in the late afternoon. Maria Elena Durazo, interim head of the Los Angeles County Federation of Labor, emceed the after-work march. She received a rousing ovation after chanting a major theme of the actions, "Hoy marchamos, mañana votamos" — "Today we march, tomorrow we vote."
In Chicago, where May Day originated, a march of up to 700,000 immigrants and their supporters wound up with a massive rally at Grant Park near Lake Michigan. Rally speakers included nearly all the city's labor union leadership, national AFL-CIO Executive Vice President Linda Chavez-Thompson, Democratic Reps. Luis Gutierrez and Jan Schakowsky and Cardinal Francis George.
Working-class families — men with cowboy hats and calloused hands, grandmothers with lined faces and gold-toothed smiles, teenagers with cell phones and children holding their parents' hands — walked past the monument to the Haymarket martyrs whose struggle gave birth to May Day. The marchers were overwhelmingly Mexican and other Latino immigrants but also included Irish, Polish, Arab, and Asian American contingents and many labor, student, religious and gay and lesbian supporters of immigrant rights.
They carried signs reading, "We want legalization," "We are not criminals, we are workers," and "Immigrants forged America." Dozens of factories, restaurants and other businesses throughout the city and suburbs closed or gave employees the day off to participate in the march.
In Los Angeles, the midday downtown march called for an economic boycott and full legalization, and the late afternoon march, aimed at allowing participation for those who went to work and school, called for comprehensive reform. The people voted with their feet for both actions. The Democrat-led state Legislature did not meet May 1, following the lead of untold numbers of businesses that honored the immigrant rights efforts and closed for the day.
At the Long Beach/Los Angeles harbors, where 40 percent of the nation's imports are unloaded, a boycott organized by the predominantly Latino port truckers significantly slowed down port activity.
May 1 actions organized to influence the immigration reform debate in the Senate took place in numerous cities including Seattle, Detroit, New York, New Orleans and Orlando, Fla. The actions, including boycotts in some areas, opposed harsh legislation like HR 4437, passed by the House in December, which would criminalize the 12 million-plus people living here without documents and anyone who helps them. The movement is demanding legalization, not criminalization.
"This issue affects all of us, all immigrant communities," said Chris Zala, from the Indo-American Center in the heart of Chicago's South Asian community. The center, which serves some 10,000 people a year with civics lessons and advocacy work, would be negatively affected by measures like HR 4437. "We should be able to serve," said Zala, who was born in India.
Jose Artemio Arrellano, a suburban school janitor and SEIU member and a key organizer of Chicago's May 1 action, urged youth to go to school, pursue a college education, get involved in the community and learn how to change the system.
"Register and vote," he said, "and demonstrate to the electoral process our strength, numbers and power. The future is in your hands."
With recent polls showing that registered voters are rejecting Republicans and their agenda by a 15 percent margin, the immigrant rights upsurge could tip the balance in this November's congressional races.
Many Chicago schools reported higher than usual absentee rates. In high schools where a majority of students are Latino, as many as 80 percent were absent.
Kelly High School sophomore Isamar Romero told the World she wanted to march because "it shows that anybody who tries to go against any race, it doesn't matter what nationality you are, we will be united in the end."
Isaac Santiago, 20, stood outside the local TCS wireless store he manages, watching hundreds of marchers pass through Chicago's Pilsen community. He said if it were up to him he would have closed the store and marched, but his boss insisted that he stay open.
"You have everybody here — white, Black and Brown. We got to support each other," he said.
Terrie Albano contributed to this article.