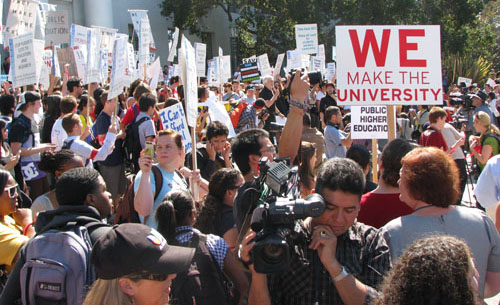 BERKELEY, Calif. – Across the University of California, students, faculty and campus workers are linking arms to fight cutbacks, layoffs, tuition hikes and furloughs, and to keep the 10-campus, 225,000-student university public and effectively serving the state's economically, racially and ethnically diverse population.
Sept. 24 was the scheduled first day of fall semester classes. But many members of the university community spent the day in teach-ins, picket lines and rallies. Many professors who held classes reflected on the struggle going on outside.
On the Berkeley campus, over 5,000 chanting, sign-waving demonstrators packed Sproul Plaza, of 1960s Free Speech Movement fame, for a noontime rally. There, speaker after speaker recalled how those epic struggles laid the basis for today's more diverse university community, and called on the community to summon that energy again to roll back administration decisions poised to destroy those gains.
Demands, including no pay cuts or furloughs for those earning less than $40,000, no student fee hikes, no layoffs or furloughs, and full disclosure of UC's budget, reflected powerful solidarity among students, campus workers and faculty.
"The UC system is a public resource built over far more than a century with taxpayers' money, private generosity and shrewdness, and the intellectual energy of generations of students, teachers and staff," opening rally speaker and art history professor T.J. Clark told the crowd. "A state in its right mind does not destroy that resource when times get tough. But this is what is happening."
Even in an economic crisis, the university "does not build its future on the backs of the men and women who keep the places we teach and learn in clean, safe and functioning," Clark added. Nor, he said, can the university see its problems in isolation from the state's overall crisis, and its effect on other parts of the education system including public schools, community colleges and the state university system.
"We are the ones that make the university what it is and we need to keep mobilizing and really working together across racial lines, community lines, class lines," said undergraduate student Mary June Flores. "We need to work together to show them we are here in solidarity, we're not going to let the university close the doors on us."
Laid-off custodian Ismael Ramirez declared, "We highly value our jobs and we are going to fight for them, along with you students!" Ramirez' union, AFSCME, says a quarter of the workers who keep the campus clean have been laid off.
At the end of the two-hour rally the crowd surged into downtown Berkeley, blocking traffic and chanting, "Education should be free, no cutbacks, no fees!" before holding a sit-down protest at the entrance to the campus.
One campus union, UPTE (University Professional and Technical Employees), held a one-day unfair labor practices strike coinciding with the walkout, to protest the university's unilateral imposition of layoffs, furloughs and increased health care premiums.
The university's top administrators, including President Mark Yudof, have contended that the cutbacks are forced because the State of California has cut its support to the system by $813 million. Critics point out that of the UC system's $19 billion annual budget, just $3 billion comes from the state, but Yudof claims the budget gap can't be filled by funds from non-state sources because these are committed to other purposes.
Particular outrage has been expressed over the university's plan to raise tuition by 32 percent while at the same time, hiking salaries and benefits of over two dozen top executives whose compensation is already well into six figures.
The Sept. 24 walkout was backed by the University of California Student Association, the American Association of University Professors, the Coalition of University Employees, the Graduate Assembly and other campus organizations.
mbechtel@peoplesworld.org