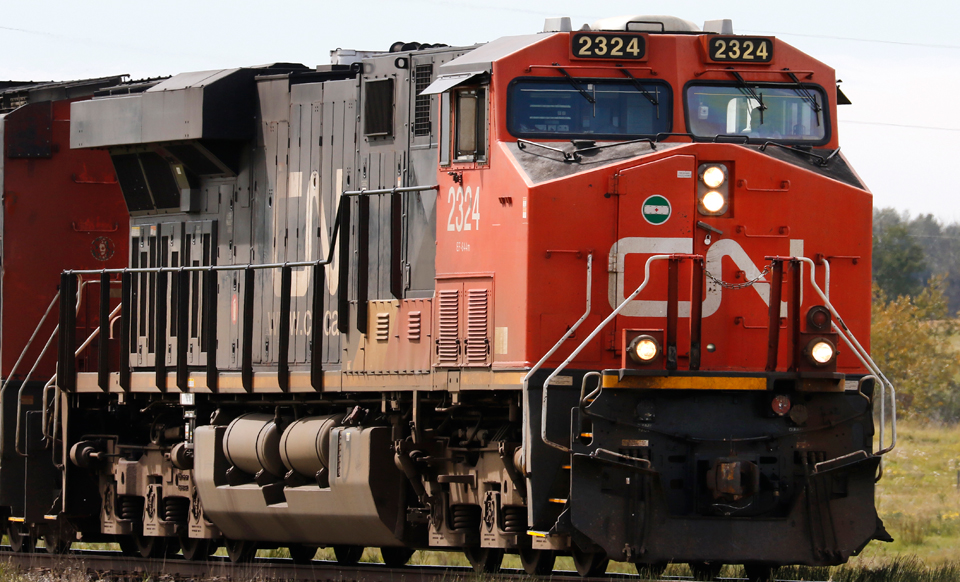 Imagine you're a railroad freight engineer. Your locomotive is pulling hundreds of cars along miles of track—and your boss forces you to hang on to the outside of the locomotive with one hand and drive the train with the other.
Well, that unsafe practice, and management refusal to even bargain about it, much less abolish it, forced the 3,200 Teamsters Canada Rail Conference members who run Canadian National Railways to strike at 12:01 am on Nov. 19.
The workers had to walk, the union said, after CN management refused to bargain on almost everything. But safety—and that unsafe practice—was at the top of the union's list.
And that's not the only unsafe working condition on CN, the union said. The carrier is also forcing workers to toil through their mandatory rest periods, too, it adds.
"CN currently requires TCRC members to operate trains alone from outside of the locomotive, hanging on to moving trains with one hand while operating a remotely controlled locomotive with the other," the union said in its strike announcement.
"Railroaders are expected to do this in rain and in freezing temperatures, sometimes for distances of up to about 17 miles. The union's demands to cease these dangerous practices have fallen on deaf ears and the company has refused to come to a satisfactory agreement at the negotiations table to adjust their operating practices in the interest of safety.
"The company also wants to make it more difficult to take time off and make employees work longer hours, in an attempt to get more work done with fewer people and to reduce staffing levels."
Confirming that latter statement, just the day before the workers were forced to strike, CN said it would be cutting both management and worker jobs, numbers unspecified, due to what it calls a downturn in traffic. CN is Canada's major rail freight carrier, especially of petrochemicals and coal. It carries 52% of shipments of both.
"Fatigue has been recognized by the (Canadian) Transportation Safety Board as a major safety problem in this industry. Too many railroaders are operating trains when they should be resting," TCRC President Lyndon Isaak said. "For the safety of all Canadians, we cannot allow CN to make it even harder for our members to get the rest they need."
Pay is not an issue between the union and the company, the Teamsters said. But drug benefits are. CN wants to impose a lifetime cap. That would harm workers with ailments such as cancer, rheumatoid arthritis, and chronic diseases, the union said.
And rather than bargaining over all the issues, CN wants to take them to arbitration. It pleads poverty, but the union believes CN assumes it will win from the arbitrator what it could not gain through bargaining.
"CN is telling our members they are facing tough times, but the reality is they made over $3.8 billion (Canadian) in the third quarter of 2019. They should be ashamed to be pleading poverty. This obsession with profits and shareholder return, at the expense of just about everything else, is exactly what is wrong with our economy," said Isaak.
The two sides are now working with a federal mediator, after previous mediation by Canadian Labour Minister Patty Hajdu and other Cabinet members failed. Isaak said he hoped the strike would be short and with little service disruption on the freight lines, which are vital to Canadians. Passenger service is unaffected, the Teamsters said.
The old contract expired July 23, and 99.2% of Teamsters Canada Rail Conference members voted in September to authorize a strike.