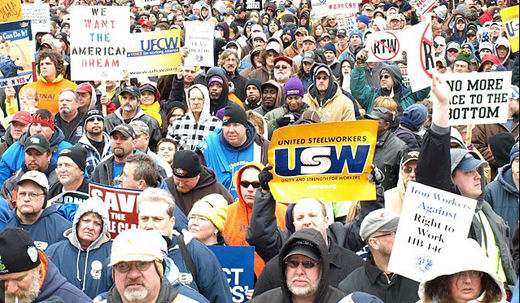 METROPOLIS, Ill. – Showing, once again, the danger of using scab labor in a plant that requires sophisticated and trained workers, the Occupational Safety and Health Administration proposed fining Honeywell $119,000 for the Dec. 2010 release of hydrogen fluoride from its uranium-processing plant in Metropolis, Ill. – an accident that occurred during a lockout of workers that just passed the one-year mark.
To make things even worse, Steelworkers Local 7-669 reported that the company and union reached a tentative contract agreement on June 6, and then Honeywell reneged the next day. The plant normally employs 228 workers.
"Honeywell can now end the lockout with a telephone call or fax over the final conclusive issues," local President Darrell Lillie said.
Honeywell locked out the unionists, members of a former Oil, Chemical and Atomic Workers local. They did not agree to Honeywell's takeback demands, particularly its cuts and virtual elimination of overtime pay, Lillie told the June 25 anniversary rally. The lockout started June 28, 2010.
Meanwhile, with "replacement workers" trying to run the Metropolis plant, the Dec. 22 hydrogen fluoride release was the second notable accident since Honeywell locked out the unionists. The other, in September, saw accumulated hydrogen reacting with fluorine during venting of the plant, shaking the neighborhood with a loud boom.
"Fortunately," the union commented, "the accident occurred in a non-regulated area of operation, meaning away from the handling of yellow cake uranium."
On June 22, OSHA cited 17 violations in the December release of hydrogen fluoride vapors. They include "failure to address human factors in operating valves on tanks, failure to establish written procedures to maintain the integrity of process equipment, failure to establish and implement written procedures to manage changes to process chemicals, and a deficient incident report that did not include factors contributing to the vapor release."
Photo: Support for Honeywell Workers-Metropolis, IL Facebook page