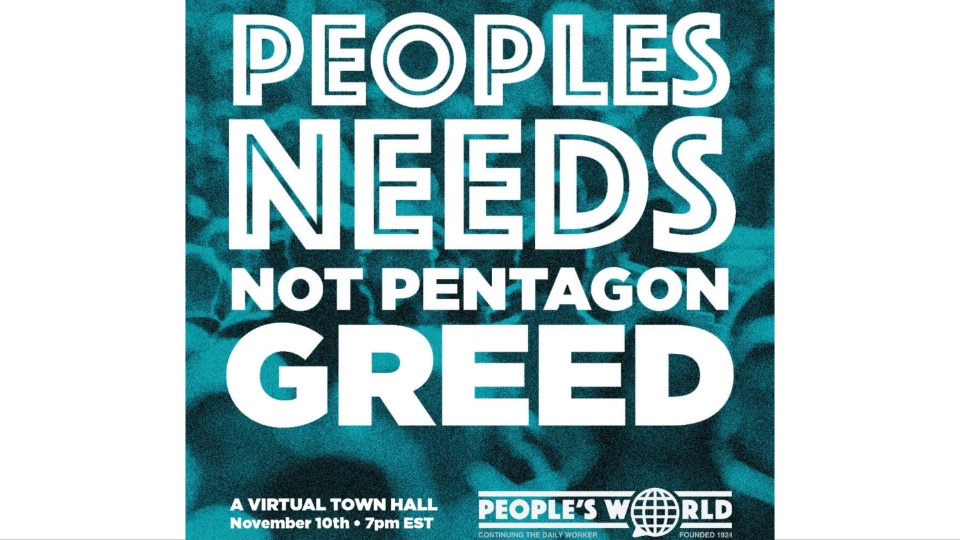 From Palestine, Israel, and Ukraine to Sudan and beyond, the U.S. military budget is the source of much of the weaponry used in today's conflicts. U.S. corporations and armaments makers are soaking up record profits.
Join us Friday, November 10th at 7:00 p.m. Eastern, 6 p.m. Central, 5 p.m. Mountain, and 4 p.m. Pacific for a People's Needs, Not Pentagon Greed Virtual Town Hall where we hope to shed light on the problem and propose solutions.
Confirmed speakers so far include Rossana Cambron, of Military Families Speak Out and CPUSA co-chair; John Braxton, of Veterans and Labor for Sensible Priorities; and Helen Jaccard, of Golden Rule Peace Boat and the Women's International League for Peace and Freedom.
We also expect a Communist member of the Israeli Knesset and a spokesperson for the Palestinian People's Party. As this past Saturday's demonstrations confirm, a renewed peace movement demanding a ceasefire in Gaza is rising up around the country and indeed the planet. From union halls to the halls of Congress, voices are calling for a just peace, a Palestinian state, ending terror and attacks on civilians, and releasing hostages. Meanwhile, members of Congress have introduced legislation calling for a ceasefire, along with redirecting military spending to domestic needs.
Will this lead to the birth of a new, broad, multi-racial working-class-led peace movement? As the 2024 election approaches, will the U.S. public finally demand a fundamental change in U.S. foreign policy? We'll be discussing this and more at the People's Needs, Not Pentagon Greed Town Hall. See you on Friday, November 10th. Register to attend today!