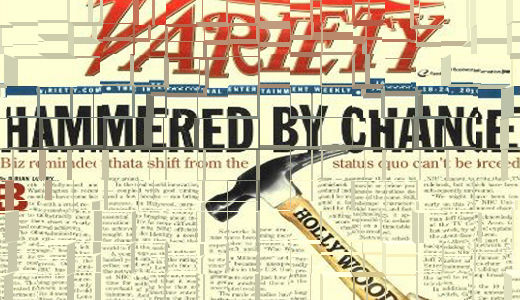 It seems no one is safe from the hard-hitting economic crisis these days including two prominent veteran arts journalists who lost their jobs Monday at Variety, one of the entertainment industry's leading trade publications.
Todd McCarthy, chief film critic for 31 years, and David Rooney, chief theater critic, who began working at Variety in 1991 were cut in a cost-saving measure, according to the publications president Neil Stiles.
"It's economic reality," Styles told the New York Times. Stiles said Variety plans to replace full-time reviewers by continuing to rely mainly on free-lance writers.
In total eight people were released.
In recent years many publications have eliminated their staff critics. The move to drop McCarthy and Rooney however signals a new low for the entertainment media which like many print newspapers continues to be impacted by the Internet revolution and the economic climate.
McCarthy and his decorated writing portfolio at Variety made the outlet one of the most notable publications in the trade where new films are regularly reviewed first.
Speaking to the NY Times McCarthy said, "It's the end of something, I don't know what."
Critics of the move say Variety's decision to release both writers is a step backward for the entertainment industry.
Many feel Rooney's reputation for smart, substantial analysis made him a big player in America's preeminent theater town.
Robyn Goodman, a Broadway producer told the Los Angeles Times Rooney's firing is a great loss to the theater community. It also hurts the depth of criticism we need in terms of getting all kinds of opinions about shows, she said.
"He is a true critic," said Goodman. "He would talk about plays and musicals and really break them down and talk about why they worked or didn't. He wasn't trying to write quotes that would end up on someone's marquee or make people laugh or sound trendy. He was really interested in the work."
Chicago film critic Roger Ebert said Variety's decision to let go of McCarthy was careless and deserves a big thumb's down.
Both Rooney and McCarthy were reportedly invited to stay with Variety as free-lancers.
"In other words, Variety was hopeful that without a regular pay check, McCarthy would put his life on hold to do a full-time job on a piecemeal basis," wrote Ebert in the Chicago Sun Times.
Calling McCarthy level-headed and fair, his ability to write about films was judicious, writes Ebert. His reviews had reason behind them and they were clear and potentially helpful to filmmakers, he adds.
"He was Variety's ambassador at film festivals, always the best-known Variety person there. He stood for Variety. We now discover it did not stand for him."
McCarthy is someone Variety should not have dismissed lightly, says Ebert, adding his years of dedication were discarded. Ebert, suggesting the move is part a bigger problem wonders how long Variety itself will continue to survive.
"The glory days of the famous Variety critics are finished," writes Ebert.
"Sometimes 'downsizing' is necessary cost cutting. Sometimes it symbolizes the abandonment of a mission. If Variety no longer requires its chief film critic, it no longer requires me as a reader," he said.