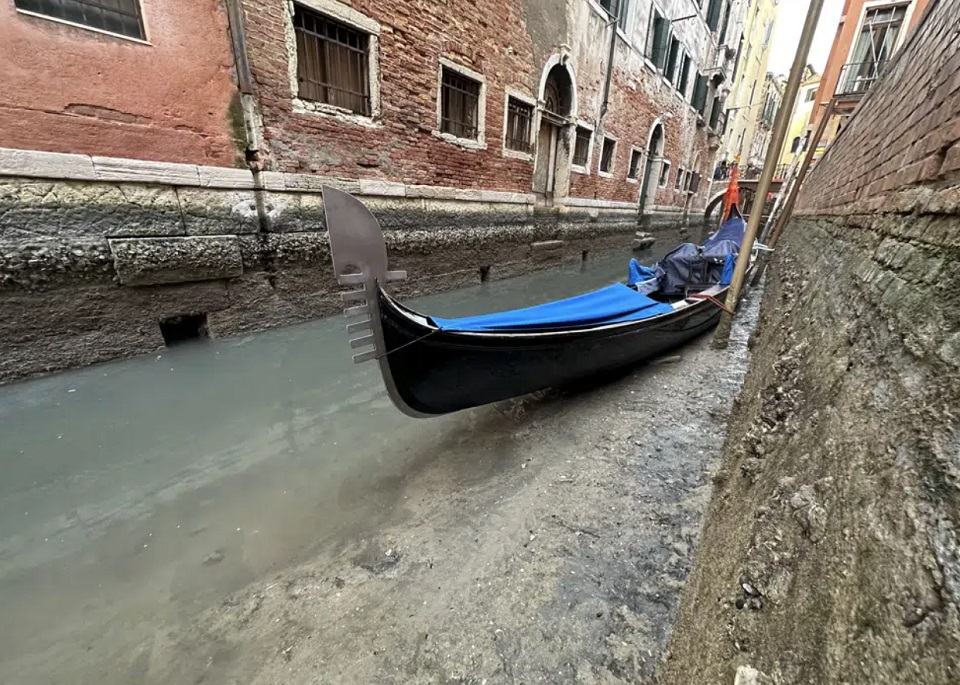 Following weeks of no rainfall, and with last summer's drought still fresh for Italy, many of Venice's celebrated canals are running dry. This time of year, flooding is usually the biggest concern for the City of Water, but abnormally low tides and lack of rain have caused water taxis, ambulances, and gondolas to run aground.
Other factors that are being blamed for the famous city's low waters are sea currents, a high pressure system, and a full moon.
According to scientists and environmental groups, the Alps have gotten less than half of their usual snowfall this winter, reported Reuters.
"We are in a water deficit situation that has been building up since the winter of 2020-2021," said climate expert Massimiliano Pasqui from the Italian scientific research institute CNR, as Corriere della Sera reported. "We need to recover 500mm in the north-western regions: we need 50 days of rain."
Severely low water levels meant that some of Venice's inner canals did not have enough water for boats to operate, but the city's Grand Canal and other main waterways like the Guidecca Canal remained navigable.
This winter, the Alps have gotten 53 percent less snow than normal, and Northern Italy's Po River has 61 percent less water, according to environmental group Legambiente.
The group said other Italian rivers and lakes are running low as well, reported Reuters.
Northern Italy's Lake Garda — the country's largest lake — is at its lowest winter level in 35 years, The Guardian reported.
An exposed pathway now allows access to the lake's small island of San Biagio, reported Reuters.
Last year, during Italy's worst drought in 70 years, the country declared a state of emergency in the River Po's surrounding areas, where about a third of the agricultural production in the country takes place.
Western Europe has seen late springlike temperatures for the past 15 days, due to an anticyclone — a sweeping circulation of winds around a region of high atmospheric pressure.
The most recent weather reports predict precipitation, including Alpine snowfall, in the near future.
"Nothing has changed since 2022," said President of the Italian Meteorological Society Luca Mercalli, as The Guardian reported. "We are still in a situation of deficit… let's wait for the spring, which is usually the rainiest period for the Po valley. There is a good possibility that rainfall in April and May can compensate – it's the last hope. If we have no spring rain for two consecutive years then it would be the first time this has ever happened."
This article was reposted from Ecowatch.
People's World has an enormous challenge ahead of it—to raise $200,000 from readers and supporters in 2023, including $125,000 during the Fund Drive, which runs from Feb. 1 to May 1.

Please donate to help People's World reach our $200,000 goal. We appreciate whatever you can donate: $5, $10, $25, $50, $100, or more.